Versalift lightweight launch
By Euan Youdale04 April 2018
Time International is set to introduce a new lightweight series of Versalift vehicle mounted platforms at the Intermat exhibition in Paris, taking place during April.
The new Versalift Telescopic Light (VTL) series merges the boom design of the manufacturer's Versalift VT series with the low weight of its Versalift ETL series. The result of this fusion is a brand new, lightweight telescopic platform series for light commercial vans, chassis and pick-ups available with a standard class B driving licence.
"With the VTL, we once again set out to push the boundaries in the industry and design the best possible vehicle-mounted platform for installation on light 3.5 t vehicles, and I am happy to say that we have done just that," said Per Cæsar Torp, sales director at Time International.
The new Versalift VTL features ultra-high strength steel booms in a formed profile, designed for maximum rigidity and ultra-smooth operations in the bucket.
Compared with the existing lightweight Versalift ETL, the new all-steel turret of the VTL is both bigger and more rigid, which, in turn, increases the length of the boom and improves the working envelope of the entire platform. These improvements result in a significant improvement in working height and lateral outreach, said the company.
Structurally, the VTL is very strong despite its low weight supporting a bucket capacity of up to 265kg, (although a 265kg bucket capacity only is offered on vans and trucks with a GVW of at least 5 tonne for stability reasons).
The Versalift VTL is compatible with existing Versalift ETL and ETM vehicle installations from the roof downwards as it uses many of the same mounting components. Due to this compatibility, the VTL is already available in a range of sizes and configurations for several popular commercial vans, chassis and pick-ups including the Mercedes-Benz Sprinter, Renault Master, Ford Transit, Iveco Daily and Ford Ranger.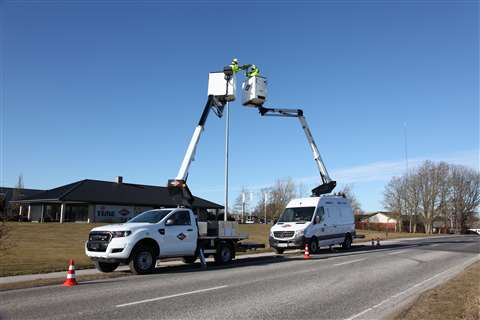 The Versalift VTL is designed and manufactured in Europe and all booms are powder coated in full compliance with the C3 ISO standard to withstand the often harsh changing seasons in Europe.
Both the boom and the turret feature a clean design with no exposed components or plastic covers for low life-cycle costs and easy maintenance.
Despite all the innovations, the new Versalift VTL series does not compromise the crucial leftover payload as it actually weighs slightly less than a similar Versalift ETL installation and significantly less than a similar Versalift ETM installation.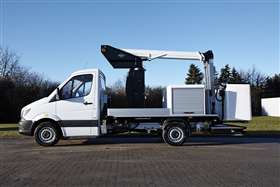 For safety, the spread of the A-frame outriggers and the tail swing of the new turret are kept within the mirrors of the vehicle for optimum performance without compromising safety.
In addition, the valve bank is mounted at the pedestal for safe, ground level emergency descent operation.