Vinci completes work on ITER reactor
By Mike Hayes13 January 2020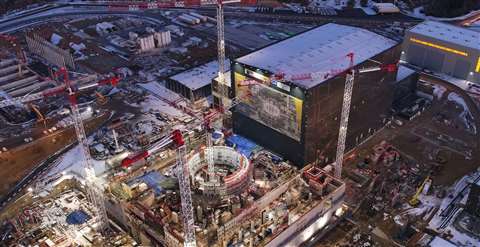 French construction giant Vinci has completed civil engineering work at the ITER fusion energy facility in southeastern France.
ITER (the International Thermonuclear Experimental Reactor) is an ambitious collaboration between 35 nations hoping to replicate the fusion reactions that take place within the sun.
The ultimate aim of the long-term project is to demonstrate an efficient and carbon-free method of producing what is theoretically an almost limitless amount of power.
At the heart of the project is the tokamak, a magnetic chamber in which particles will be heated to temperatures of around 150 million degrees Celsius and accelerated to enormous speeds before colliding with each other to create fusion energy.
Vinci made the final concrete pour for the building that will house the tokamak chamber in November last year; a 73m high, 120m wide structure, built using highly specialized concretes.
At the site, teams developed 10 different concrete formulations, some of which have properties that will shield workers from any fusion-generated radiation.
Further specialist construction was required as extremely dense steel reinforcement was used, as well as the installation of 46 customised nuclear doors, each weighing 70 tonnes.
When completed, the complex will weigh 360,000 tonnes, including 23,000 tonnes for the tokamak reactor.
The complex will include three buildings: one for the Tokamak reactor; another for the diagnostics and management systems; and a tritium facility for the production of plasma to fuel the reactor.
Ultimately, some 16,000 tonnes of steel reinforcement, 150,000 m³ of concrete, and 7,500 tonnes of metal will be used to create all of the required structures.
Vinci initially excavated a seismic isolation pit 126m long, 86m wide, and 15m deep – designed to allow the construction of the first foundation slab and retaining walls. On the foundation slab, 493 concrete piles were placed, each topped with a seismic pad, enabling the pile to absorb lateral motion in the event of an earthquake.
It was only after this work was completed that Vinci could turn its attention to the construction of the tokamak complex.
Now that all civil engineering operations have been completed, assembly of the machinery itself can begin, which will include a million high-tech components from all over the world.
Laurent Schmieder, who oversaw the team in charge of building construction and electrical systems for the ITER project, said, "Our close collaboration with Vinci, its partners and more than 700 workers has enabled us to successfully finalise this stage of the project in compliance with the safety, security and quality requirements."
Jérôme Stubler, Chairman of Vinci Construction, said, "ITER is a one-of-a-kind research programme in terms of its complexity, precision and size. It is an extraordinary human undertaking, but also a huge technical challenge, and we were constantly called on to innovate and expand our expertise. With ITER, we are humbly helping to implement one of the greatest and most ambitious energy projects of our time, designed to make electricity available throughout the world without CO2 emissions or radiological risk. For us, as a builder, it is a matter of great pride to have laid the cornerstone of a structure of such importance to humanity."