Vinci funds ParisTech research
By Leila Steed31 January 2020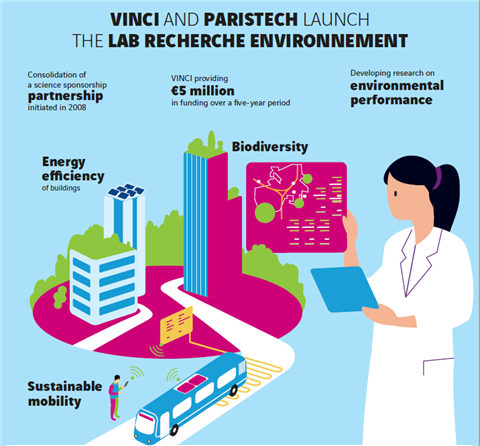 Vinci has announced that it is to consolidate its partnership with the France-based public consortium of higher education institutions, ParisTech, by funding its research.
The multidisciplinary construction company will provide ParisTech with €5 million (US$5.5 million) in funding between now and 2023, in order to support a number of research fields, including sustainable mobility, biodiversity and energy efficiency in buildings.
Vinci said its own building and infrastructure projects would offer ParisTech scientists the opportunity to research these areas.
First established in 2008, Vinci said the science sponsorship partnership was now entering a new stage with the formation of the 'lab recherche environnement'.
While the lab recherche environnement stage primarily aims to increase the connections between science and industry, it also intends to identify emerging trends, develop new products and create new business activities, in order to increase operational applications.
Described as an integral part of Vinci's environmental strategy, the lab sets out the company's goals. These include limiting the environmental impact of buildings and neighbourhoods and integrating environmental aspects into digitalisation, which would see things such as energy simulation become incorporated into BIM (building information modelling).
According to Vinci, the partnership has already resulted in input on urban biodiversity, ecological engineering and energy-generating solutions for its past Urbalia, Equo Vivo and Power Road business activities.