VINCI to build Auckland motorway
By Andy Brown23 February 2018
VINCI Construction subsidiary HEB Construction has been chosen as part of an alliance contract to build the Northern Corridor Improvements Project (NCI Project). The project has a total value of $700 million New Zealand dollars (US$513 million).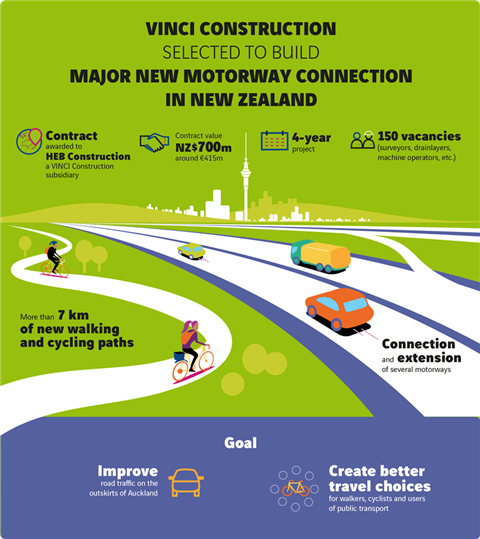 The contract is to create a new connection north of Auckland between the Northern Motorway (State Highway 1) and Upper Harbour Highway (State Highway 18), as well as extending the Northern Busway to Albany and add more than seven km of new walking and cycling paths.
The NCI Project Alliance comprises the New Zealand Transport Agency, HEB Construction, Fulton Hogan, Opus and Jacobs.
The project is an important link in helping to realise the full benefits of the Western Ring Route by giving users an alternative route to State Highway 1 and the Auckland Harbour Bridge. It will also create better travel choices for walkers, cyclists and users of public transport.
The Alliance is now tasked with finalising the detailed design and beginning construction early this year. The project will be undertaken in stages over the next four years. The first steps towards construction will include road resurfacing and the installation of moveable median barriers.
The Alliance has started recruiting for more than 150 new roles including surveyors, engineers, safety advisors, machine operators, drainlayers, carpenters and general construction field staff.