Volvo CE 2008 sales up despite poor fourth quarter
By Becca Wilkins06 February 2009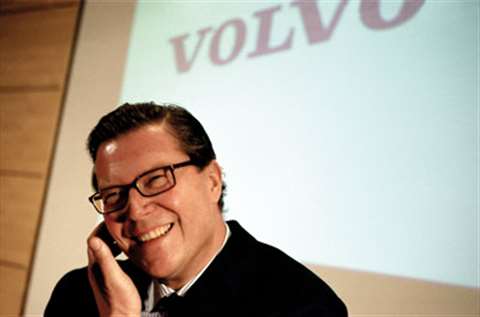 Volvo Construction Equipment had a +5% increase in sales last year to SEK 56 billion (€ 5,3 billion) compared to SEK 54 billion (€ 5 billion) in 2007.
However, the company saw sales fall -29% in the fourth quarter to SEK 11 billion (€ 1 billion) from SEK 15,5 billion (€ 1,5 billion) in 2007. When adjusted for changes in the exchange rates and acquired and divested assets, net sales fell by -38%.
The company suffered a fourth quarter operating loss of SEK 1,3 billion (€ 119 million) compared to an operating income of SEK 1 billion (€ 95 million) during the same period last year. Volvo CE's full year operating income totalled SEK 1,8 billion (€ 172 million) compared to SEK 4,2 billion (€ 400 million) in 2007.
Volvo said in a statement the decline in sales was driven by the severe downturn in the global market for construction equipment and in order to reduce inventory levels the company has cut production output at all factories. The company said it expects low levels of production to continue during the first quarter 2009 and has already shed around 3400 jobs.
The European market declined by -49% in the fourth quarter of 2008, North America fell by -34%, Asia reduced by -38% and other international markets fell by -28%. For the full year 2008, the total work market for construction equipment fell by -11%.
The total market conditions for 2009 are expected to remain very weak, although Volvo said, it is "very difficult" to make forecasts during an uncertain economic environment. The European market is set to decline in the range of -30% to -40%, North America is forecast to decline between -10% and -20%, while the rest of the world is likely to be down by -30%.
Volvo CE said that government stimulus packages for investments in infrastructure may have a positive impact on the total market for construction equipment towards the end of 2009 and more significantly in 2010.
Despite tough trading conditions the company has gained market share in most of its markets and product segments during the quarter and is now implementing a plan to help improve efficiency.
Meanwhile, the Volvo Group has recorded +6% growth in full year sales to SEK 304 billion (€ 29 billion) compared to SEK 285 billion (€ 27 billion) in 2007. However, fourth quarter sales were down by -9% to SEK 77 billion (€ 7,3 billion) from SEK 85 billion (€ 8 billion) during the same period last year.
The Group's operating income for the full year totalled SEK 15,8 billion (€ 1,5 billion) compared to SEK 22 billion (€ 2,1 billion) in 2007. The fourth quarter saw an operating loss of SEK 999 million (€ 95 million) compared to an operating income of SEK 5,7 billion (€ 550 million) during the same period in 2007.
Speaking about the performance of the Construction equipment division in the fourth quarter, Leif Johansson, president and CEO of the Volvo Group said, "Sharply declining sales in combination with underutilisation in our facilities and substantially higher raw materials costs caused the loss. Production has been halted for Construction Equipment for a great number of days and during the first half of 2009 there will be an adjustment of costs according to diminished demand."