Volvo helps end an era in Grimsby
By Lindsay Gale01 April 2009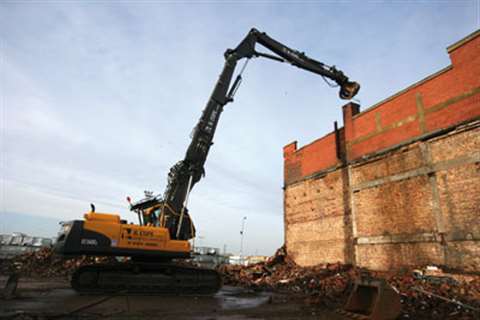 Grimsby historically has been home to a large proportion of the UK's deep water fishing fleet, but with the major contraction of that industry, a large number of port structures are now redundant. Associated British Ports, owner of the port in the city, is now in the process of a substantial redevelopment of the port complex, demolishing these structures and turning the site to other commercial uses.
Local contractor H Cope & Sons, who has been in the demolition business 40 years, is one of the favoured contractors for this work. Based in the town, the company, now being run by the second generation of Copes, routinely carries out some 70% of its demolition work in the surrounding region, although it has worked as far afield as the south coast of the UK.
Cope is currently using one of the newest high reach excavators in the UK during the demolition of 6,000 m2 of cold stores and fish houses at the port. Due to receive its official launch at the Intermat trade show in April, a Volvo EC360CHR, which joined Cope's four machine excavator fleet at the end of the year, is providing the high reach capability for the site. According to Chris Cope: "the nature of the bulk of the work we do in the Grimsby area is such that the 21 m reach supplied by the EC360 is more than adequate for most of our work."
The work the company is doing is fairly straightforward, with no real major challenges apart from an element of asbestos remediation. The brick cold stores will be reduced by the EC360, working with other standard reach machines, with all demolition debris being crushed on site using an Extec C-10. The resulting product will be segregated using a Terex Finlay three-deck screen and used as fill around the Grimsby port site. Cope makes use of one advantage offered by working in the port - the company can easily close of any roads immediately adjacent to the buildings they are demolishing to provide extremely good access.
Work started on the contract that the new EC360 made its debut on at the end of November 2008 and will be completed at the end of February. The EC360 joined a Cope equipment fleet of five excavators, two loading shovels, one telehandler, the mobile crusher and screen, in addition to a transport fleet of 14 lorries. The company currently employs a work force of 35.