What were the SCRA jobs of the year?
By Dan Colombini17 January 2022
The Specialized Carriers & Rigging Association (SC&RA) announced the winners of the 2021 Rigging and Hauling Job of the Year Awards on 29 October, during the 2021 SC&RA Annual Conference in Texas, USA. ICST reports
The 2021 SC&RA Job of the Year entries were for projects demonstrating ingenuity, skill, and commitment to safety. Winners were recognised for meeting some of the industry's most complicated challenges and responding with superior professionalism, SC&RA said.
For the rigging jobs the winners were announced in four categories and for the hauling jobs there were three winners, all as set out in the following pages.
Rigging project with a value of more than US$2 million
Italian specialist heavy lift and transport contractor Fagioli employed its full spectrum of services for construction of the San Giorgio Bridge in Genova, Italy.
From August 2019 to April 2020, Fagioli put all its capacity on the table in terms of equipment, know-how and engineering for the transport and installation of the new San Giorgio Bridge in Genoa, Italy.
Following the collapse of the Morandi bridge in 2018, Fagioli was contracted by Pergenova S.C.p.A. to design and build the Polcevera viaduct on the A10 motorway, for the transport and installation of the main sections of the new bridge with sections weighing up to 2,000 tonnes. Fagioli used 238 axle lines of self propelled modular transporter (SPMT), strand jacks and a tower lift system, six 1,200 tonne capacity crawler cranes, modular trailers, barges, a gantry lifting system and climbing jacks.
An average of 35 Fagioli personnel were onsite daily, with a peak workload of up to 50 people. The job saw nine months of uninterrupted work for Fagioli within the main scope, including Covid considerations and a busy jobsite with multiple operations happening at once. Set at a firm-fixed price, the job required minimal subcontractors, and realised no claims or losses, and zero accidents.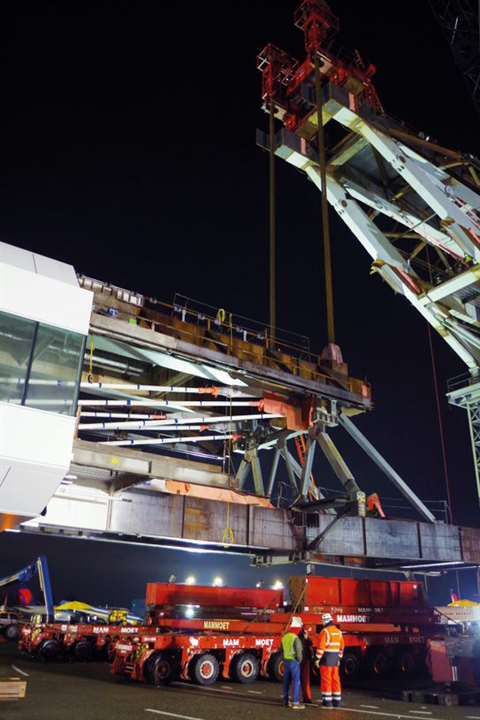 Rigging project with a value between $750,000 and $2 million
Global heavy lifting and transport specialist Mammoet transported a pedestrian walkway at Seattle-Tacoma International airport in the USA.
In the first half of 2020 Mammoet transported and lifted a 1,472 tonne pedestrian walkway at the Seattle-Tacoma International Airport in Seattle, Washington.
Four columns of 14 lines of SPMT were installed in a four-point configuration near the corners of the bridge span, and the transport began at midnight on 24 January 2020, after clearance was given by the Port of Seattle. The three-mile trip took nearly three hours from an assembly area, down a closed runway and between a pair of V-piers.
The bridge was jacked and staged in April before construction was completed. In addition, Mammoet installed four 900 tonne capacity strand jacks and used strand reel frames from Holland for the first time in the USA. The bridge span was lifted 22 metres at about 10 meters per hour, before being welded in place. The job was set at a firm fixed price. Mammoet executed all of its scope in-house, and there were no recordable injuries or illnesses.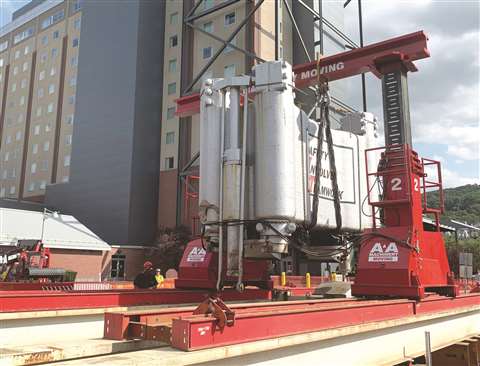 Rigging project with a value between $150,000 and $750,000
An historical press relocation project by A&A Machinery Moving
From September to October 2020, A&A Machinery Moving in the USA relocated an historically significant, 7,000 US ton capacity press from its then-current location as an outdoor monument inside a traffic circle to the nearby Smithsonian-affiliated National Museum of Industrial History (NMIH).
Weighing an estimated one million pounds (454 tonnes) overall, the four-post Whitworth press/forge presented a range of challenges. One key element was to tactically separate the press into major components. Lifting the press crown assembly was done using a 300 ton capacity, two-post hydraulic gantry with a WF14 x 455# lift beam, 24.5 feet (7.5 metres) long, and two lift links.
After lifting the crown the hydraulic gantry was removed and reset at the NMIH for reassembly. The remaining components were removed using a 400 ton hydraulic crane. Once reassembled, the cut tie-rods were welded together.
Planning the project took 10 months and the rigging scope from site preparation to completion was done in 15 days. A&A was the prime contractor to NMIH, and the job was set at a firm, fixed price. No claims, injuries or illnesses were reported.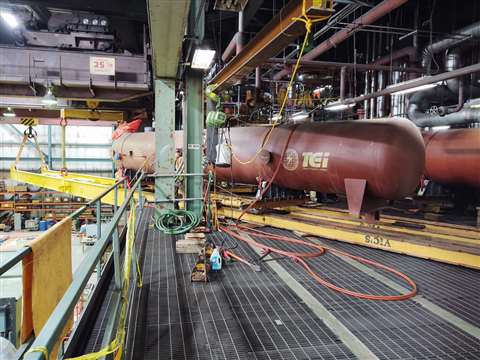 Rigging project with a value below $150,000
Vic's Crane and Heavy Haul installed a heater in a near-impossible space
Bid on a firm-fixed lump sum, and executed in phases between January and April 2020, Vic's Crane and Heavy Haul performed the rigging work as part of a project to remove and replace two feedwater heaters in the Sherburne County Generating Station in Becker, Minnesota, USA.
The scope of work included providing all engineering, equipment, and labour to remove the heaters, weighing 101,000 pounds (46 tonnes), and install two new heaters, weighing 93,000 pounds (42 tonnes). The heaters were on a mezzanine 20 feet (6 metres) above the operating floor, positioned in an east-west orientation.
Logistical challenges appeared at every turn but the Vic's team proposed to move the heaters to the east open area, rotate 30 degrees to align between building columns and used a slide track to move the heaters to the south west onto a sled suspended from two overhead cranes. Vic's also unloaded the new heaters and hoisted them to the operating floor. It also provided all rigging to move them on and off the sled and transported and unloaded the old heaters to the scrap yard. The project was completed with no injuries, equipment damage or pending claims.
SC&RA 2021 HAULING JOB OF THE YEAR WINNERS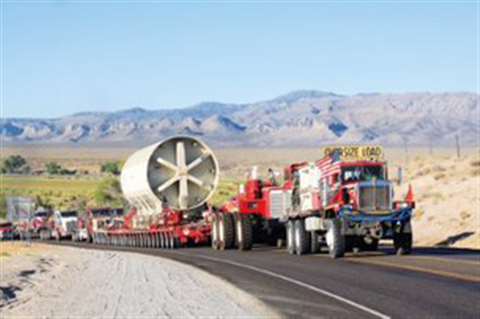 Hauling job greater than 500,000 pounds net
Emmert International achieved a record for the heaviest load ever moved on Nevada, USA, highway system
After completing the engineering and permitting process from March 2019 to May 2020, Emmert used a combination of Goldhofer platform THP/SL trailers, Goldhofer ADD Drives and seven prime movers, to transport a nuclear reactor pressure vessel cask (RPV) from North Las Vegas to Clive, Utah.
Between July and August 2020, the 400 mile (650 km) journey required a detailed route survey that was presented to the Nevada Department of Transportation (NDOT) for analysis. Over the course of 12 months, NDOT and Emmert identified a suitable route that entailed 7 percent grades, culverts that had to be shored up, and civil improvements, along the roadway and at railroad crossings.
The RPV's dimensions were 47' 7 ¼" x 15' 9" x 19' 4 ½" (14.5 x 4.8 x 5.9 metres), and it weighed 1,470,00 pounds (667 tonnes). The project comprised 1,260 man-hours, with no injuries, illnesses or DOT recordable incidents documented.
Hauling job between 160,000 and 500,000 pounds net
Omega Morgan took cold box modules on a three-day journey
From March to May 2020, Omega Morgan was hired to transport two cold box modules in the USA from the Port of Longview, Washington, to a semiconductor factory in Hillsboro, Oregon. Load dimensions (LWH) were 144 x 17 x 15 feet (44 x 5 x 4.6 metres). It weighed 457,600 pounds (208 tonnes).
The pieces were loaded onto an Omega Morgan-provided barge directly from ship's gear. From there, they were moved across the Columbia River into Oregon and offloaded using SPMT and placed to rest on beams and stands. Hydraulic dollies were used for the first half of the 45 mile (73 km) journey.
For the second half, the units were transloaded onto six lines of four-file K25 trailer and eight lines of two-file Goldhofer trailer, with custom bunks and turntables on both. The route, which took three nights to traverse, required unique equipment configurations, locations that allowed transloading the pieces, and extreme amounts of co-ordination to shut not only two roads, but a state highway, and jump a bridge in the same night. In addition, a many overhead cables had to be lifted and removed over the course of the project. Night congestion and traffic control was also a focus because there were more than 15 vehicles in the convoy.
The project totalled 5,384 man-hours, and there were no OSHA or DOT recordables.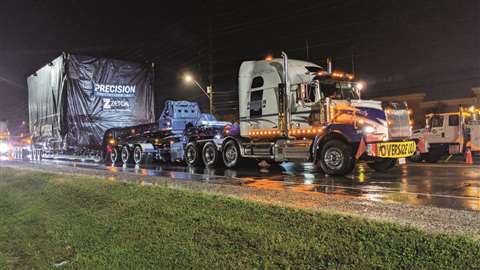 Hauling job under 160,000 pounds net
Precision Specialized executed the largest move in the company's history
From September to October 2020 Precision Specialized was involved in the largest move it has ever executed.
It was a job that included the movement of eight modules from Oakville, Ontario, Canada, to the port of Hamilton in Ontario. Overall, Precision was tasked with assisting in the manufacturing, as well as all aspects of the transportation scope, from start to finish.
The largest module (Module 2) was a power generation module – part of a complete modular plant built in Oakville, and shipped to France via the Port of Hamilton. The scope for this module was transportation only, and the dimensions were 36 x 21 x 21 feet (11 x 6.4 x 6.4 metres). Net weight was 110,000 pounds (50 tonnes). Loaded dimensions were 150 x 21 x 24 feet (46 x 6.4 x 7.3 metres). Gross weight was 240,000 pounds (109 tonnes).
Precision used a 4-axle Western Star power unit, and a 13-axle perimeter rear steer (3-axle jeep / 6-axle dolly) trailer. While the normal routing from origin to destination is 15 miles (24 km), the final approved route for Precision was 70 miles (113 km). The job comprised 12,097 man-hours, and included complete road closures, related press releases, social media and television awareness campaigns. Despite the addition of covid protocols, challenging terrain and infrastructure in southern Ontario, the team's focus and attention to detail led local police to admit it was the best-planned move they had seen in twenty years.
There were no recorded injuries or illnesses, or DOT recordables. The job was delivered on time and on budget.
Moving job of the year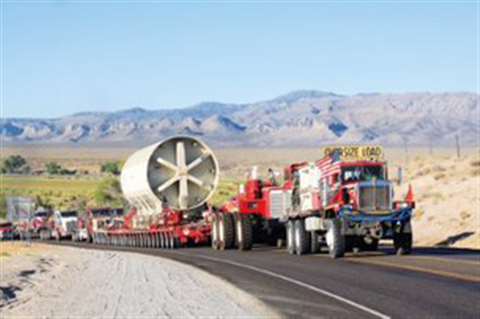 Emmert International moves a massive RPV
From May to June 2020, Emmert International in the USA used the largest rail car in the world to move a 1,470,000 pound (667 tonne) nuclear reactor pressure vessel (RPV) from San Onofre in California, to North Las Vegas, Nevada.
The 36-axle schnabel rail car ultimately needed to perform more than 600 lifts and shifts to navigate the rail route. In addition, the sides of the RPV cask had to be shaved down to fit within the confines of several truss bridges. In some cases, clearance was less than an inch (25 mm).
The RPV's dimensions were 47' 7 ¼" x 15' 9" x 19' 4 ½" (14.5 x 4.8 x 5.9 metres), and the route comprised 375 miles (608 km). The job also required a heavy-duty slide system to load and offload the rail car, along with engineered compression plates and pin attachments.
As for routing issues, Emmert performed a railroad survey with a laser-outfitted high-rail truck, where more than 40,000 data points were taken to validate clearance. They also had to shore the San Juan railroad bridge, upgrade railroad siding at the point of origin and build new rail siding at the North Las Vegas delivery point.
The job required 1,440 total man-hours, and safety considerations included low-level radiation, an emergency response plan, notification to governing agencies, rail car training for new employees and a trailer caboose, which provided sleeping accommodation for a 24-hour operation.
There were no recorded injuries or illnesses, and no DOT recordables.