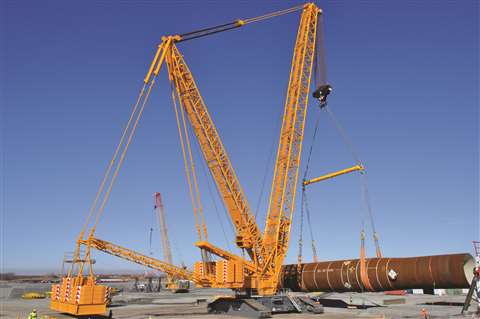 Reading back through the last few issues of ICST and our online news (www.khl.com) it quickly becomes apparent that the global energy sector as a whole remains busy. This is particularly true for wind power where contract wins and job site reports abound. In this feature we will look at some recent key projects that have caught our attention.
Starting with the UK offshore wind farm sector, German heavy load specialist, the Schmidbauer Group, has been awarded a contract for handling the heavy load logistics for the Walney Extension offshore wind farm in the UK. The contract was awarded by Dutch company Van Oord Offshore Wind Projects b.v. – an international contractor specializing in dredging, marine engineering and offshore projects (oil, gas and wind). Schmidbauer says it will unload, store and transport transition pieces weighing up to 600 tonnes and monopiles up to 1,030 tonnes at a harbour in Belfast, where parts for up to 87 wind turbines are kept. The company is primarily using Liebherr LR 11350 (1,350 tonnes capacity) and LR 1350 (350 tonne capacity) crawler cranes, as well as 56 lines of self propelled modular transporter (SPMT) to move the 8.40 metre diameter, 80 m long monopiles around the port.
The company says that although the majority of its customers are small to medium-sized German clients, its percentage of international clients is continually rising. It claims that the Walney Extension wind farm will have an operational capacity of approx. 650 megawatts produced from within 145 km². This means that once operating as planned in 2018, the wind farm could produce enough energy for approximately 460,000 households.
On the water
ALE lifting the nacelle on the wind turbine in Huraymila, Saudi Arabia, using a 600 tonne capacity crawler crane
Heavy lift and transport specialist ALE has also been busy in the UK offshore wind farm sector. The company says that over the last nine months it has performed almost 400 transport operations and executed more than 300 lifts for multiple offshore wind contracts in the UK alone. The projects ALE is working on include: the Dudgeon offshore wind farm; the Race Bank wind farm; and the Galloper wind farm. According to ALE these three projects will power more than 1.2 million UK homes.
ALE's involvement includes the handling and pre-assembly of imported towers, nacelles and blades. With some rotor blades as long as 75 m and nacelles as heavy as 360 tonnes, ALE says it is adopting a Ro-Ro process, (where possible) instead of lifting, to provide a safer and more cost-effective method. Dave Smith, ALE projects operational manager, says, "ALE has invested heavily in state-of-the-art equipment, training and personnel specifically for these projects. We achieved several key milestones throughout all three projects so far and will continue to progress in our operations. Securing these contracts is a real indicator of ALE's increasing presence in the developing renewable offshore industry and ALE's commitment to servicing this market."
Further afield, ALE has installed what it claims as the first-ever wind turbine in Saudi Arabia. Work on the turnkey project started in January 2017. ALE was contracted to transport, erect and install a 2.75 megawatt wind turbine where the nacelle is 86 m up and the highest point of a blade is 147 m above ground. The wind farm is in Huraymila, around 80 km north of Riyadh.
Components arrived on a vessel at the Jubail Industrial Port. From there ALE transported them more than 600 km to Huraymila on conventional trailers and a blade trailer. A particular challenge was the 60 m length of the blades. According to Andrew Spink, general manager at ALE in Saudi Arabia: "The transport ran very smoothly throughout the project, with the blade trailer convoy typically averaging 250 km per day. Nevertheless, we faced several challenges during this project, while working to a tight schedule. One of these challenges involved protecting the load by the use of escort vehicles 24 hours a day."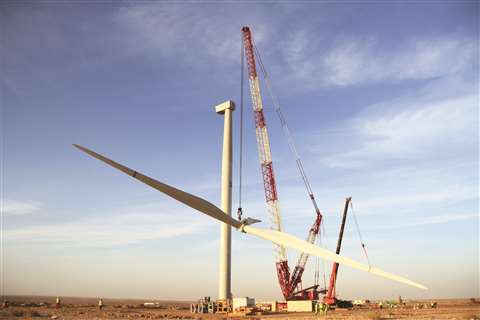 GHHL using a Liebherr LR 1750 crawler crane to erect a wind turbine in Turaif, Saudi Arabia
ALE attributes its success in the wind energy sector to a number of factors. First, it has set up a dedicated wind division, as Carlos Moreno, commercial manager, wind energy installation, explains, "We decided to create a dedicated wind division over a year ago, as we saw the value of centralising our approach to this market. Many clients have centralised procurement departments and centralised their projects department, which award projects for the entire world. By offering a global team that can gather competence and training for all major manufacturers, they can travel globally to projects so clients have the assurance and certainty that no matter where their projects are they will have the same competent personnel running their projects and they deal with the same people."
Second, related to this, are the advantages that using just one company to transport, erect and install a wind turbine can bring. "The main advantage is that our clients only have one point of contact. With just the one company to co-ordinate all of the activities, it ensures a more efficient and effective process from start to finish," Sprink says.
"ALE is currently promoting itself as a global turnkey provider, not just in Saudi Arabia, but worldwide," adds Moreno. "Our global turnkey capability, in addition to our local footprint in many emerging countries, is currently perceived by clients as a fundamental and very interesting service. We are working with many of them in their future projects."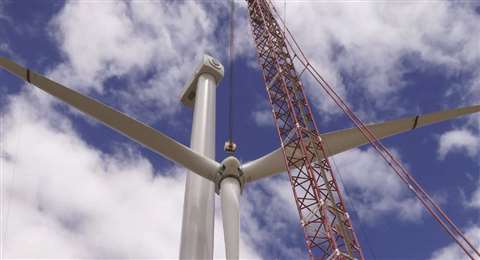 Mammoet installing the last of 75 rotors at the Ararat Wind Farm in Australia
"Wind farms are by far one of the busiest renewables sectors for ALE as all the components are oversized," concludes Sprink. "On solar energy projects the majority of the components are small and arrive containerised and do not require special transport. However, in the solar power production process there is still a requirement for heavy components like gas turbines, gas turbine generators, steam turbines, steam turbine generators. For example, ALE has been contracted for the transportation scope at the Waad Al Shamal combined cycle power plant, located in north east Saudi Arabia. It is situated over 1,100 km from the main port of arrival in Jubail. ALE has transported 10 of these large items, weighing up to 350 tonnes, and has supported the small associated cargo on over 300 additional truck loads."
Winds of change
Staying in Saudi Arabia, heavy haulage and heavy lift contractor Gulf Haulage Heavy Lift Company (GHHL) has also erected a wind turbine. The wind turbine, in Turaif in the north-east of the country, will generate power for a bulk plant facility operated by state oil company Saudi Aramco, which plans to generate 9.5 gigawatts of national renewable energy by the year 2030.
The wind turbine components, comprising three blades, the nacelle, and the tower sections, were transported by GHHL from the port of Jubail to Turaif, a distance of 1,250 km. This was achieved in under six days. The wind turbine weighed in at a total of 410 tonnes, and was erected using a 750 tonne capacity Liebherr LR 1750 crawler crane. After the tower segments had been assembled, the 83 tonne nacelle was installed at a height of 84 metres. Including the installation of the blades, the erection of the entire wind turbine took two days. High wind speeds in the region made the planning process more difficult, says Liebherr, since there were only short time frames available for the erection of the components.
In Australia, the wind farm sector is strong, too, according to heavy lift and transportation specialist Mammoet. It says it has recently installed 75 turbines on the Ararat Wind Farm. The company says that the 240 MW Ararat Wind Farm in south-west Victoria will be the third largest wind farm in Australia and it has attracted almost half a billion dollars of direct international investment into Victoria. Mammoet says that 61 of the 75 turbines have been already commissioned and are already contributing to Victoria's supply of renewable energy and showcasing the potential of the renewables industry in Australia. The Ararat Wind Farm will be a world class project playing a key part in Australia's renewable energy future.
Manufacturer Terex Cranes also reports that the main driver for it in the energy sector is wind power. As such, it says there is demand for its crawler cranes and large all terrain cranes (700 tonnes and above, for the main lifts). It reports demand too for smaller cranes (130 to 200 tonnes) to assist the main cranes or later on for maintenance.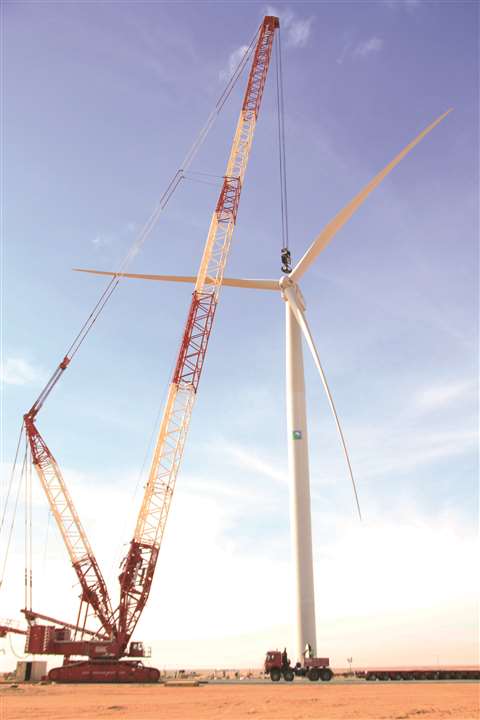 One reason Terex cites as to why its clients choose its products for lifting jobs in the energy sector is the level of control its cranes can offer. "The loads that our cranes carry under the hook are unique, extremely expensive, irreplaceable items upon which the whole project depends and, therefore, they must be handled smoothly, with precision, but also within tight schedules," says Erwann Maillot, a spokesperson for Terex. "However, our cranes are designed to help customers carry out these lifts with millimetre precision. We can also provide refinery packages with auto engine shutdown, air intake shutoff and electric emergency stop devices. In addition, we offer optional hot and cold weather packages for cranes working in extreme weather conditions."
Terex claims that such a high level of control is made possible by its engineering of structural designs, crane kinematics and software programming. It says its IC-1 and IC-1 Plus control systems are instrumental in providing the operator with real-time, accurate lift information and crane operation data.
The 'Lifting Solutions Division' of USA-based positioning products manufacturer Trimble reports that it is very active in the global energy sector, working with many of the larger service companies in the oil and gas industry, as well as in the energy and utilities industry.
For example, Trimble worked closely with Terex Utilities to develop a load alert system for its insulated aerial devices to support safe work practices used in overhead electric utility applications. According to Trimble, the solution required understanding the application work requirements and developing custom software to observe multiple loads simultaneously. The system captures overload events, by severity, and through a telematics provider alerts appropriate safety and maintenance personnel so appropriate action can be taken. In this system Trimble says it modified the software to monitor the bucket load of an operator, their tools, the jib load and radii and other inputs. The technology in play is Trimble's proprietary radio, which allows for communication in and around high voltage power lines where a wired system cannot be deployed due to interference and machine design requirements.
Trimble also says its CSA and ATEX certified products are the most in demand in the energy sector. The company points out that due to the specific requirements of the certifications, not all companies can supply to the energy industry, whereas it can offer full wireless RCI systems and components for use in hazardous areas, including display and sensor options.
High capacity
Wind turbine manufacturer Siemens Wind Power is so busy in the wind power sector that it has commissioned its first specialized transport vessel, the Rotra Vente, designed to provide cost-effective transport of the large nacelles of wind turbines. The 141-metre-long vessel can carry multiple eight megawatt nacelles per trip and will connect Siemens' manufacturing site in Cuxhaven, Germany (which is currently under construction), with installation harbours in the North and Baltic Seas.
Designed from a base of an existing hull of a container ship the vessel was rebuilt for its new purpose at Holland Shipyard in Hardinxveld-Giessendam in the Netherlands. Part of its new equipment is a large bow door that allows ro-ro access to the restructured cargo deck. The deck is covered by a telescopic roof to protect the nacelles from seawater spray.
Since the roof can be opened, Rotra Vente's cargo can also be loaded via cranes at harbours without a ro-ro ramp. It can also transport up to nine wind tower sections per trip or three to four rotor blade sets, says Siemens. A sister ship – a transporter for towers and blades – is already under construction. According to Siemens, this vessel will accommodate up to 12 wind turbine rotor blades.
"With our new ro-ro transport vessel Rotra Vente, we are stepping into a new era of cost efficient offshore wind logistics," says Michael Hannibal, CEO offshore at Siemens Wind Power. "When our new factories in Hull, England, and Cuxhaven, Germany, become fully operational, and both ro-ro vessels are in service as interconnection of our manufacturing and installation network, we expect savings of 15-20 percent in logistics costs compared to current transport procedures. This is another important contributor reducing the cost of electricity from offshore wind."