Wired away: remote control, is it safer?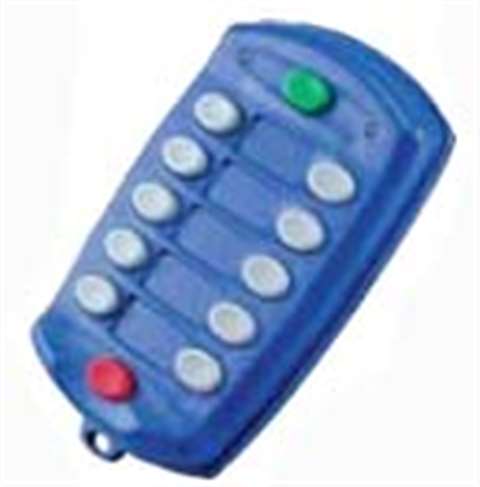 Most electronic equipment we know and use these days has some kind of wireless option: TV and stereos with remote controls, self-starters for automobiles, Even the crane industry is utilizing wireless systems more and more. With this widespread use of wireless technology it is only inevitable that now we find these same options being applied to aerial work platforms (AWPs), and what's even more inevitable with these advances are the several hungry suppliers ready to wire up your system.
The strong benefits of a remote control system at close quarters to the machine are the safety advantages. As an example, the loading and unloading of equipment from a trailer allows the end user as much distance as he needs as opposed to using the controls while standing next to the machine. Other job site hazards, such as rough terrain and power lines, are risks that can be avoided while moving equipment by remote controls from different points on the job site off the machine.
"Radio control in many instances is a safer alternative than a pendant control or controls on the machine. The operator has the freedom to look around their work without being in a fixed position," says Matt Rollman, eastern territory sales manager with HBC-Radiomatic Inc., who says the company's 700 Series radio controls can be used on aerial work platform applications.
"By taking the man off the machine, you can help prevent injury or death from accidents involving tip overs, contact with power lines, falling materials, and line of sight issues, etc. Also, the operator will be able to see around the machine more effectively, allowing the operator to control the machine safely," says Kevin Demas, marketing information associate with Omnex Control Systems Inc. The company currently has two products available for AWPs. The T100 is a push button type controller that runs on/off functions. The second controller, its T150, adds proportionality capability to operations, allowing the operator to control the speed at which the machine lifts/turns/lowers, etc.
He also says productivity is another advantage with wireless controls. With wireless, the lift operator can move around a site in order to see the work area, pick up and drop off points clearly, thus eliminating the need for a second person using hand signals to instruct the operator.
Safety and convenience
NBB Controls Inc has introduced the Planar style of radio remote controls that fit the aerial work platform industry. According to Frank Cappetta, vice president, the customer needs a wireless unit that communicates a relatively short distance, capable of working in any weather condition and easy to use for the rental industry. Cappetta says another plus is the elimination of the constant maintenance on the wire harness that is continually flexed or pinched during daily operations.
Wireless controls also have benefits when they are used to replace the hard-wired controls between the basket and the base machine. Roger Jones, vice president with Microtronics, says installation and operation are the major advantages wireless controls have over hard-wired. No cable reels are needed, and they also eliminate the time consuming task of "snaking" a cable throughout the equipment. He adds the wireless system is "electrically" isolated from ground when using in high voltage areas.
"Of course, the platform must also be isolated for complete operator protection" he says, "With wireless systems, the controls don't have to be secured to the platform. There may be situations where the operator would have a better view from say a window or roof and can easily remove the remote device and use anywhere."
Jones does report that rental yards have been slow to come around to this technology, especially owners of scissors and booms. He does add however that several of its Multi-Proportional Units have been installed on telehandlers.
Part of this reluctance could stem from concerns of interference problems. Not only is this an obvious safety concern but also from a productivity standpoint, a down machine is lost money.
Interference issues?
Hetronic USA, which has a range of products from fixed mounted transmitting controls to belly box controls, says interference shouldn't be issue when rental yards invest in quality.
"Interference is always a possibility, but the affects of interference are greatly reduced when quality components and circuitry are used. In other words, you typically get what you pay for when you buy a radio control," says Hetronic's Don Schneider, vice president. He says radio controls in general have become much safer and more reliable in the past decade.
In any type of wireless system, there are sources that can interfere with the operation of the equipment, says Microtronic's Jones. In RF (radio frequency) devices, interference can be caused from the ambient noise floor (this is RF noise in the near vicinity) that has to be overcome either by getting the remote closer to the controller, more output power to become stronger than the noise floor, reducing multi-path areas, spread spectrum and proprietary software control of the wireless systems themselves. This noise can be the result of other RF devices, generators, spark plugs, electrical equipment and the line.
"Other types of wireless systems would also include infrared which has their own types of interference. Their noise floor may consist of various light frequencies. Sunlight and artificial light can become problematic and the use of light filters may be used to enhance a certain frequency while impede the unwanted frequencies. Dirt also becomes a problem by restricting or distorting the infrared signal. Regardless of the type of wireless system used, any interfering problems need to be addressed so that involuntary activation of the application does not happen," says Jones.
Even with some concerns that interference would be a problem in lesser quality wireless systems, the suppliers still are confident that wireless controls will be standard in the near future.
"I believe that the future will see many OEMs providing wireless control as standard equipment. It is easy to apply our equipment and in many cases improves the performance of the machine," says Rollman. Jones with Microtronics adds that these systems are very easy to install because manufacturers are concentrating their wiring systems closer together.
"As interface components such as sensors and electro/hydraulic valves mature, they become easily adaptable for wireless controls not only at the OEM level but at the dealer and end user level as well," Jones says.