Wooden skyscraper plan for London
By Sandy Guthrie21 April 2016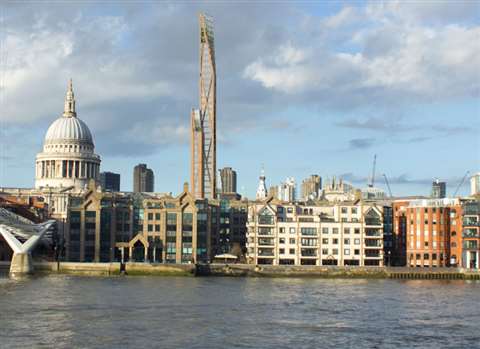 A timber skyscraper – the UK capital's first – could be built in London after researchers presented Mayor Boris Johnson with conceptual plans for an 80-storey, 300m high wooden building integrated within the Barbican complex.
Smith & Wallwork, a new civil and structural engineering design practice, based in Cambridge, UK, has collaborated with researchers from Cambridge University's Department of Architecture – Dr Michael Ramage and Rob Foster – and London-based PLP Architecture – Ron Bakker and Kevin Flanagan – to develop research on the future development of tall timber buildings in central London.
Smith & Wallwork carried out structural engineering analysis of a number of different frame concepts. These used massive timber elements that would see some 65,000m3 of engineered timber support London first timber skyscraper.
The final design used a buttressed mega-truss solution with 2.5m x 2.5m timber columns and 1.75m thick timber walls.
Smith & Wallwork said that despite using significant volumes of timber, the structure would be four-times lighter than an equivalent concrete frame tower.
Flanagan, a partner at PLP Architecture, said, "We now live predominantly in cities and so the proposals have been designed to improve our wellbeing in an urban context. Timber buildings have the potential architecturally to create a more pleasing, relaxed, sociable and creative urban experience.
"Our firm is currently designing many of London's tall buildings, and the use of timber could transform the way we build in this city."
PLP said the tall timber buildings research also looked towards creating new design potentials with timber buildings, rather than simply copying the forms of steel and concrete construction.
It said the transition to timber construction might have a wider positive impact on urban environments and built form, and offered opportunities not only to rethink the aesthetics of buildings, but also the structural methodologies informing their design.