World's longest bridge almost finished
By Andy Brown30 January 2019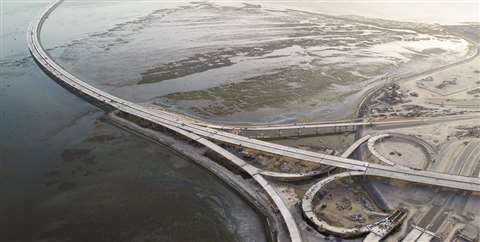 Work on what is said to be the world's longest bridge over water – which will be 36.1km when finished and is located in Kuwait – is almost complete.
According to the contractor Hyundai Engineering & Construction (Hyundai E&C), which was jointly awarded the contract with Combined Group Contracting Company, the project should be finished in November 2019.
The Sheikh Jaber Al-Ahmad Al-Sabah Causeway, which spans Kuwait Bay between Kuwait City and the Subiyah area, is under construction in Shuwaikh Port.
The opening of the new bridge is expected to cut the travel time between Kuwait City and Subiya from over 70 minutes to approximately 20 minutes.
Hyundai E&C commented that, while the construction period of 60 months is relatively short for such a large engineering project, the construction schedule was met by adopting the fast-track construction method in which design and construction are performed simultaneously to shorten the time to completion. BIM (Building Information Modelling) technology was also used to minimise errors in designing and construction.