Yanmar's new urban option
By Thomas Allen08 January 2019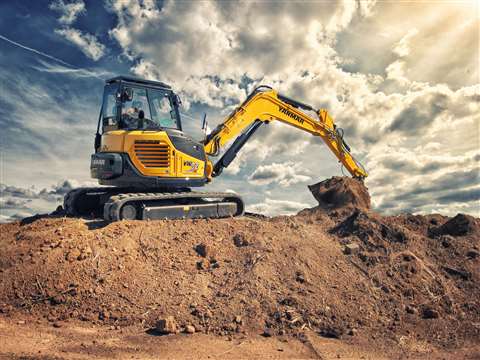 Yanmar Construction Equipment Europe has introduced its new ViO82 midi-excavator, said to be especially suitable for tight urban jobsites.
It is equipped with the company's new ViPPS2i hydraulic system, which uses two independent variable-flow piston pumps in conjunction with a multiple-combination directional control valve.
The two pumps are individually controlled in accordance with the load so that just the right quantity of hydraulic fluid is supplied for a given operation. This is intended to improve the operator's experience by reducing loss of hydraulic pressure, even during operations in which both the arm and boom are being used simultaneously.
Also, the excavator's electronic hydraulic pump regulator adjusts its flow rate according to the engine's performance to make the best use of the engine's power and provide a smooth performance.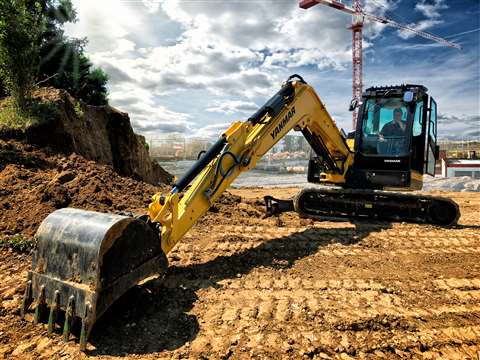 Yanmar said the operator was put at the centre of the new excavator's design, with the focus being on ergonomics and safety. The instrument panel and armrests have been redesigned, and the shape of the cabin gives the operator a 360° view of their working area. In addition, the ViO82 includes a FOPS2 (falling object protection system) Top Guard as standard.
The 41.5kW 4TNV98C-WBV1 engine powering the ViO82 is equipped with a common rail direct injection system. Fuel injection is managed by the Electronic Control Unit to ensure cleaner combustion and optimised engine performance.
Yanmar's regeneration system helps to prevent clogging and reduce cleaning downtime, and fuel consumption is cut by the machine's auto-deceleration system, which switches the engine back to idle mode if the operator does not touch the operating levers for four seconds.