Zeppelin Rental optimistic for 2019
By Murray Pollok10 April 2019
Zeppelin Rental is expecting a strong year in Germany following good growth in the first quarter and positive conversations with customers during Bauma.
Peter Schrader, Managing Director and COO of the company, speaking to IRN at Bauma, said Germany's construction industry and industrial sectors continued to experience good activity levels, with investment across multiple sectors, including infrastructure, energy, telecommunications and events.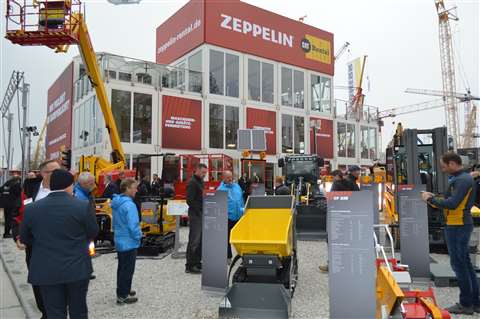 He said that contractors remained confident of workloads for the rest of the year. He added that the business would maintain the same level of rental fleet capital expenditure as last year.
The company used Bauma to promote its wider site services (Baulogistik), such as temporary traffic management, site power and water, safety management, and site access control. Schrader said that these logistics services were proving popular with contractors, and that it was trying to expand this offering to provide coverage throughout Germany.
Its stand at Bauma included an 'Infinity Room', which gave a cinema-style virtual reality overview of Zeppelin Rentals' services, which was creating long queues on the stand. "It's just as popular as our beer garden", joked Schrader.