Zoomlion readies for U.S. access launch
By Lindsey Anderson23 October 2019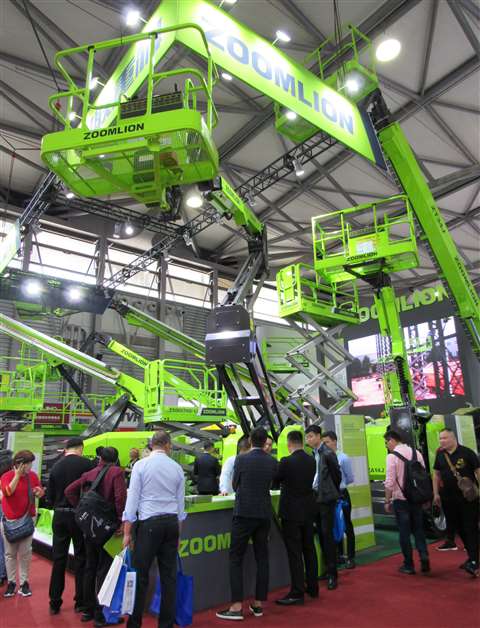 Chinese-based manufacturer Zoomlion, known for its cranes and concrete machines, will debut access products for the U.S. market in December, the company told Access, Lift & Handlers and Access International during the first day of APEX Asia.
Speaking exclusively to ALH and AI, the company said it will enter the U.S. MEWP market with 4m and 6m slab scissors, a 14m articulating boom and 20m and 26m telescopic booms. Those eager to see the machines on U.S. soil will get the opportunity at ConExpo 2020, held March 10-14 in Las Vegas, where the units will be on display.
Zoomlion currently has a facility in Wisconsin, and it will eventually conduct R&D – and possibly more – from the U.S. location. The company also said it will utilize its U.S. tower crane dealer network in addition to targeting U.S. rental companies.
Ren HuiLi, general manager of Zoomlion's aerial work platform machinery company, said they will hire additional local employees for sales and service needs.
The U.S. access industry has experienced a number of new MEWP companies entering the market, many of which come from China, over the last handful of years. When asked why someone would choose a Zoomlion machine over a competitor's, HuiLi said the ease of maintenance, machine telematics and reliability of the units are major factors.
"If a machine can survive a Chinese jobsite, it can survive anything," HuiLi said. "Tough competition is a good thing."
Zoomlion will also continue its push in Europe, which it currently sells in The Netherlands, Germany and Italy. "All of the machines on our stand [at APEX Asia] will be shipped to Austria," HuiLi noted. "They have all been bought."
Zoomlion currently produces 1,200 slab scissors a month from its Chinese facility and its goal for boom lifts is 250-300 per month. The company said it has shipped more than 6,000 slab scissors into the Chinese market this year and it is looking at the overall long-term picture instead of market ups and downs.
The company showcased new units on its stand at APEX Asia, held Oct. 23-26 in Shanghai, including the articulating boom ZA14JE and telescopic boom ZT34J. For more on Zoomlion, the new products and its plans in North America – and across the globe – see the next issues of Access, Lift & Handlers and Access International.