Zoomlion says access is 'major plan'
By Murray Pollok08 April 2019
The chairman and CEO of Zoomlion said the access business represented a major part of its growth strategy.
Chunxin Zhan, speaking on the opening day of Bauma (through an interpreter), said access "is one of my major plans for our strategy. We have similar technology and we are optimistic that we will do well in this industry. We are not strangers to the technology."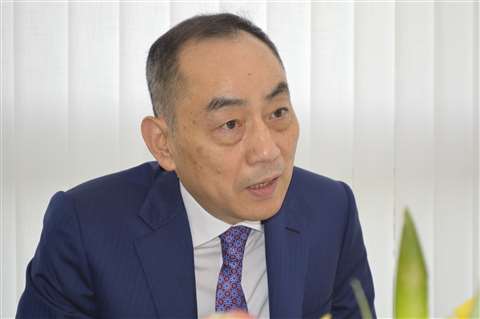 The Chinese company is best known for its cranes and concreting equipment - it owns CIFA - and entered the access sector two years ago. It has completed a modern scissor factory in China and is now building a dedicated facility to produce self-propelled booms.
Mr Zhan said it was his target to become a top three player in access worldwide, although he said it would "take quite a while". Zoomlion has a track record of making acquisitions, including CIFA and European tower crane company Wilbert, and he said that acquisitions or cooperation agreements in access were a possibility, if an opportunity arose.
"Currently we are in China only for access, not yet in Europe", he said, "China is moving from a situation where nobody used access equipment to everybody using it. First and foremost we think that China is a huge opportunity."
He said activities in Europe and North America would follow, and that they already had some orders from customers in these regions.
Meanwhile, Mr Zhan said Zoomlion continued to recover in its home market, which represented 88% of its sales in 2018. Total revenues last year were around US$4 billion, and he said that sales in the first quarter of this year had more than doubled (130 - 170% up) year-on-year.
"We fell into a trough, and now we are rising from that. At our peak, our public company revenues were US$7 billion," he said.
Mr Zhan said one of the key areas of growth for the company in China was tower cranes. He said the real estate market was not strong in the country, but crane owners were now updating their fleets with more modern, "intelligent" cranes.