Road technology and recycling
By Chris Sleight12 November 2014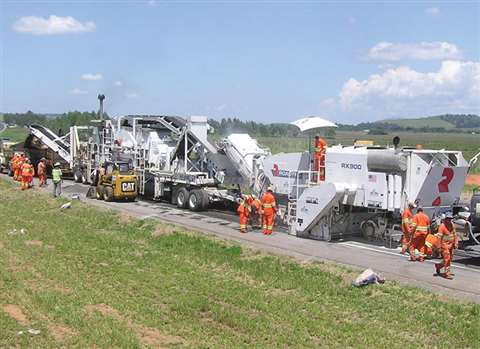 Road repair and rehabilitation is a major activity all over the world, and great strides have been taken in recent years increase the amount of old material being recycled and re-used when highways are restored to their former glory. A particularly interesting area is in-situ recycling, where a train of equipment can be used to re-lay the old material in a single process, which speeds up repairs and minimises disruption.
For example, when Dunn Company won the contract to rehabilitate two stretches of country roads CH 11 and CH 20 in Champaign County, Illinois, US it chose a Wirtgen 3800 CR cold recycling machine, working a Vision 5200-2 paver from sister company Vögele and an HD+ 140 VV and HD+ 110 VV roller from the Wirtgen Group's compaction equipment specialist, Hamm.
The technique used was the down-cut process, where the drum rotates in the direction of travel, with the picks coming down onto the surface being cut. This offers more control over particle size than 'up cutting', especially when milling thin surfaces. Once milled, the asphalt was fed directly to the Vögele paver for relaying, before final compaction by the Hamm rollers.
CH 20 was relatively straightforward, with the recycling process starting straight away. However, on CH 11, a 40 mm surface course had to be removed first, which was no problem for the versatile 3800 CR.
Once this was out of the way, the task of recycling to a depth of 100 mm began, with the milled material being mixed as it was cut in a single pass with a pre-spread layer of cement binder.
Water and bitumen emulsion – foamed bitumen – were injected into the 3800 CR mixing chamber via injection bars from a water and binding agent tanker travelling in front of the machine. Once mixed, the conveyor transferred the material to the Vision 5200-2 paver for laying and pre-compaction as a new course.
Mark Stahl, vice president for operations at Dunn Company said, "Cold in-place recycling (CIR) is a good complement to traditional construction methods. By re-using materials in-place for the intermediate layer, we help the wearing courses perform better while reducing the time, cost and environmental impact of projects. That benefits agencies as well as the taxpaying public".
The job was successfully completed in time. This was naturally not only great news for Dunn's client, but the contractor also profited from the prompt completion of the project, and the next job is already lined up for the 3800 CR – this time not in cold recycling, but in milling.
Recycling work
In a similar application, Brown Brown, a road building contractor, in Santa Teresinha in the state of Bahia, Brazil has completed rehabilitation work on portions of highway BR-381 from Sao Paulo to Belo Horizonte. The company worked with technical staff from equipment supplier Roadtec to carry out the work with a cold in-place recycling (CIR) process tailored for the tropical climates and for roadways with heavy traffic.
The equipment train for this consisted of a water truck in front, emulsion tanker truck, Roadtec RX-900e cold planer, Roadtec RT-500 mobile recycle trailer, a Caterpillar paver and Caterpillar tandem and rubber-tyred rollers.
The RT-500 functioned like a material transfer vehicle, providing a steady flow of recycled asphalt pavement (RAP) to the paver allowing for continuous, steady production runs, which resulted in smooth a pavement.
BR-381 is constructed with fine grain hard granite aggregate, which was a challenge to mill. The contractor used Kennametal teeth, which were replaced every two to three days of operation. The mill typically cut 4.33-inches (110 mm) deep and averaged forward progress of 30 fpm (9 mmin).
The emulsion percentage was adjusted from 2.8% to 3.5% and the water was adjusted from 1.8% to 3.5% during operation. However, the contractor added that on hot days the water requirements could go as high as 4%.
Brown Brown modified the paver hopper to add capacity and installed sloped diverters to help prevent material build-up in the corners. The hopper was also kept full to add weight and improve the stability of the screed.
"The advantage of this style of CIR plant is that material from the mill is directly deposited into the paver which appears to help generate an improved surface finish on the new pavement," concluded Mike Fischer, Roadtec
field service technician.
New approach
And in-situ recycling is a concept that can also be applied to reconstruction of deeper layers of highways. For example, contractor Nyoni Projects is taking a new approach to two road upgrades in the North West province of South Africa with the use of two new Cat RM300 Rotary Mixers.
"On both projects, we've noticed that the use of the RM300s enhanced the speed at which layers were processed and finalised," said Nyoni Projects managing director, Maclaud Nyoni. "We can do a 300 mm thick layer in one operation, yet with graders we could only do a 150 mm layer at a time. The production levels from the RM300 more than trebled what one could achieve with a grader team, yet manpower resources remained the same, and other support (water trucks) only doubled."
The North West roads work is the largest ever for Nyoni Projects. The first North West section involves the rehabilitation and reconstruction of a section of National Route 4 (N4) over
25 km from near Zeerust to Enzelberg.
"Here we're reclaiming the existing 300 mm sub-base, adding a 150 mm G1 base course layer and sealing the road," said Mr Nyoni. "An extension of time was granted due to bad materials encountered, which could not be recycled in-situ. Suitable material had to be sourced from borrow pits and was placed on top of the in-situ and stabilised using the RM300."
Propelled by its all-wheel drive configuration, the Cat RM300 is designed to work in both full-depth reclamation and soil stabilisation applications. It achieves precise cement stabilisation, as well as very accurate predetermination of the specified moisture content required through computerised settings for the on-board, water-spray pump system.
"For road construction, we've found that the Cat RM300 ensures a consistency of the mixed material that's perfect for layer works, achieving precise densities," said Mr Nyoni. "The speed and efficiency are truly outstanding, providing us with a major competitive advantage."
Indeed, Nyoni is comfortably stabilising between 800 to 1,000m³ per day.
The machines feature a 2.4 m wide rotor drum fitted with 200 carbide-tipped picks, and offers a maximum cut depth of 508 mm.
"With the RM300 you can mill the sub-base and the selected material as one continuous layer, which significantly speeds up the construction programme," said Mr Nyoni.
Controlled concrete
Meanwhile in the concrete paving sector, machine control technologies from pioneers in the field such as GOMACO and Leica can deliver other benefits to rehabilitation projects by speeding up work compared to traditional methods and minimising disruption for road users.
Darr Link is key road connecting Interstate 80 with Highway 30 near Cozad, Nebraska, US. It was scheduled to receive a new concrete overlay as part of the larger reconstruction of 12.5 miles (20.1 km) of Highway 30. However, Darr Link's resurfacing was scheduled in the middle of harvest season, so consideration had to be given to the farmers whose fields bordered it, as well as the daily traffic travelling between the two major highways.
In order to minimise disruption, Cozad-based contractor Paulsen paved its 2.38 km section of the job in two passes, instead of a single 7.6 m wide pass which would have blocked the road. It used a new GOMACO two-track GP-2400 paver with Leica Geosystems 3D guidance system. Although the company had used Leica Geosystems 3D guidance system before on its GP-2600 paver, this was the first time for the GP-2400 and its crew.
Dave Neill, concrete paving assistant manager for Paulsen, said,
"When we purchased the system, we hired two surveyors and they've been a real advantage. Still, we were pretty cautious on our first pour with the stringless technology, but it's pretty straightforward. If you see the paver heading towards the ditch, you know something is wrong, shut it down. Thankfully, that didn't happen to us and once we started using the system we saw so many advantages.
"You don't have to set any stringline stakes, which takes a lot of time and labour. You don't have finishers hitting a stringline and that all makes a big difference. On this project, where we had to maintain traffic as we poured one lane at a time, the biggest advantage was we didn't need the extra four feet (1.2 m) of offset for the stringline."
Paving production on the overlay averaged around 5,000 feet (1,524 m) per day with very little finishing work done behind the paver. The job used five Leica total stations, set up at 300 foot (91.4 m) intervals, which are more than is strictly needed, but Paulson believes the extra instruments help achieve a higher production rate.
Earthmoving technology
And the use of the latest equipment can also deliver benefits in the earthmoving phase of road building, as illustrated by Missouri, US-based Bloomsdale Excavating, which has been contracted to move 2.5 million m3 of overburden for a road construction project close to the town of Macomb in Illinois, US.
The Route 336 project, valued at US$ 32 million was awarded to Bloomsdale in July last year by the Illinois Department of Transportation (IDOT) and includes building 6.5 miles (10.5 km) of a four lane highway on US Routes 336 and 110. The project will require pre-grading work and the construction of drainage structures on a new section of the roads, as well as the reconstruction of county highway 14, which is located to the west of Macomb. It also includes 10 miles (16 km) of grading and clearing, and the installation of utilities.
There are 48 machines on site, including 22 Volvo A40F articulated dump trucks (ADTs), 13 with the company's Full Suspension (FS) system and nine with standard suspension. Bloomsdale is using the FS units with a 25.2 m3 scrapers from K-Tec Earthmovers to move loose dirt. The company uses its standard units for other tasks, such as rock hauling.
The FS system cushions the impact of the K-Tec hitch and the automatic cushion ride on the scraper itself makes for a formidable combination in terms of speed, operator comfort and productivity – while minimising the risk of equipment damage.
Scott Drury, president of Bloomsdale Excavating, said he was pleased with the combination, "Productivity on site has increased as the machines never need to stop. Our operators work 10 hour shifts and the Volvo haulers clock about 2,000 hours on average a year," he said.
This all goes to show that whether the road project is concrete or asphalt, or whether it is in the paving or earthmoving stage, equipment manufacturers have a lot to offer that can shorten project timelines, cut costs and improve efficiency and productivity.