Scissor stadium solution in Azerbaijan
By Euan Youdale23 June 2015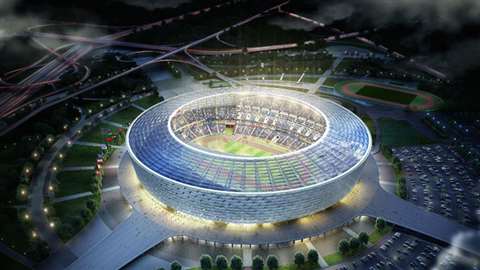 Universal AZ has supplied 22 Skyjack scissor lifts to Azerbaijan's Olympic Stadium, situated in the country's capital of Baku.
In June, 6000 European athletes gathered at the new arena to compete in the inaugural edition of the European Games, known as Baku 2015.
Since 2013, the 22 Skyjack SJIII 4632 DC electric scissor lifts have been working at the Olympic site in Baku. "Once they got to the jobsite, the SJIII 4632s didn't disappoint. During aerial work, where the machines had to fit piping, electricals, water lines and cables, the units' drivability at full height really came into play," said Ruslan Semikhov, department director at Skyjack customer and rental company Universal AZ.
At its working height, Skyjack's SJIII 4632 reaches 11.75 m, with a raised platform height of 9.75 m and an overall capacity of 317 kg.
Upon delivery the lifts were used every day for 12 hours at a time, with running times ramping up to 24 hours a day as the completion deadline for the stadium drew closer.
"Our customers needed machines that were durable due to the uneven ground, which was sometimes littered with metal and other debris," said Mr Semikhov, "Moreover, the SJIII 4632s had to work long hours across multiple zones on the vast jobsite.
"As a rental company, it's important that the machines we buy to rent are easy to repair and require minimal maintenance — the last thing we want is a complicated machine that costs a lot to keep."
The stadium was completed on time, ready for the opening ceremony of the European Games at the Olympic Stadium in June. And, although work is now finished, the machines will remain onsite during and after Baku 2015 to assist with other aerial work projects.