Work starts on Stockholm port
By Sandy Guthrie26 September 2016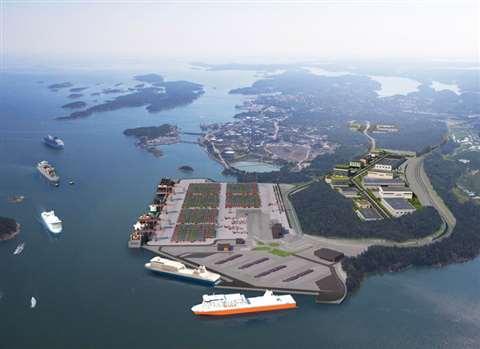 Preparation work has begun on the construction of a new port in Stockholm, Sweden, with NCC handling rock work and the construction of a rail connection.
Ports of Stockholm is building Stockholm Norvik Port, and new facility for rolling goods and container traffic.
NCC's contract, which is worth SEK500 million (€52.12 million), will take two and a half years to complete.
Carina Angarth, Norvik project manager, NCC Infrastructure, said, "Approximately 10 million tons of rock will be blasted and used as filling at the site of the new port as well as at sea, in order to create new land masses for port areas and docks."
In addition to the ongoing earth and groundworks assignment from the Ports of Stockholm, NCC will also build a logistics and business park on its own land, where companies will be able to establish operations "in a dynamic environment in close proximity to the port, road network and a major city".
NCC said that as a result of the sharp increase in trade and the flow of goods, it would be an advantage to have warehouses and offices connected with the strategic link in the business chain that the port represented.
It said the logistics and business park would be a transport and freight centre for already-established wholesalers, distributors, logistics companies, export and import companies, and for other businesses.
NCC owns an area of 410,000m2, of which approximately half is expected to be used for buildings.
The company said, "Depending on which needs are identified, we are able to develop anything from small office and business properties to large warehouses, final assembly halls or other facilities with a ceiling height of up to 28m."
Svante Hagman, NCC Infrastructure business area manager, said, "The Norvik Logistics & Business Park will supplement the port with the services that a port needs in terms of storage, office, service, etc. We have already received many enquiries and are very pleased to be able to finally begin work in earnest."
A railway track will run through the area, leading to the port and the logistics park. NCC said it would be possible to link sea transports to an upgraded rail network and newly-developed roads for more efficient transportation.
At a ceremony to mark the start of the construction of the port, Karin Wanngård, Mayor of Stockholm, said, "Stockholm is growing rapidly. This is an important investment in creating an efficient supply of goods and in achieving sustainable urban development and growth in the region."