JCB launches into powered access
By Euan Youdale01 February 2017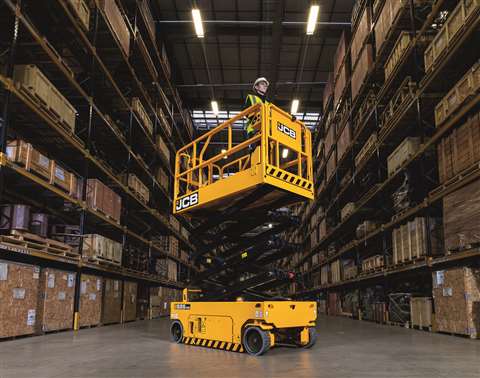 Construction equipment giant JCB has entered the powered access market, with the launch of nine electric scissor models today at the company's headquarters in the UK.
By the end of 2017 the newly-announced JCB Access business will have 27 scissors, articulated booms and telescopic booms. The move is geared towards taking a slice of a market in which JCB believes 130,000 units a year are sold annually, generating a revenue of US$8 billion.
JCB's entry into access has been one of the most closely guarded secrets the industry has known, despite being in the planning for two years and with a good number of AWP industry experts taking up roles at the new division, to complement the company's existing expertise. One of them is Phil Graysmark, Genie's former vice president of sales and marketing for the EMEAR region, who left the Terex AWP division after eight years towards the end of 2015.
Speaking to AI in the days leading up to the launch at JCB headquarters, the access division's managing director Richard Butler - a longstanding JCB employee - explains its decision to enter the access market was customer driven. "They had been saying to us for a number of years, 'there is one area of the business that you don't deal with, and it's the access sector'."
He added, "It was a logical extension; we had been busy growing our product range over the years in the construction and agriculture sectors but the noise escalated - the number of customers who said, 'you should be in this sector because it has so many synergies with products you already supply'. It was a no-brainier in reality, and we set about it."
All the products will be produced in China. The manufacturer has a dedicated production line there but not in its own factory. JCB is looking to firm up the partnership in the near future.
Read the full interview with Mr Butler about JCB Access' ambitions and products in the January/February issue of Access International.
By the end of 2017 JCB's range of access platforms will include:
Nine electric and three diesel scissor lifts from 15' (4.6m) to 45' (13.8m)
Five articulating booms – four diesel and one electric - from 49' (14.9m) to 81' (24.6m)
10 diesel telescopic booms from 67' (20.6m) to 136' (41.6m)
The scissor lifts weigh between 1,330kg and 3,366kg. The two smallest models (S1530E & S1930E) have platforms measuring 1.64m long by 0.76m wide, while all larger models use a 2.5m long platform, apart from the largest S4550E model which has a 2.64m long working area. The machines are rated for basket capacity from 227kg to a maximum of 550kg.
The electric scissors are powered by four 6V or 12V batteries, with hydraulic drive. Three diesel models will be introduced later in 2017.
JCB will introduce four articulated booms in 2017, with platform heights of 49ft (14.9m) through to 81ft (24.6m). All four models will be offered with four wheel drive and two-wheel steer, delivering up to 40% gradeability and a maximum stowed driving speed of up to 7 kmh. These will be joined by a 45ft (13.7m) platform height AJ45E electric powered articulating boom model in quarter 3. The electric model has two wheel drive and two wheel steering, with up to 30% gradeability.
The new JCB Access products will initially be offered in the UK, France, Germany and North America and will all have been certified by TUV.
JCB's 770-strong dealer network, in 2,200 will play a major role in its venture, and has been undergoing full sales and service training, while its LiveLink telematic system will be incorporated as standard on all booms, and available as an option on the scissors.