Marsh Plant Hire raises number of Liebherr cranes
By Ian Vallely12 February 2017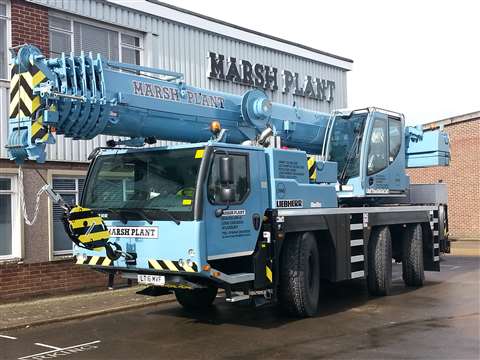 UK-based Marsh Plant Hire has purchased a further LTM 1060-3.1 mobile crane from Liebherr-Great Britain, bringing the total number of this crane model in the company's fleet to five.
Supplier of mobile crane and contractor's general plant hire, Marsh Plant Hire Ltd, which operates throughout the South and the Midlands, has just purchased another LTM 1060-3.1 from Liebherr-Great Britain.
This follows the company's purchase of two LTM 1060-3.1 mobile cranes in 2015 and a further two of the model that were delivered in early 2016, bringing the company's total number of LTM 1060-3.1s to five.
The 60 tonne LTM 1060-3.1 is earning its keep as a contributor to Marsh Plant Hire's operations with its compact three-axle chassis and range of beneficial features.
In particular, the combination of the compactness of the machine and the 48 metre maximum operating height provided by the five-section main boom is said to give it excellent versatility and the six-wheel steering provide exceptional manoeuvrability.
Liebherr's ECOmode provides fuel savings of up to 10 per cent, air conditioning in both cabins of all new Liebherr cranes is also now standard and new cranes have Liebherr-branded Kenwood CD radios with Bluetooth and external microphone.
Marsh Plant Hire's managing director Andy Honeywell said, "We continue to be impressed with the specification of this model and the inclusion of VarioBase is an added plus.
"Having run four of these units in our fleet for a year or so we have now been able to fully evaluate them from a service perspective. They are proving extremely reliable and therefore achieving a good financial return on investment."