Slow and steady: from steel to fibre rope
Grove RT880E was the first crane in the Middle East to be fitted with Samson's K-100 synthetic hoist rope
The transition from steel rope to synthetic rope is a slow and steady process with most manufacturers still in the testing phases. It is, however, the way that the development of rope for crane use is going, with its exponents touting many benefits over traditional steel rope.
Synthetic fibre rope is up to seven times lighter than steel rope, easier to handle for the operator, is a better choice for corrosive environments and is said to reduce the total cost of ownership.
Crane manufacturer Manitowoc uses rotation resistant wire ropes on its GMK all terrain (AT) line, up to 24 mm diameter. The company is now trialling synthetic rope in the field on its AT range, through a partnership with USA-based rope manufacturer Samson. The Samson K-100 is the first synthetic hoist rope for mobile cranes.
A Samson representative says, "K-100 has the same line pull and load chart as wire and it can be used with a 5:1 safety factor. It is 80 percent lighter than the wire it replaces, making handling, reeving, and installation easier. K-100 does not rust and requires no lubrication. Its unique construction eliminates kinking, birdcaging, and damage caused by diving on the winch drum. Its torque-neutral construction means K-100 eliminates load spin and cabling."
For crane manufacturer Liebherr, a partnership with Austria-based rope manufacturer Teufelberger has seen seven years of development to make its high-strength synthetic fibre rope SoLite. This was introduced at the Bauma Munich exhibition in 2016 and is now in the testing phase. Benefits of this rope include maximum weight savings of about 80 percent (similar to Samson's K-100) compared with steel rope, no rope lubrication, a long service life and clear discard criteria. Different coloured rope wears at different rates so crane operators can easily see when the rope has to be replaced, as well as electronic condition monitoring.
Buying in
At the end of January Teufelberger announced its acquisition of Italian steel wire rope specialist Redaelli Tecna which manufactures steel wire rope for hoisting in cranes, offshore and onshore oil and gas, mining, cableways, material transport and others. Because of the relative infancy of synthetic rope, it is still important for crane and rope manufacturers to invest in steel rope, as indicated by this acquisition.
Florian Teufelberger, CEO, said, "We are convinced that Redaelli will be an enormous gain for Teufelberger. Together, we will now be able to offer customers a portfolio of steel wire ropes and services that is unprecedented in the industry."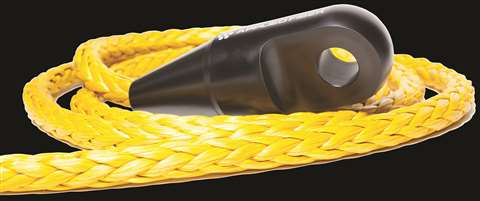 With the use of synthetic fibre rope for hoisting in cranes so new, there is a lot to be learned. Especially in terms of safety.
Fédération Européenne de la Manutention (FEM) is working on a guidance paper for the safe use of synthetic fibre ropes in mobile cranes. FEM product group Cranes and Lifting Equipment is working on the publication titled Safe Use of High Performance Synthetic Fibre Ropes on Mobile Cranes.
The meetings to establish these guidelines are ongoing, and steel and synthetic rope manufacturer Wireco Worldgroup (Casar, Lankhorst Ropes, Union and Oliveira) has been a contributor from day one.
Using ConExpo in Las Vegas, USA, as a platform, the company will show several new ropes and upgrades. Lankhorst Ropes has created Lanko Lift S – a bright yellow rope consisting of 12 braided outer strands made of Dyneema material. The company says that this design has a breaking strength equal to a steel rope of the same thickness. Lanko Lift S also has a special coating treatment applied to the fibres to reduce interior friction and increase UV resistance. Further laboratory testing and initial trials using cranes are in the planning phase.
Other new products include Casar Superfit, an extension to the 10 strand Superplast rope, with great reversed bending characteristics, an even higher breaking strength and a smooth rope surface. The Oliveira range from Wireco has a new compacted hoist rope for ship and deck cranes, the DC 4 K 4-strand, and the new TC 12 K rope specifically designed for small- to medium-sized tower cranes.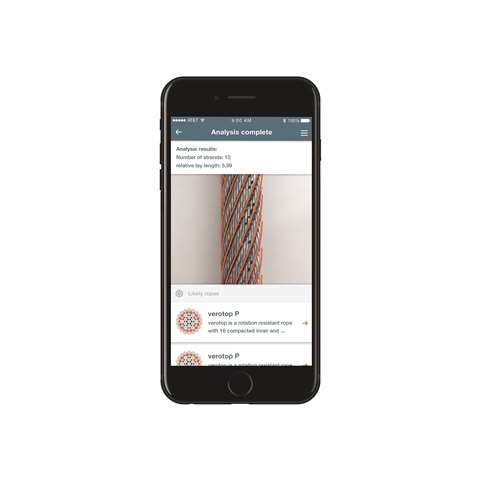 Wire rope manufacturer Verope is focusing on developing new rope designs, including hybrid ropes and fibre ropes for the USA and global markets. In co-operation with Korea-based Kiswire, the company has a research and development (R&D) complex and service centre in Zweibrücken, Germany. On-site stranding machines allow for fast feedback on new designs, the company said. Bending fatigue, efficiency, dynamic load and tensile breaking tests can be done there. Changing over
Verope has also developed a special wire rope service app that includes rope management and tracking, direct support, lay length and rope detection through camera object recognition, and a rope catalogue. For those crane owners who wish to make the switch from steel rope to synthetic, what should be kept in mind? Andreas Cremer, global product director for AT cranes at Manitowoc, says, "In some cases we recommend additional guards to keep the lighter rope on the boom. For retrofitting on cranes with wire ropes, we recommend surface preparation of the hoisting system by a grinding process to ensure it's free of sharp edges. We still supervise and approve the exchanges from steel to synthetic ropes."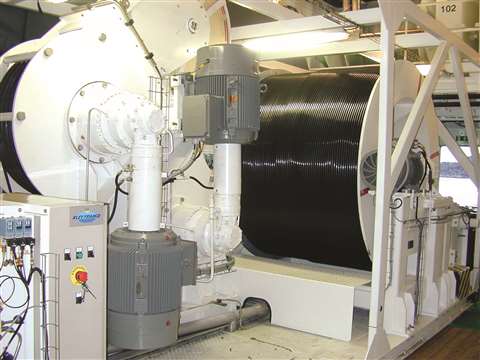 France-based winch manufacturer Starter says that switching from using wire rope to synthetic rope is not a simple issue. Alexandre Dubois, communications and marketing manager at Groupe DLD (owners of Starter), says, "Several topics have to be considered, not only regarding the rope itself, in order to make the switch properly and safely. The main considerations are: type of anchor device, drum surface quality, type of fairleads, type of sheaves and snatch blocks. All types of polymer fibre are not suitable to fit a winch, as alternative bending stress occurs during the winding and unwinding operation, in addition to traction stress."
Starter says that the synthetic rope choice means 'a complete analysis' of the winch and accessories solution, as well as operator training to ensure safety and durability.
To control the winch and ensure rope guidance and proper spooling during lifting operations, Starter uses a diamond shaft bevel winding or sheave spooler. For synthetic ropes, the company has developed and patented a spooler dedicated to winching with this type of rope.
Synthetic fibre ropes on the winch drum
Cris Seidenather, managing director at Lebus International Engineers, explains more about the switch from steel to synthetic rope in relation to winches.
Lebus has not yet had the opportunity to conduct studies on the latest generation of synthetic ropes promoted by the likes of Teufelberger (with Liebherr) and Samson (with Manitowoc). But whether it emerges that synthetic ropes perform best with simple helical groove drums (screw groove), parallel groove (Lebus style) or plain faced drums, there remains an important benefit of the Lebus system – its versatility.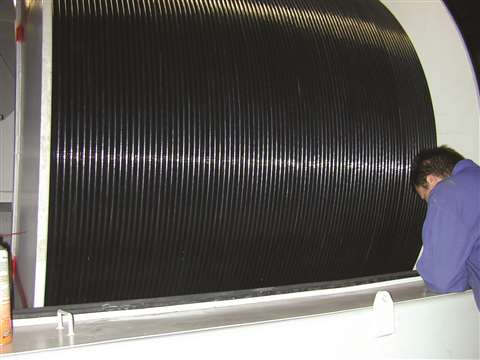 Grooved sleeves can be interchanged to suit any size or type of rope being used. By using interchangeable sleeves, you can use steel wire rope today and synthetic rope the next day.
Lebus has been active in promoting synthetic materials, providing polyamide sleeves for winches on offshore vessels. A major benefit over steel is a substantial weight saving – 80 kg compared with 500 kg, for example – which is a significant advantage.
Being non-magnetic and not susceptible to corrosion is another key benefit in submarine applications. For more than 18 years Lebus has supplied Kley France, a producer of handling equipment for offshore industries, with winch drum sleeves for spooling huge lengths of synthetic rope – much greater than would ever be seen on a construction crane.
Synthetic ropes are being increasingly used for scientific deep sea operations, for example, gravity coring, with loads of 40 tonnes and more. There are two challenges in using synthetic ropes: the first relates to spooling these ropes, which can be up to 10 km long, or more; the second is to manage the tendency of the rope to stretch.
Kley France has developed and patented annular traction winch technology to respond to these challenges. The traction winch is equipped with synthetic self-elongating grooves designed to match the rope elongation. Damage and heat generation from friction sliding are then minimised. High-quality spooling of rope is achieved by using a large diameter storage drum, fitted with Lebus sleeves. The spooling sheave is driven through a regulation loop developed by Kley France, to accurately serve the pattern of the Lebus sleeves.