Kier and Eiffage carry on
By Sandy Guthrie22 January 2018
Kier and Eiffage are planning a 50:50 partnership to carry out work in the UK that was to have been undertaken with failed contractor Carillion.
Having failed in its attempt to persuade stakeholders, including the UK government, to provide help, Carillion went into compulsory liquidation on 15 January, 2018.
Now, the UK's Kier and French-based Eiffage, who were in a joint venture with Carillion to deliver £1.4 billion (€1.59 billion) of projects in the UK's HS2 high-speed rail programme, have confirmed that they are offering employment to the 51 Carillion employees, including apprentices, currently working on the HS2 joint venture.
Eiffage and Kier, now working in a 50:50 joint-venture partnership, are delivering two of the seven civil engineering packages – lots C2 and C3.
Lot C2 will see the construction of the north portal Chiltern tunnels to Brackley in an £724 million (€822.63 million) project, while Lot C3 is for the £616 million (€699.93 million) Brackley to Long Itchington Wood Green tunnel south portal.
The design phase of work began on these projects last year, and the project as a whole is expected to take between four and five years to complete.
Haydn Mursell, Kier's chief executive, said, "We have been working collaboratively with our client HS2 to reach a solution, which has been ratified by government.
"We are pleased to offer continuity of employment to all the 51 Carillion employees including apprentices, currently working as part of the HS2 joint-venture team, and we will step in to ensure continuity of delivery of the programme."
Benoît de Ruffray, Eiffage's chairman and CEO, added, "The joint venture teams from Eiffage, Kier and Carillion have all worked incredibly well together, collaborating to produce a strong and successful bid.
"I look forward to welcoming all new employees, and have confidence in the continued successful delivery of this project."
Taskforce
A government taskforce has been set up to monitor and advise construction firms affected by the Carillion collapse, particularly SMEs (small and medium-sized enterprises) and those working in the sector. It met for the first time last week.
Chaired by Greg Clark, Secretary of State for Business, Energy & Industrial Strategy, with support from the Small Business Minister Andrew Griffiths, the taskforce was attended by representatives from leading business bodies, the construction trade sector, unions, banks and government.
The taskforce's aim is to ensure the impact of the Carillion insolvency is minimised on the firm's employees in the private as well as public sectors, and to help them recover.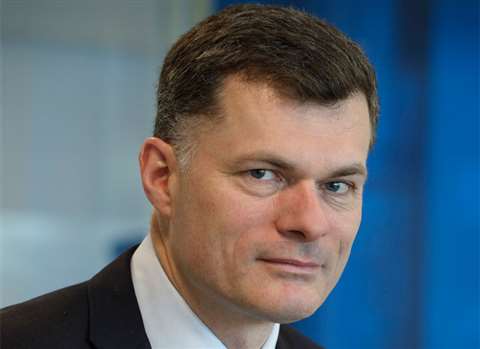 Clark said, "I am determined that collectively we will take the steps necessary to give workers and businesses the information they need at this difficult time."
The Business Secretary praised several banks who, following a request from him, have committed to providing support to small businesses affected by Carillion's insolvency. These included Lloyds Banking Group, which has launched a £50 million (€56.89 million) fund, HSBC a £100 million (€113.78 million) fund and RBS has made £75 million (€85.32 million) of assistance available.
'Extraordinary'
Michael Gallucci, managing director of construction consultancy MPG, in advising firms affected by the collapse of Carillion how to respond, said that the scale of this insolvency was extraordinary.
He said that when contracting on construction projects, it was imperative to have appropriate written agreements and programmes in place.
"Often," he said, "contracts give both parties the right to terminate if one or either becomes insolvent. That means you can walk away from a project without incurring any further costs, but what should you do about the money you are owed for the work you have already completed?
"That's the shadow hanging over around 30,000 businesses collectively owed £1 billion (€1.14 billion) following the collapse of Carillion, which has left chains of first tier suppliers and subcontractors in limbo."
He said, "The scale of this insolvency is extraordinary but the same common sense responses to a customer in insolvency still apply."
He listed the companies in liquidation – Carillion plc, Carillion Construction Ltd, Carillion Services Ltd, Planned Maintenance Engineering Ltd, Carillion integrated Services Ltd and Carillion Services 2006 Ltd – and said that the liquidators, PwC, had set up a website for everyone affected, at www.pwc.co.uk/carillion.