Engines: Gearing up
By Thomas Allen08 February 2018
Volvo Penta's new EU Stage V-compatible TAD580-582VE with its complementary engine aftertreatment system
Off-highway engine and machine OEMs (original equipment manufacturers) will continue to be subjected to tougher environmental regulations from next year, as the EU looks to reduce diesel engine particulates and NOx emissions further.
From 2019, engines below 56kW and above 130kW will have to comply with EU Stage V emissions standards. And from 2020, these regulations will also apply to engines in the 56 to 130kW range.
The key change with the EU Stage V emissions standards is that there will be a limit on the number of particulates emitted by engines in the 19kW to 560kW power range, which will drive the requirement for Diesel Particulate Filters (DPFs) to be fitted to these engines where they are currently not required for EU Stage IV.
According to global engineering service provider Tata Technologies, EU Stage V regulations between 56 and 560kW are likely to have less impact on machine engine system installations as they often already required DPF and selective catalytic reduction (SCR) systems to meet EU Stage IV regulations. For these engines the regulation is leading to more of an evolution of already existing technology.
The most significant change will be for OEM applications in the 19 to 56kW range, Tata Technologies said. The impact of adding DPFs to the aftertreatment systems will need to be considered – whether this means additional packaging size, revisions to the cooling system or the introduction of electronic control systems.
Looking further ahead, Volvo Construction Equipment (CE) has been considering the possibility of a diesel-free future, and what the recent announcements by the French and British governments to phase out petrol and diesel vehicles could mean for off-road vehicles used in the construction industry.
Construction equipment is largely run on diesel engines and no official announcements have been made yet concerning their use in relation to the bans on petrol and diesel on-road vehicles. But Volvo CE has suggested that Low Emission Zones (LEZs) could provide some insight into how urban construction projects can have a less harmful effect on air quality at present.
The new C9.3B from Caterpillar is a six cylinder engine that produces up to 340kW of power and 2,088Nm of torque out of a package that was said to be almost 140kg lighter than its predecessor
In areas where air pollution levels are considered dangerously high – mostly in city centres – LEZs seek to improve the air quality by regulating the most polluting vehicles.
The EU sets emissions standards that define the acceptable amount of pollution that can be emitted by the exhaust of a vehicle sold in the EU and EEA member states. Depending on the area, vehicles with higher emissions either cannot enter the area at all, or have to pay a fee if they do.
DPF requests
Volvo CE said that, to avoid this, construction equipment firms are increasingly being asked by customers to fit a DPF to their machines.
Kurt Deleu, director of regional sales support, Europe, at Volvo CE, said, "DPFs are currently seen as an extra precaution in response to a perceived need to meet regulations in Low Emission Zones. But as regulations around Low Emission Zones continue to become stricter, it's likely this trend will continue."
Ultimately, Volvo CE suggests it could lead to the end of the diesel engine, as alternative technologies take their place.
The company recently demonstrated its EX2 prototype, which is a fully electric compact excavator that was said to deliver zero emissions, ten times higher efficiency and ten times lower noise levels. It won the equipment and machinery award in the earthmoving and demolition category at the Intermat Innovation Awards 2018 earlier this year.
Returning to the present though, Volvo Penta recently revealed its new 5 and 13 litre engines with complementary engine aftertreatment systems (EATSs), as part of its Stage V engine range, which comprises the D5, D8, D11, D13 and D16.
Both EU Stage V engines were said to have been designed to deliver maximum power and torque at low rpm, so that operation is smooth, noise levels are low and fuel efficiency is optimised.
The 12.5 litre C13B industrial engine from Caterpillar was said to have 68 million hours of real-world experience
The 5 litre TAD580-582VE is a four cylinder unit that offers a maximum output of 160kW at 2,200rpm, and the 13 litre TAD1381-1385VE is a six cylinder unit that generates a maximum output of 405kW at 1,900rpm.
Johan Carlsson, chief technology officer at Volvo Penta, said, "As new emissions regulations are on the horizon for 2019, we know that OEMs are planning now on how to move towards this new chapter for equipment manufacturing. With our new engine solutions, OEMs can be sure that their customers will get the right power output for their needs at the appropriate emissions levels."
The company's Stage V engines are produced with a common architecture, for ease of installation, service and maintenance. In addition, the hardware layout and electrical interfaces of the new D5 and D13 engines are compatible with engines of earlier emissions legislation.
The heat of the engines is managed by the air inlet throttle, in combination with the uncooled exhaust gas recirculation (EGR) and the electrical exhaust pressure governor (EPG). This allows the system to function without the need to inject fuel into the exhaust stream to raise the temperature.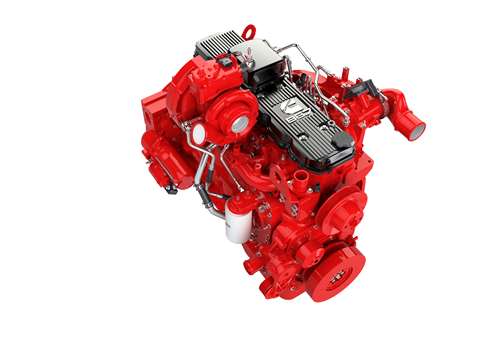 With this approach, the exhaust gas is at an optimal temperature when it passes through the EATS. Low heat rejection from the complete system means that less cooling is required.
The EATS includes a diesel oxidation catalyst (DOC), DPF, SCR and Ammonia Slip Catalyst (ASC).
Starting production
Caterpillar has also been busy expanding its EU Stage V engine range with the addition of its new 9.3 litre offering, which starts production this year.
With the C9.3B industrial engine, Caterpillar said it had taken a customer's approach in order to address the diverse requirements of the global off-highway emissions landscape.
The six cylinder engine combines a new high-pressure common rail fuel system and simplified air, electrical and aftertreatment systems to produce up to 340kW of power and 2,088Nm of torque out of a package that was said to be almost 140kg lighter than its predecessor.
Benefits of these changes include increased performance, improved fuel consumption and good starting capability in cold climates, the company said.
The C9.3B has been in production since 2011, with more than 46,000 engines logging more than 150 million hours in real-world off-highway applications.
Since a DPF solution was already in place, Caterpiller's focus for EU Stage V customers was on simplifying the design and improving its performance.
The company said it had taken 39% of the aftertreatment packaging size out of the previous design, and that it was now offering factory-fitted engine-mounted aftertreatments, in addition to full industrial power units. For more challenging installations, remote-mounted aftertreatment is available.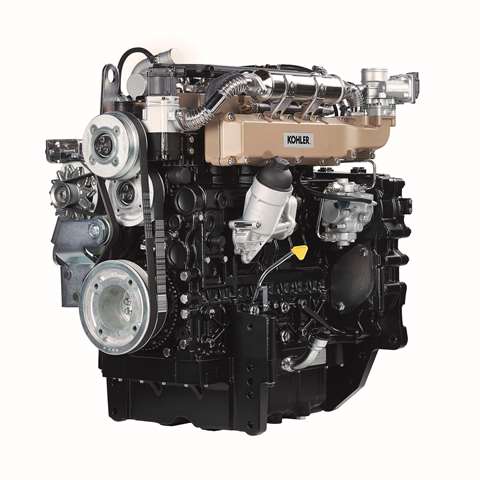 The new Stage V version of Kohler Flex, the KDI 3404, has an aftertreatment system that can be mounted on the engine or kept separate
In addition to the C9.3B, Caterpillar has also introduced the new 12.5 litre C13B industrial engine, which the company said has 68 million hours of real-world experience.
Jeff Moore, product manager for Caterpillar's 7.2 to 18 litre engines, said, "Our customers expect reliability and durability, but they need it from a simpler, lighter package with more power and that's what we're giving them with our new engines."
By combining upgraded air, electrical and aftertreatment systems, the six cylinder C13B is able to produce a range of powers from 340 to 430kW and up to 2,640Nm of torque out of a package that was said to be 30% lighter in comparison to previous models.
EMAT (engine-mounted aftertreatment) and full Industrial Power Unit (IPU) configurations are offered out of the factory in Seguin, Texas, US, while remote mounted aftertreatment is also available.
Caterpillar said it would also be certifying its existing EU Stage IV engines in its C13, C15 and C18 product range to meet Stage V emissions standards. The company said they would require only minimal changes to the internals of the DPF in order to meet the standards.
Emissions standards
Kohler has extended its Kohler Flex range of solutions for emissions control, which has been designed to enable each configuration of the KDI (Kohler Direct Injection) platform to comply with the various emissions standards and regulations around the world.
The new Stage V version of Kohler Flex, the KDI 3404, is a regeneration strategy designed to maintain optimal machine operation, even at low load and low temperatures, thereby reducing downtime caused by forced regeneration events.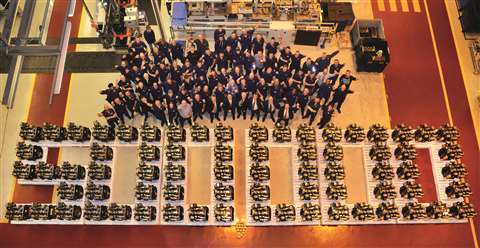 Kohler released two DPF versions, one with a maximum service interval of 10,000 hours, and the other with a maintenance interval of 6,000 hours.
The aftertreatment system can be mounted on the engine or kept separate. And as a result of the facat that the axial and radial inlet-outlet pipes can be rotated through 360°, it can easily be adapted for different applications.
Kohler said its new engine was optimised for increased torque response and torque density. The KDI 3404 delivers 105kW of power and can reach 640Nm of torque at 1,400rpm.
It was said that these new ratings gave OEMs the chance to adopt smaller and more compact engines, and that without the Charge Air Cooling (CAC), it was a cost-effective solution for OEMs requiring simplicity and compactness.
Kohler is also extending the KDI engine line-up with new configurations for less regulated countries.
It was said that these versions, with a 1,600 bar pressure common rail and no EGR or DOC, would ensure the same performance as achieved with the other configurations of engine.
Petro-Canada Europe Lubricants, which supplies lubricants for engines, said it had been making significant investments in recent years to ensure that the company met the needs and requirements of businesses throughout Europe.
Karl Rudman, business development manager at the company, said that over the last few years there had been a focus in European markets to develop engine lubricants that were more robust, more resistant to oxidation, and had increased shear stability.
"The transition to a high-quality heavy-duty engine oil, such as Duron, is one of the most rewarding prospects for heavy duty business owners," he said.
Duron is Petro-Canada Europe Lubricants' range of heavy duty engine oils, designed to improve durability to meet the demands of OEMs now and in preparation for changes in the future.
A combination of technological innovations and changes made to public policy and emissions legislation in recent years have meant that OEMs have had to work to refine the design and functionality of their engines in order to deliver vehicles that have less of an impact on the environment while simultaneously offering improvements in performance.
Idle time
Idle time is an important factor to consider – according to Petro-Canada Europe Lubricants, one hour of idle time is equivalent to approximately 25 miles of driving. Prolonged idling can therefore result in the need for an oil change, even if the vehicle's odometer states differently.
The new Flex DOC and DPF solution from Kohler has a maximum service interval of 10,000 hours
Rudman said, "Improving engine performance can be a key factor in this, as extending oil drain internals can reduce the amount of downtime required on-site. Lubricants have a crucial role in improving reliability and performance, as they minimise metal-to-metal contact between moving components, while also reducing pumping and spinning losses."
Combined, these design improvements can improve engine performance, offer greater hardware protection, and reduce vehicle maintenance time by extending oil drain intervals.