Faymonville offers pin-on flip axle for USA
By Christian Shelton12 March 2018
Manufacturer of semi-trailers for the special haulage industry, the Faymonville Group, has added a steerable fourth pin-on flip axle as the latest option for its Megamax double drop lowbed trailer for the North American market.
According to the Europe-based manufacturer, the addition of the steerable fourth pin-on flip axle helps to increase the legal payload. Faymonville said this can be a versatile tool when travelling across states in the USA that have different regulations.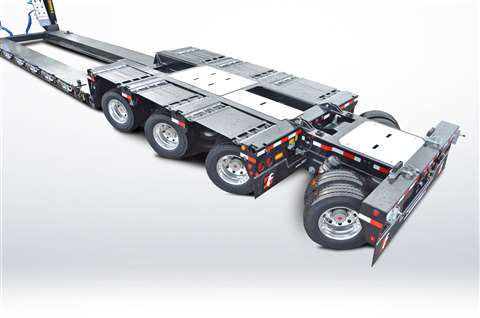 Faymonville illustrated the point with some figures: with an axle load of 20,000 pounds (9,071 kg) the pin-on flip axle allows a total payload capacity up to 95,000 pounds (43,091 kg); at the maximum technical axle rating of 22,700 pounds (10,297 kg) in the four-axle configuration the trailer can handle up to 105,800 pounds (47,990 kg). Faymonville said that, including the fourth axle, the basic trailer has an empty weight of around 40,000 pounds (18,144 kg).
Faymonville said when the fourth axle is not needed it is easy to detach or flip to shorten the combination. No shimming is needed and the mechanical steering link between the three-axle bogie and the pin-on requires no hydraulics.
The king-pin allows the double-drop trailer to access extremely tight areas, the manufacturer said, while the hydraulic detachable gooseneck allows continuous height adjustment and flexibility during the loading and unloading of construction machinery.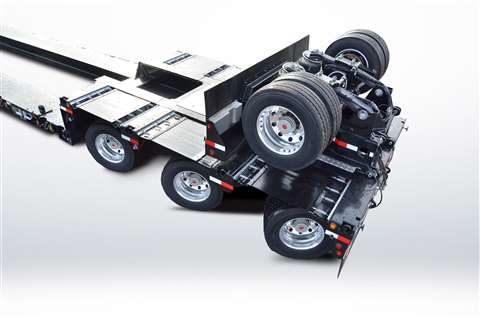 Faymonville added that it is the only European manufacturer in the North American market to use electric and pneumatic parts that are approved by the US Department of Transportation. This, it said, also means that spare parts for these components are easily available throughout the USA and Canada, including at Faymonville's dealer branches.