Airport projects: The sky's the limit
By Andy Brown15 March 2018
When it comes to construction projects, airports are right at the top of the list when it comes to complexity and risk. According to data provided by the Centre for Aviation (CAPA) US$1.1 trillion is spent on airport construction globally – this is broken down by US$255 billion being invested in new (greenfield) airport projects around the world and US$845 billion This investment, though, is by no means spread equally around the world, with North America and Canada only spending US$3.6 billion between them on a total of 11 airport projects. It is the Asia Pacific region which is the most active when it comes to aviation projects, spending just under US$400 billion.
One project which accounts for some of that spending is Beijing's 80 billion Yuan (US$12.6 billion) new airport, which will be one of the world's largest when it opens in October 2019. The contractors for the project are Beijing Construction Engineering Group, Beijing Urban Construction Investment and Development Co. Ltd and China Construction 8th Engineering Division Co. Ltd.
The project is part of the large infrastructure drive overseen by President Xi Jinping. The 'Beijing New Airport' is made up of 1.6 million m3 of concrete, 52,000 tonnes of steel and spans a total area of 47km² including runways.
It is expected to serve an initial 45 million passengers a year with an eventual capacity of 100 million, as China seeks to boost its profile as an international aviation hub. The airport will be connected to Beijing by a high speed train with a top speed of 350 km an hour, as well as an inter-city train and an expressway. It is hoped that the new airport will relieve pressure on Beijing's existing international airport.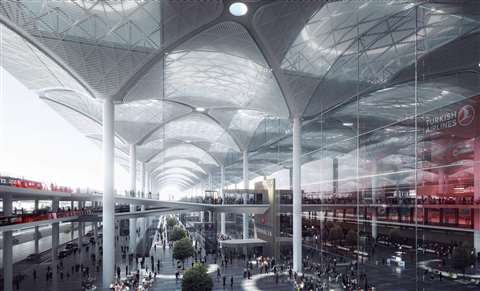 A new gateway
After just three years of construction, Turkey's newest airport is set to go into operation in 2018. It will initially have two runways, expanding to six by the end of the project in 2028. The Istanbul Yeni Havalimanı (New Istanbul Airport) is the biggest infrastructure project in the history of Turkey and is a build operate transfer (BAT) agreement between the Turkish government and the developer of the project, which means that after a set period of time the airport will revert to being the government's property. The airport will be located in Arnavutköy in the northern part of the city's European side.
The developer of the project is iGA, a consortium of the five leading Turkish contractors: Cengiz, MAPA, Limak, Kolin and Kalyon. The contractors opted for a Wirtgen Group fleet comprising over 50 machines and plants such as Benninghoven asphalt mixing plants, Vögele road pavers and Hamm compactors and tandem rollers for soil and asphalt compaction. Wirtgen slipform pavers will be used to produce a number of concrete taxiways.
For the new airport the earthworks on the 9,000 hectare site were a major project, the challenge being to create a base with a high load-bearing capacity. Three Wirtgen soil stabilisers of types WR 240, WR 200 and WR 2500 and ten Hamm 3516 compactors with an operating weight of 16 tonnes were used. Once the WR machines had stabilised the ground, the non-cohesive soils of gravel and crushed stone were compacted by the Series 3000 machines.
With airport authorities demanding smoother and flatter runways and taxiways, the İGA consortium initially used two SP 500 models with dowel-bar inserters, one SP 25 and one TCM 95 texture curing machine were used for the concrete paving work. They are paving taxiways with a depth of 40 cm and a width of 2-6 m.
One of the ways airports ensure that their runways remain smooth and are not worn down is by having machinery which uses high-pressure water jets for the controlled removal or scarification of concrete, as well as the removal of paint and rubber, leaving behind a surface for fresh concrete, or new paint.
For instance, Aquajet Systems AB's specialises in manufacturing hydrodemolition robots, which perform this function. Due to the robots' automation, the operator controls the high-pressured ceramic nozzles from a distance, adjusting the stroke to control the depth of cuts and vary the pressure of the water jet. The process allows operators to remove just the top layer of concrete or remove the slab in its entirety.
Projects in difficulty
Not all projects get off the ground, and the Peruvian-Argentine consortium Kuntur Wasi is set to sue Peru in an international arbitration court after failing to reach a deal with the government over the cancellation of its US$525 million Chinchero airport project.
The government of President Pedro Pablo Kuczynski announced the cancellation of the project in May 2017 amid an escalating political crisis regarding a contract modification it had proposed, which critics said sought to help Kuntur Wasi at the expense of the state.
Kuntur Wasi, which is owned 50-50 by Peru's Andino Investment Holding and Argentina's Corporacion America, said it had fulfilled all of its obligations and that Peru had no basis for unilaterally rescinding the contract. The proposed Chinchero airport was aimed at helping tourists get to and from the Incan ruins of Machu Picchu, near the city of Cusco in southeastern Peru.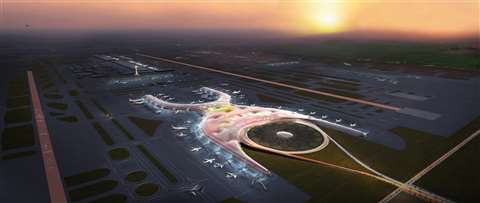 Another project in difficulty is the new Mexico City International Airport. The project has suffered a catalogue of troubles, such as a rail line intended to transport materials to and from the site being held up by land disputes and heavy rain.
One of the runways is also late and could impede the entire project if it fails to clear safety tests and certifications in time. Other issues include a key contractor filing for bankruptcy, the project coordinator suing the airport operators, and the collapse of a bridge that connected to a highway during a recent earthquake.
Located on an old lake bed, the 5,018 hectare site had to be paved with tezontle – a volcanic rock – before work could begin. The runways will need three more coats of the rock and two layers of basalt, which will sink about two metres into the ground, squeezing out any remaining water.
The airport, which is designed to accommodate 68 million passengers per year by 2020, will be housed in a single X-shaped glass-and-steel structure that will collect and recycle rainwater. Despite the setbacks, the Grupo Carso joint venture that was awarded the contract for the project back in January 2017 and comprises FCC, Acciona and a number of local Mexican firms, all led by Carso, said it was still operating to the 2020 deadline.
Replacing the nation's overcrowded main airport was a key promise made by President Enrique Pena Nieto but his political opponent, Andres Manuel Lopez Obrador, has promised to scrap the project.
The Mexico election will be held on July 1st 2018 and the result could determine the future of the project. Obrador is believed to be interested in an alternative plan to build two new runways on a site at the existing Santa Lucía military airport in Zumpango. This alternative project would reportedly only cost 40 billion pesos (US$2.1 billion).
Transformations
Manchester Airport, in the North West of England, is undergoing a £1 billion (US1.3 billion) refurbishment programme that will see its Terminal 2 expanded by 140%. This is occurring by extension and reconfiguration of existing space, as well as by providing new multistorey car parks and surrounding infrastructure. The project, being overseen by contractor Laing O'Rourke, will at its peak have 1500 workers on site and has a scheduled completion date of 2020.
Andrew Cowan, Manchester Airport's CEO, said the transformation would give the north the 'world class international gateway' it deserves.
It is a transformation of a different kind, but India is looking to boost its connectivity by establishing 100 airports – doubling the current number – in the next 15 years at an estimated cost of RS 4 trillion rupees (US$62.2 billion). The Regional Air Connectivity Scheme will split the investment between building 70 airports at new locations while the rest of the money will be allocated to second airports or expanding existing airfields. There has already been approval given for 18 new airports.
In an interview Jayant Sinha, minister of state for aviation in India, said: "Airport planning in the past was such that an airport is saturated by the time its development work is completed. We need to get out of that incremental trap and think for the future and take a long-term view. We will need to add about 100 new airports, as aviation in India grows."
Information from the Centre for Aviation suggests that India's aviation industry will be the third largest for departures by 2019. One of the flagship new airports will be the Greater Noida airport at Jewar, approximately 60 km from Delhi and 2,378 acres of land has already been acquired to develop the airport. Catering to around 30 to 50 million passengers every year over next 10-15 years, the project will eliminate the current dependency on Delhi airport for air travel.