WIND ENERGY: SARENS IS A POWERFUL FORCE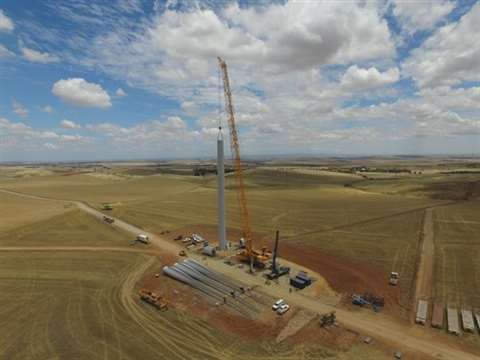 As the world raises its ambitions for wind energy, Sarens is focusing its global resources, expertise and might to lift up the market, supporting clients from Europe to Australia. In addition to work on major projects around the world, Sarens is also shaping the future of the wind energy industry with crane designs built to support powerful, next-generation turbines.
"We are convinced that this is the future market," said Benjamin Noé, Project Manager for the Sarens Wind Division. He believes that even more wind parks will be needed to reach carbon dioxide targets.
In Europe, for example, wind energy has already outpaced coal, and the industry is poised to invest €239 billion and employ nearly 600,000 people by 2030. The wind energy market is one of the fastest-growing and dynamic industries in the region, and the specialised Sarens wind team is poised to serve the industry with local solutions and technical capabilities that meet those evolving demands.
Sarens works closely with two sectors, oil & gas as well as wind energy, as wind energy isn't yet at the point where it can support all the market's energy needs. Noé and his team, however, believe that this will shift with time, especially as the cost of wind energy continues to decrease.
Major projects and equipment
Sarens provides services to the wind industry worldwide, both for onshore and offshore projects. Clients turn to Sarens because of the Group's commitment to the industry and European standards, as well as fair pricing that meets clients' budget expectations.
Some of Sarens' current and past wind projects include:
Afton wind farm in the UK: Sarens is performing wind turbine generator (WTG) pre-assembly and installation for the Scotland-based wind farm on behalf of client Siemens Gamesa Renewable Energy. Operators are using two main crane setups for installation: the LG 1550 as the main crane with the AC 130-5 as a tailing crane, as well as the LTM 1800 as the main crane with the LTM 1160 as a tailing crane. For offloading, the team is using an LTM 1100-4L and ATF 110G-5.
Tauberbishofsheim project in Germany: Sarens worked in the Königheim area of Germany on behalf of Vestas Deutschland GmbH to install three WTGs standing 149 metres tall. During the month-long operation completed in January 2018, Sarens deployed a CC 3800-1 with Boom Booster as the main crane and a GMK5130-2 as tailing crane.
Hornsdale 2 project in Australia: In the Jamestown area of South Australia, Sarens offloaded, pre-assembled, and installed 32 WTGs standing 92.5 metres tall for client Siemens Australia. For the main installation, operators used an LG 1750 as the main crane with an ATF 130G-5 tailing. The LTM 1500-8.1 as the main crane and an LTM 1130-5.1 tailing were used for pre-assembly. The ATF 110G-5 and GR 800-EX were used to offload the WTG components. The project took place from 2016 to 2017.
Akhfennir project in Morocco: From 2015 to 2016 Sarens installed 52, 80-metre tall WTGs in the Akhfennir area of Morocco, for client General Electric. For the main installation, operators used an LR 1600-2W as the main crane with a 120 tonne tailing crane. For pre-assembly of the lower part of the WTGs, they used the LTM 1400 as the main crane with an AC 200 as a tailing crane.
Vartinoja project in Finland: In 2015 Sarens worked with client Alstom to install nine 120-metre tall WTGs. Operators used an SL 3800 as the main crane and tailed it with an LTM 1100 for the main installation.
New crane designs
Sarens uses heavy lifting LBC cranes for heavy turbines, as well as LG 1750 cranes that can handle lighter loads and quickly be transferred between installation sites. One of the Group's newest cranes, the LG 1750 SX, is a 750 tonne capacity lattice boom model recently deployed on the Sapphire wind turbine project in Australia.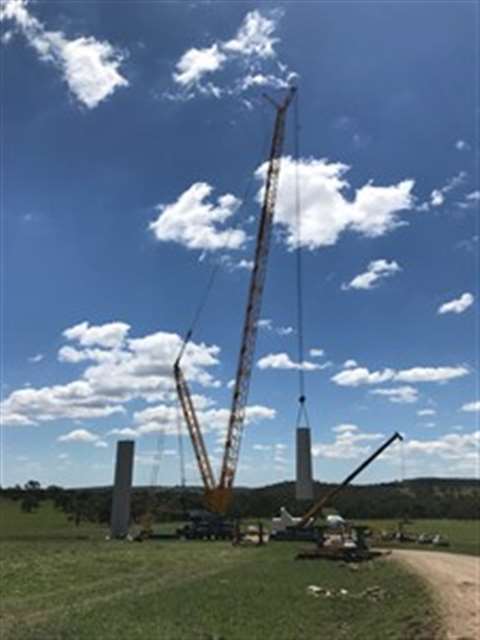 Future crane design will be inspired by the direction of turbine development: designers are working on next-generation turbines with greater hub heights, bigger rotor diameters, and more powerful, heavier generators. The result will be turbines that produce significantly more energy.
To keep up with these developments, Sarens engineers are sitting in think tanks with crane producers and turbine suppliers to align on designs that will meet the demands of the new turbines. The next generation of cranes will need to be capable of lifting heavier loads on a higher level, and being transferred quickly between sites.
Safety standards
As always, Sarens is dedicated to high standards of safety on all of its work sites. The Group employs a dedicated SHEQ manager for wind projects and is committed to educating and motivating staff around safety best practices.