Liebherr flat top update
By Christian Shelton23 April 2018
Equipment manufacturer Liebherr is displaying an improved version of the 172 EC-B 8 Litronic, an 8 tonne capacity flat top tower crane, at the Intermat exhibition in France. Its maximum jib length has been increased by 2.5 metres to 62.5 m and the jib length can be set in smaller increments, now of 2.5 m. Capacity at jib-end is 1.8 tonnes and the maximum is 8 tonnes.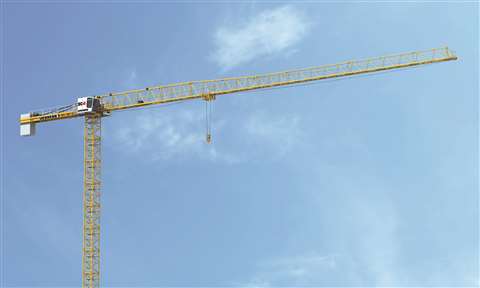 The jib of Liebherr's new 172 EC-B 8 Litronic flat top tower crane can be 2.5 metres longer than its predecessor
At Intermat it will stand on the new 16 EC tower system inside which runs a built-in LiUp elevator for the operator. It can also be mounted on 16 HC, 17 HC and 21 HC tower systems. Its maximum free-standing hook height is 71.4 m. The 16 EC 160 mast system nomenclature denotes a 1.6 x 1.6 m dimen-sion while the 160 is for the tonne-metre rating.
In line with the access regulation for tower crane operators in France, there are around 30 LiUp eleva-tors in the country, Liebherr says, with more being ordered for delivery this year. LiUP runs off a lithi-um-ion battery with an energy recovery system and it fits both the EC and HC tower systems. When installed on the inside of the tower the rails do not have to be removed when dismantling and assem-bling the tower crane.
The manufacturer also has a range of other cranes on display, including the LRT 1060, LTM 1450-8.1 and the LRT1090-2.1.
Liebherr's LRT 1060 on its stand at Intermat 2018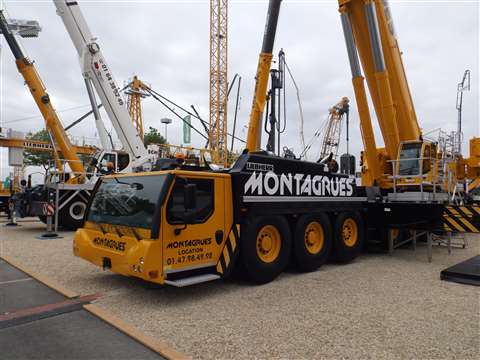 Liebherr's LTM 1450-8.1 on its stand at Intermat 2018