Drones: The view from above
Quite simply, drones have changed the way that construction sites operate: a decade ago a team of construction workers could spend the whole day walking around a site mapping it - something that is now done by a drone in a fraction of the time. As technology continues to evolve - and the cost of drones continues to drop - so do the ways that these machines are being used on construction sites.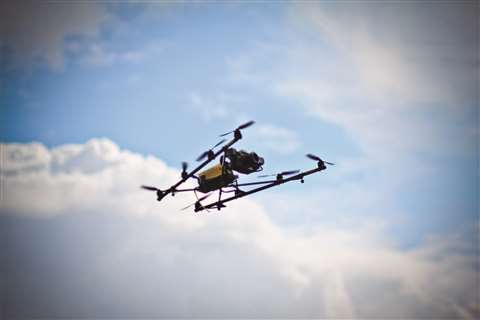 Drones are unmanned machines that are either autonomous or operated by remote control, although this is increasingly rare. An increasing number of firms in construction are teaming up with experts in this field. For instance, Trimble is collaborating with Propeller Aero to integrate Trimble Connected Site solutions with Propeller's Unmanned Aircraft System (UAS) data processing and analytics platform.
Propeller and Trimble developed Trimble Stratus software, which integrates Propeller Aero and Trimble construction workflows, so civil contractors can use drones to map, measure and share accurate information about their worksites and assets. This allows contractors to collect up-to-date topographic surveys quickly and easily in the field, without having to enlist the help of survey or photogrammetry experts.
Unmanned aerial vehicles (UAVs) make it possible to take on much more challenging surveys due to the advanced technology and single-person operation. This is something Topcon GB & Ireland has helped land with engineering surveying company Murphy Surveys. The company has even introduced a specialised aerial survey division, MurphyUAV.
Hard to reach areas
"The use of UAVs in the commercial sector has been increasing rapidly over the last five years – particularly in surveying applications due to the enormous health and safety and time-saving benefits," commented Julian Deeks, director of MurphyUAV.
"In difficult to access areas like bridges, tunnels, or large-scale structures, traditional methods of surveying can be time-consuming and high-risk. In comparison, UAVs can cover great distances quickly and easily with only one person on the ground, meaning it's possible to collect mass data in a matter of hours as opposed to days."
MurphyUAV chose the Falcon 8 from Topcon; with three separate devices working simultaneously to measure data during its flight, the Falcon 8 can recognise any potential issues and make automatic adjustments to maintain stability and accuracy. It also offers users a choice of HD imaging, thermal and RGB stills, and real-time video.
Mapping and surveying is clearly a major area of use for drones, but it is the digitisation of the data that has led to so many new possibilities, especially as the construction industry makes the shift to 3D through processes such as building information modelling (BIM).
Deeks adds, "The rich-data makes it possible to assess existing conditions on a site, monitor the construction process, carry out structural assessments and record as-built conditions. Effectively, the UAV can be used from the start to the end of the construction cycle: whether it's helping to support engineers and the design team in the initial stages, or bringing survey-grade data to inspections."
The use of drones and the data that they provide in the whole of the construction process is applicable to Norway-based Isachsen, a subsidiary of BetonmastHæhre. When the company saw that there was inefficiency in their survey-driven project tracking and quality check practices, and that their surveyors were stretched thin driving from one project to another verifying actual work and matching design specifications, they looked to drone technology.
Isachsen found the answer with a combined drone and phone-based site survey approach based on Pix4D photogrammetry software. This approach empowers field operators to generate survey data with a phone and to continue operations without waiting for a surveyor to come on site.
Isachsen has incorporated the iPhone/Pix4Dbim site survey process into its standard technology-enabled site-work practices. Typically, the Isachsen construction team flies one of its DJI Phantom 4 drones over a work area throughout the course of a project and process data with Pix4D software. Now only the initial site survey is done by drone. After that, the team uses the phone-based site survey approach, which was said to be both quick and accurate.
After excavation works are completed the construction crew paints four to five red marks around the completed area that needs to be measured for documentation purposes. The equipment operator then measures each one of the marks using the GPS in the excavator, which are used as ground control points. Because all the machines are remotely connected, the chief surveyor can directly access and collect the measurements from his office. A member of the excavation team on the ground uses an iPhone to film the prescribed path of the completed area and sends the video file to the chief surveyor, who processes the data with Pix4D bim software.
Trygve Almquist, Isachsen's drone operator and surveyor, said, "It takes approximately two minutes for a technician to video the site and four minutes to measure the control points with the excavator's GPS. Processing back in the office takes 12 to 15 minutes – less time than it would take for the surveyor to drive to the project site. Once the video is complete, the construction crews can continue with their work, instead of pausing to wait for the surveyor to get to the site."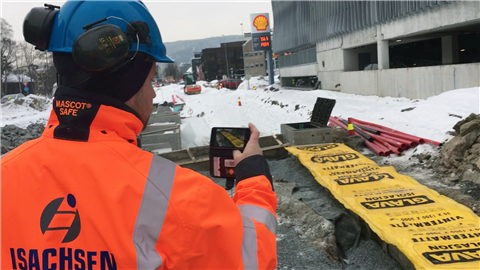 It's all about the data
As the technology of the drones themselves have evolved, so has the data which they provide. Technology firm Airwave is focusing on the data that drones can provide and the processing of this data. The firm – which has a partnership with Caterpillar and has made its system part of Cat Connect – is currently operating in 43 countries around the world.
Benjamin Hugonet, vice president of European sales at Airware, said that this technology was being embraced at different construction sites around the globe.
"Drones are expanding all over the world – the original markets which embraced it were Japan, Australia and France. Those countries were the first three that allowed drones to fly in the civil air space, but very quickly regulations were put in place around the world which allowed companies like us to expand. Today it is happening very fast, and everywhere."
Game-changer
There are no standardised regulations for flying drones, so Hugonet advises contractors to make sure they know the rules in the country where they are operating in. The benefits far outweigh the drawbacks though and Hugonet said that drones were completely changing the way that people survey and monitor their sites.
"We are really disrupting the way that people are able to collect and digest topographical data from their sites. A few years ago, if you wanted to have a survey on your site, you had to call a surveyor and it could take them days or even weeks to gather the data. Today, a drone will fly for just a few minutes and collect a huge amount of very accurate and detailed data."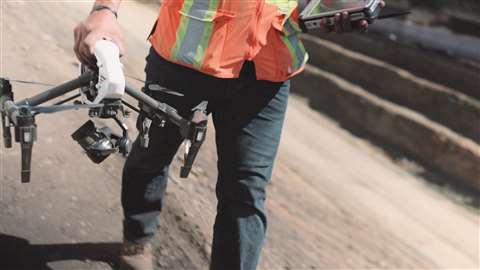 The technology in drones, and the information they can produce, has exploded over the last couple of years
It is not just for surveying though – their ability to 'talk' to construction machines could be described as a game-changer. "Our goal is not to provide drone-only data, we are providing a data analytics platform. We do that by merging different data sources - for example drone and machine data," said Hugonet.
"That is one of the biggest reasons we are so excited to have a partnership with Caterpillar, as we are combing the data. The goal is to provide a platform that will help customers work more efficiently by reducing the costs of their machines working on the site.
"To do this you have to be able to analyse the way the site is moving and the fuel consumption of the machines. By combining those data sets, you will be able to analyse your production costs and take decisions to reduce it."
He then gave a good reason why this sector will continue to evolve and expand: "The more technology provided to customers, the bigger their appetite for new analytics and data."
Blending fact with fiction
UK based Xcell Aerial Surveys is one of a new generation of companies challenging traditional surveying and data collection techniques in the construction industry with a technology-led approach that it says delivers results faster than traditional techniques.
The company was founded in 2014 by tech-savy entrepreneur Blayne Jackson and specialises in the acquisition of advanced data via the use of UAVs (drones) and other techniques. "XCell Aerial specialises in mixed reality," explains Jackson. "We blend fact with fiction. With the use of drones, cameras, professional measuring kit, insanely powerful computers and software packages we can accurately map any topology and insert proposed new build housing estates, tower blocks, roads, cell towers, pylons etc."
Jackson is obsessed with emerging technology and he creatively harnesses this interest by developing new applications for it. "One of the most exciting applications XCell Aerial Surveys developed has been the groundbreaking use of photogrammetry for Line Of Sight (LOS) surveys," he says. "We have been able to save so much time, expense and deliver an accurate and rich data set far beyond anything previously available."
Another in-demand application is using drones for detailed inspection of equipment at height. "For a number of clients we've been tasked with reading details on the labels of microwave dishes at over 100m in height," qualifies Jackson. "Using a drone provides a fast, safe, and affordable way to carry out these types of height checks."
And the construction technology sector is developing fast, with virtual reality (VR) now becoming an increasingly important tool. "When I started XCell Aerial Surveys I never realised that we would be using VR to present construction reports," Jackson says.
"I've had a number of clients standing on the roof-edge of a 'virtual' 24 storey building, holding onto an office chair shouting 'OMG' trying to control their feelings of vertigo! This reaction to our models is quite normal as VR is such an immersive experience. An A4 bit of paper or a laptop screen simply does not solicit the same emotions."