Fast data: telematics in the access industry
By Euan Youdale05 June 2018

The need to collect and decipher machine data quickly and effectively is becoming a vital part of our industry. AI reports on some of the latest telematics solutions.
Chris Jowett, IT director with major UK-based access rental company AFI Group, see's first-hand the benefit telematics can bring to the industry. "Our industry is only at the beginning of the digital era where we use information to offer new improved solutions, automation and closer links with our customers and suppliers. Telematics are part of that journey and will become mainstream over time."
Expanding on the point, Jowett explains that telematics bring great value and benefit to all parties. "We live in an ever more demanding world. Site safety can be improved by recording pre-use checks on mobile devices. Unauthorised use can be combatted by replacing keys with IPAF smart cards and mobile apps to unlock the machine. Hirers can respond quicker to breakdowns as they have access to diagnostic information before reaching site. Reliability can be improved as manufacturers use telematics data to improve design and specifications."
Telematics will bring great opportunities for the industry in the future, adds Jowett, "We have already seen some markets offering different hire options such as hourly charging and machines being used by multiple customers on sites. Telematics can only help
to speed up the adoption of new practices such as these bringing benefits, such as lower charges to the customer and higher utilisation to the hirer.
Making the visibility of all the data collected from equipment in the workplace clear to the user is another challenge.To aid this rental management software provider, inspHire, has released a new asset tracker function that integrates with Trackunit, JCB LiveLink and CanTrack to enhance that visibility.
Jowett believes this type of integration is vital to make data analysis user-friendly. "Integrating telematics with inspHire will make it easier for us to adopt this new technology. It brings it closer to our operations team, improves ease of use and encourages adoption".
Pinpoint data
InspHire's Asset Tracker has been driven by the growing impact of telematics data in access and other industries. Its features include amalgamating the locations of all the equipment in a fleet onto a single map view, using inbuilt Google Maps. Users can pinpoint where their equipment is on a map based on the current contract information, define a radius for each depot and drill into specifics.
Head of sales at inspHire, Mark Taylor, says systems like this needs to do two things. "First, it's important that the development adds value to businesses that are not using telematics systems. Today, access businesses require a system that collates accurate information in one easy to access, visual screen."
Taylor adds, "The second part of the development would unify telematics data with inspHire maximising equipment utilisation and taking it to the next level."
Alongside the Asset Tracker, inspHire has centralised telematics data within its hire management software. Bringing two systems together allows users to view and cross reference their telematics and hire data quickly. Tracking the location via GPS trackers, recording equipment usage such as inputs and hours of operation as well as live meter readings, are just a few of the features of this new telematics integration.
As part of the integration, Trackunit, JCB LiveLink and CanTrack can be opened directly from within the inspHire system, eradicating the need to have two systems open at once while also making advanced telematics data easy to access. This partnership with a range of telematics providers is the first step in bringing telematics and hire data together, further enhancements will see inspHire continue to develop its products, so users can expect further telematics integrations this year.
Trackunit has made a couple of recent announcements in the form of its new version of Trackunit On smartphone app and the entirely new Trackunit Spot, a retrofittable device to track and protect powered and non-powered assets, machines and equipment as part of the management of the fleet.
The advanced version of Trackunit On enables rental companies and fleet owners to stay on top of machine and operator health. It provides a solution to log and track start-up routines together with service and maintenance requirements. The smartphone-driven checklist means operators can ensure equipment passes all pre-checks, service requirements are up to date and submit reports of any visual damage, including providing photographic evidence.
For rental companies Trackunit On can be used for making pre-checks before rented equipment is handed over and final checks when equipment is returned. Through this Trackunit keeps track of hours worked and equipment operated.
Intelligent equipment
The Trackunit Spot retrofittable tracking device comes with access to the company's Manager and GO services. Once installed and registered, it provides user-definable updates so that equipment can be easily located and tracked. The low powered device is designed for up to five years' reliable operating service, which can be extended as its standard-sized battery is user replaceable when needed.
Trackunit CEO, Joergen Raguse said, "Trackunit Spot answers our customer's requests to make every machine intelligent. Ensuring that equipment is where it's needed, when it's needed on site, will provide a much-needed boost to construction productivity and profitability. The new service will help prevent unexpected use and unauthorised removal of assets, including from predefined virtual boundaries or geofenced zones."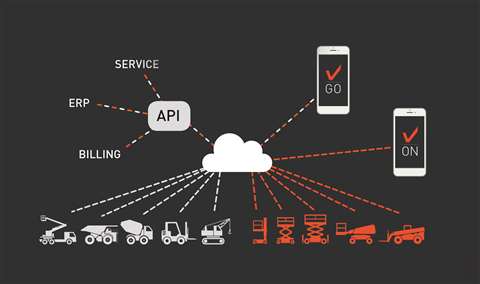 Demonstrating how this technology is being used directly in the access industry, Skyjack announced the launch in February of its latest service Elevate, a fully customised solution for off-highway rental fleets. Announced at the 2018 Rental Show, in New Orleans, "Skyjack's Elevate solution is designed to break away from the legacy of on-road telematics and break down the barriers to adoption. The element is to provide customers with a product that delivers actionable insights and measurable benefits," said a company spokesperson.
Skyjack's Elevate solution is powered by Trackunit thanks to the partnership that began in October 2017. A key goal of their partnership has been to meet an increasing demand for machine connectivity from OEMs and to support the connected fleet goals of Skyjack's customers.
"Building a connected fleet isn't a new concept dreamt up by Skyjack. Traditional on-road fleets such as trucking companies have been using telematics for decades now. These products have worked well for on-road but those features and that cost model simply doesn't work for off-highway fleets," says David Swan, product manager at Skyjack. "We've identified the most important data from our machines and focused on delivering value from every model that we build from scissor lifts to telehandlers.
"At Skyjack our whole philosophy around telematics is that we incorporate our customers' telematics goals into our goals. They have ideas about what they can get out of a connected fleet and we're taking that information and building a solution based on those needs and those requests," explains Swan.
Through the use of the Elevate ON and Elevate GO apps, powered by Trackunit, Elevate aims to provide an integrated solution for entire fleets. This means rental companies are able to get measurable benefits and actionable insights, all while streamlining their existing business models.
Multiple information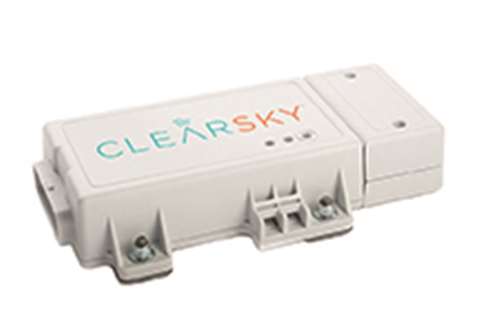 Another example of how a major manufacturer has focused on telematics comes from JLG, with its ClearSky fleet management telematics solution.
ClearSky combines multiyear service plans and several hardware options, providing access to engine and equipment operational data. This includes data, already mentioned in this feature, like location, engine hours, usage, fuel and battery levels and maintenance schedules. They are available in real time and accessible from desktop or mobile devices. The dashboard, settings, and a library of widgets can be edited and prioritised according to customer preferences.
The system also monitors fault codes and other critical alerts, which can be sent via text and e-mail. Additionally, ClearSky data can be integrated with customers' enterprise resource planning (ERP) software for seamless fleet management. JLG developed the fleet management solution in partnership with Orbcomm, a global provider of machine-to-machine (M2M) and internet of things (IoT) solutions. The manufacturer uses Orbcomm's ruggedised PT 7000 solution as well as other telematics hardware to provide its customers with access to the required data.
The hardware is compatible with Orbcomm's web interface, which has been tailored for the JLG's ClearSky offering of comprehensive dashboards, reporting capabilities and analytics as well as custom charts, alerts, self-service administrative functions.
"Orbcomm stood out among all other telematics systems for their proven expertise in servicing large heavy equipment OEMs and providing the flexibility, scalability and resources needed to support the global deployment of their solution across JLG's customer base," said Jonathan Dawley, JLG's global vice president, aftermarket.
In January it was announced Netherlands-based Boels Rental has implemented JLG's ClearSky fleet management solution into 740 of its new machines – claiming to be the first rental company in Europe to do so. Boels said it chose JLG's software because it offered the most comprehensive, flexible and user-friendly solution for modern fleet management.
Guy Cremer, director of Fleet Operations at Boels Rental, said, "At Boels Rental we are constantly looking for new ways to improve our customer service and like to explore new technological avenues to achieve this.
"The fact that we are the first to work with ClearSky gives us the opportunity to further differentiate ourselves in the rental market. The benefits for our customers are quite substantial."
Fast data
The future of the industrial Internet of Things (IoT) in the access equipment sphere will focus on even more ways to automate the compliance with industry safety requirements, says Paul Wilson, director of commercial development with ZTR Control Systems. "Predictive analytics is already on the horizon and this will become even more of a focus for OEMs, as well as fleet equipment managers, uncovering greater cost savings and efficiencies."
ZTR Control Systems is no stranger to telematics and the IoT. The company works with some of the largest OEMs and rental houses in the world within the compact construction industry, it says, including the access equipment market .For example, ZTR can provide business intelligence (BI) reports on operator based usage so training needs can be assessed and provided proactively.
It can also enable keyless authorisation of operators, with cross references to training records, for greater safety assurance. And it can collect pre-operating inspection data, resulting in BI reports that supply feedback into work order systems.Of course, knowing where your equipment is being used and knowing exactly when it's ready for rent, can allow for money-saving efficiencies.
"Data reports that show maintenance requirements to ensure equipment is ready to use is a benefit that shows a fast ROI. Reports generated can lead to rental revenue recovery and that hits the bottom line," said Paul Wilson, director of commercial development with ZTR Control Systems.
In control
The MCS Telematics Hub helps equipment rental businesses harness the value of any machine OEM telematics system and additional tracker solutions all in one place.
Launched at the Executive Hire Show in the UK, during February, the Hub picked up an award for innovation from show organisers. MCS integrates with six telematics companies including JCB Live-Link, Enigma Telematics, Trackunit, CanTrack, Pinpoint and Allsetra and says it is expecting more to come online by the end of March.
The hub presents the data directly to rental fleet operators within the company's operational MCS-rm rental management software. Equipment data that can currently be accessed via the MCS Telematics Hub includes GPS location, operating hours, fuel consumption and equipment utilisation information also helping hire businesses ensure that it has been used within the terms of the rental contract.
MCS Software development manager, Chris Clarke says, "Consolidating telematics data together in one place from a variety of sources offers a huge operational efficiency in itself.
However, when paired with a rental management solution like MCS-rm, it adds context to all the telematics data logged by associating it with the relevant customer, rental contract and construction site. Whilst telematics provides information on where your equipment is, the rental management system provides the missing details on which company rented it, the site it is on, what the contracted hours are, who is operating it and for how long they will be using it for."