Jahra Medical City completed
By Andy Brown05 July 2018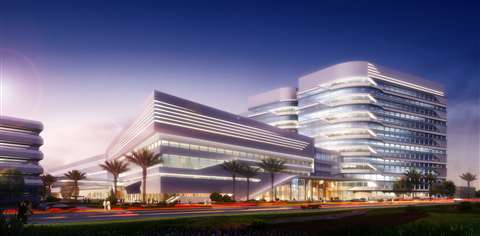 One of the largest healthcare projects in the Middle East, the new Jahra Medical City project in Al Jahra Governorate, has been opened in Kuwait.
The construction project cost approximately 365 million Kuwaiti Dinars (US$1.2 billion), and the project includes a 1,234 bed hospital, a fully equipped dental facility with 115 treatment rooms and a regional health administration building.
The project was developed by Amiri Diwan in collaboration with Pace. Construction started in 2015, meaning the whole project was completed in three years.
Pace CEO, Tarek Hamed Shuaib said, "The layout of the new internationally standardised medical complex comprises of eight separate buildings, most prominent is the main hospital building, which has a total built-up area of 440,000 m², and rises to 15 stories. The architectural design process started with a concept based on the introduction of nature to the internal environment."