Mixing technology: achieving more with less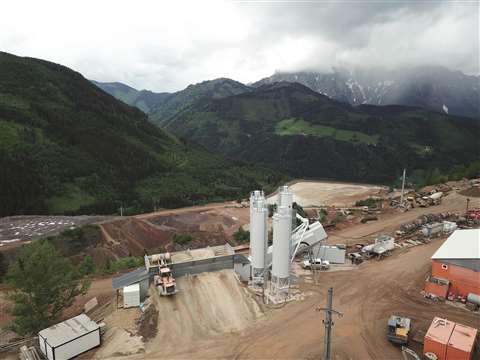 The project at Erzberg, Austria, is called ZaB
Flexibility seems to be the biggest trend in the development of new mixing technology. Customers require ever higher technical standards as well as the ability to move equipment on and around construction sites as quickly as possible.
At the same time, as with other elements of the construction industry, environmental standards have to be tightened - both through lower emissions and by recycling an increasing proportion of used materials.
Flexibility obviously favours mobile plants, but the main challenge for mobile equipment is producing the large quantities of concrete required for big building projects such as airports, tunnels or highway construction.
Nevertheless, Klaus Eckert, head of sales promotion at Liebherr-Mischtechnik, said, "The trend towards mobile concrete mixing plants has been apparent for several years. The relocation of the plants is getting faster and easier to manage."
The Liebherr Mobilmix 3.5 has a production capacity of up to 300m³ per hour when operating as a double plant. The plants are always based close to the construction project in question. They can be relocated during the construction process, with the support
of Liebherr service staff usually only required for the first occasion - something that is particularly attractive for those working on road projects. The Mobilmix 3.5 double plant is currently being usedon a road building project in Poland.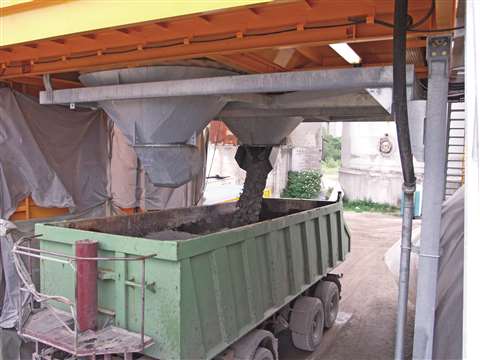 Gerhard Gschwandtner, head of SBM Concrete Mixing Technology, agrees that mobile concrete mixing plants are extremely efficient, providing just-in-time concrete.
His company's super-mobile wheeled concrete mixing plants can be erected within eight hours on any site that is accessible by lorries and does not require any foundations. Gschwandtner said that they can reduce carbon emissions by up to 25% by producing concrete directly on site, with reduced construction site transport and lower lorry traffic.
Mobile benefits
SBM is promoting its mobile plants for the production of ultra high-performance concrete (UHPC), which needs precise and high quality mixing technology. UHPC needs to be produced according to each customer's specific needs.
SBM's Euromix 500 SM Compact has a lorry trailer with integrated water and power supply, making it suitable for off-road operation without supporting infrastructure.
It can also supply several sites at the same time if the material is carried by separate supply vehicles. It has particular applications on wind farms, as, according to the firm, "the integrated concrete pump presses the special concrete directly into the annular gap of wind power plants".
With production capacity of 1,500m³, SBM's Specimix UHPC is currently being used to renovate bridges at the Viaduct de Chillon on the Swiss A9 motorway near Villeneuve. The plant was delivered in three main containers. Aggregates and cement are delivered by a tank lorry directly into working silos, with steel fibre added by crane, to produce a 50mm-thick base course, including reinforcement.
SBM was involved in the development of the Alpha Concrete System to provide high-quality concrete. The system includes hardware and software, with liquefying and stabilising components added to the admixture, taking into account concrete temperature, transport and processing times, and the density of recycled water. Temperature, humidity and density probes are used to manage the production process.
SBM's Gschwandtner said, "As with cooking you need not only the right 'pot' but also the right recipes and ingredients in adequate quality if you want to produce excellent concrete. If only one part is not right, the result will not be satisfying."
New versions
Some firms are developing mixers with portable and non-portable options. For instance, Astec recently introduced a new configuration for its Double Barrel XHR, with increased capacity on the larger models. The external mixer can be either a twin-shaft timed coater or a rotary mixer. It has been used to produce up to 70% recycled asphalt pavement (RAP) while still maintaining the capability of producing mixes at lower RAP levels.
Astec chief engineer Mike Varner, said,"In contrast to RAP dryers that heat and dry RAP directly with hot oxygen-rich gases that can cause oxidation and emissions, the DBXHR heats RAP indirectly by contact with virgin aggregate." The proportion of heat lost is low, so more of the heat in the fuel is put into the mix, leading to a reduction in emissions.
The company recognises that there can be problems with any new product, even if it is a derivative of an existing proven product line. It therefore devised a program of analysis, simulation, review and consultation with customers to overcome potential problems.
The prototype provided Astec with more information about welding and material selection, resulting in the production of the first commercial model, which was deployed in Florida, US. Much of the new technology developed for the Double Barrel XHR is now provided as standard on its other plants because of the advantages in terms of greater reliability, increased longevity and lower life-cycle costs.
Dumpers
Ausa believes that there is a trend away from self-load mixers towards dumpers because of their ability on rough terrain and higher load capacities. They also reduce costs by avoiding pump, truck and generator set rental. Albert Vicens, Ausa marketing manager, said, "Dumpers are also more productive, safer and faster, and therefore more efficient. Particularly in the US, this application is getting stronger and we are selling our dumpers with concrete chutes as an attachment." Ausa stopped producing self-load mixers last year.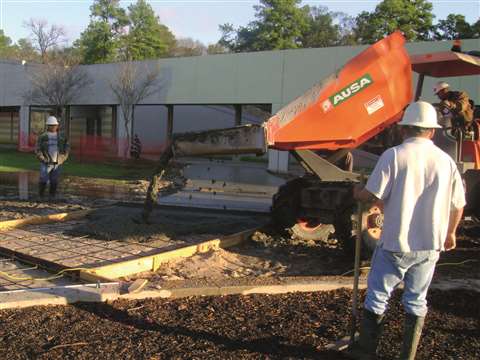 The Spanish company has seen a rise in demand for its dumpers to work in golf course construction and improvement over the past few years. Vicens said, "Apart from the gradients and the different course surfaces, one of the main jobs has been to do the paths with concrete, including machines with concrete chutes attached at the end of the skip."
The big challenge has been to avoid grass damage. Previously, skid-steer loaders were used but they scarred the surfaces, so Ausa switched to low-degradation tyres on its first golf project in Maryland and now uses them as a matter of routine.
Increasingly stringent environmental regulations have increased the emphasis placed on recycling. This reduces transport time and energy, while minimising the amount of new materials needed.
Wirtgen used its KMA 220 mobile cold recycling mixing plant to produce about 11,000 tonnes of materials, using feed materials reclaimed locally, to produce a hydraulically-bound base layer for flight operations at Cologne/Bonn Airport at the end of 2017.
The plant has been deployed on various projects. Alexander Weber of SAT Straßensanierung, which coordinated the deployment of the mobile KMA 220, commented, "We use the cold mixing plant in projects across the country. In the last three months, for instance, it has been in Munich, before going on to the Rhineland and then to two different locations in the Hunsrück region. This works outstandingly well because the plant is very easy to transport and the setup times are very short." Crucially, it stays within international rules for road transport.
Recycling for resurfacing
To take another example, Wirtgen's 3800 CR recycler and a Vögele VISION 5200-2i tracked paver were used last year to resurface 160km of main traffic arteries in San José, US. The 3800 CR travelled in reverse, removing the damaged asphalt layers in a down-cut process and transferred the material to the paver for recycling.
In a statement, Wirtgen revealed, "In the down-cut process developed by Wirtgen, the milling drum rotates in the direction of travel, not against it as in the up-cut process.
"As a result, particle size can be precisely controlled when processing the material, especially on very brittle, thin, old asphalt roads."