Environmental matters: Forward thinking
By Christian Shelton16 October 2018
Environmental matters are increasingly making headline news around the world as mankind becomes more aware of, and more concerned about, its impact on the natural world. As such, manufacturers and end users across many different industries are making efforts to be more environmentally responsible, the lifting and transport industries included.
Two main ways in which companies can reduce their negative environmental impact are through the way they operate and in what they produce.
Practical measures
With regards to operating procedures, companies working within the lifting and transport arena are effecting a wide range of positive actions, from small to large. For example, Dutch heavy lift and transportation company ALE says it fills the tyres of its specialized vehicles with nitrogen to reduce pressure loss, thus improving fuel economy. It also monitors its operations, in line with ISO 14001, undertaking life cycle assessments of its own activities, as well as its suppliers. "We maintain green offices where possible, actively employing re-use, reduce and recycle initiatives," says Gary Hewitt, ALE's group HSQE manager.
In North America, crane manufacturer Link-Belt won its second environmental award from international trade association the Specialized Carriers & Rigging Association (SC&RA) at the SC&RA's Annual Conference in Florida in April 2018. It says it is the only member organisation to have won the award twice. It cites actions such as becoming a zero-landfill facility by the end of 2017 and reducing its carbon emissions by 30 per cent (6,134 metric tons) in 2017, compared to the 2013 base year, as helping it win the award. Link-Belt achieved zero-landfill by recycling all of its by-products and waste and it reduced emissions by effecting a range of energy efficiency measures including: installing low wattage automatic lights; utilising high-volume, low-speed fans for recirculating tempered air; using exhaust air from large air compressors to supplement shop heating; using a heat recovery HVAC system in offices; and by not heating/cooling unoccupied offices; finally, Link-Belt says its paint line processes have been improved to reduce demand for natural gas.
Protecting the environment
Japanese crane manufacturer Tadano says it strives to help protect the global environment and contribute to the creation of a sustainable society via a range of activities and policies, including installing 2000 square metres of solar panels on the roof of its Shido plant in Japan and the decision to transport products by barge following the company's renovation of the port next to its Shido plant.
Tadano subsidiary, German-based crane manufacturer of mobile cranes Tadano Faun, says it also seeks to minimise any negative environmental impacts in a number of ways. For example, in order to conserve resources, it says it uses a plasma steel cutter which provides cleanly-cut edges that do not then require extra working – thus saving energy and resources.
The company has also taken steps to reduce its use of volatile organic compounds. For example, it is using protective lacquer instead of grease to help preserve steel bolt connections. The lacquer can simply be peeled off like a plaster, Tadano Faun says, without the use of solvents.
The company also uses a two-component solid finish paint that has had its solvent levels reduced. It is applied to the cranes using a low-pressure spray so that the paint is only applied to the crane rather than escaping into the air. The company says it decided against using water-based paint because once the cranes had been tested, following painting, they would then need to be cleaned again using more solvents than the two-component solid finish paint contains.
Tadano Faun has also updated the roof and insulation of its production facility and used new energy-saving lighting. The building's heating system has also been updated.
Eco features
With regards to end products, crane manufacturer Terex Cranes points to a host of environmentally friendly features on its Demag all terrain cranes that demonstrate its commitment to the environment. For example, Terex says it was the first manufacturer to implement an eco-mode in which the crane just uses the power it needs for the lifting operation. The company also highlights that many of its cranes are equipped with a stop/start button in the operator cabin to help reduce idling time and fuel consumption and a fuel-efficient gearbox that meets the latest emission regulations. It is currently working on Euromot 5 implementation.
Tadano also points to energy management measures such as engine shutoff features, engine acceleration control, hydraulic pump and motor control, electric motor control, and battery recharging control, which result in greater fuel efficiency and lower noise production. The company also says it tries to reduce vehicle running resistance by reducing the weight of its vehicles.
A key environmental focus for Tadano Faun has been the use of Bluetec technology in its all terrain cranes. The Bluetec engines are particle reduced engines, the company says, due to optimised combustion in which particle emissions are a tenth less than the amount specified by Euromot 3b. Additionally, says Tadano Faun, exhaust gasses are split into their chemical parts, resulting in a reduction of nitrogen oxide.
Tadano Faun's all terrains are also equipped with automatic transmissions with a dry clutches, instead of transmission oil, and software is used to calculate the ideal shift point. The operator has the choice of selecting 'eco' or 'power' mode. In eco mode gear shifts happen at a lower engine speed, while in power mode the shift up to the next gear happens at a higher engine speed.
Link-Belt says it is dedicated to using the latest diesel engine technology regarding exhaust emissions and fuel efficiency in its cranes and claims it was the first mobile crane manufacturer in North America to achieve Tier IV final compliance across its product line.
Evolving engines
Engine manufacturers are at a particularly interesting juncture in engine development. Faced with the forces of digital and electric technologies and the introduction of EU Stage V emissions regulations next year they are being prompted to step back and assess their overall strategy.
For example, US engine maker Cummins is now putting more emphasis on hybrid solutions, having recently revealed its first electrified powertrain system. "We are expanding our portfolio to reflect the alternative power needs of the future," says Hugh Foden, executive director off-highway business at Cummins. "We're developing a range of options such as alternative fuels, range extenders and full electric power to complement our Stage V clean diesels and provide customers with the best solution for their machines."
Cummin's F3.8, part of its new range extended electric driveline (REEV)
According to Cummins, its new range extended electric driveline (REEV) is suitable for a wide range of equipment including mobile cranes and off-highway applications. Cummins says the system offers a balance of battery power with a compact engine-generator. It can provide electric power with zero emissions on a single charge at the point of use but it also has a four-cylinder F3.8 Stage V powered generator and plug-in options for charging. Cummins says this provides much more flexibility where charging infrastructure is not available.
The REEV system blends the energy use between the engine-generator and battery to best suit the operational needs, Cummins says. The engine-generator will automatically recharge the battery pack as needed. Operators will also have the option for overnight charging with plug-in capability.
According to Cummins, the generator uses a high-efficiency traction motor which provides continuous torque of 1,850 Nm, eliminating the need for gear shifting and reducing powertrain noise. An instant peak torque boost up to 3400 Nm is available when the machine requires it.
"With our recent acquisitions of Brammo and Johnson Matthey Battery Systems we are building capability across the entire range of electric storage," says Julie Furber, executive director, Cummins Electrified Power Business. "Our 35kWh battery pack can be installed singularly or in multiples to meet the needs of the equipment operation and duty cycle and the high-density battery enclosure and engine can be sized to deliver the best balance between ultra-low emission and zero emission operation."
On the back of the REEV launch and recent acquisitions, Cummins has further strengthened its position in the electric and hybrid powertrain market with the acquisition of Silicon Valley, USA-based company Efficient Drivetrains. Efficient Drivetrains specialises in the design and production of hybrid and fully-electric power solutions for commercial markets and has a range of fully-electric and four-mode hybrid powertrains. According to Cummins, EDI's hybrid system is the most versatile on the market today, able to switch in real time between fully electric, series, and parallel modes.
Making the transition to Stage v emissions standards
With EU Stage V emissions standards for off-road machinery to be implemented in 2019, Volvo Penta says it has created an engine platform designed to assist original equipment manufacturers (OEMs) in making the transition simply and effectively.
The company says it has a range of off-road engine solutions, from 5-16 litres, that provide power from 105 to 575 kW (143-782 hp). Common rail fuel injection and a fixed geometry turbo contribute to good fuel efficiency, says Volvo Penta.
"Our engineers have created a solution that will enable hassle-free operation and enhanced productivity with minimal servicing required," says Johan Carlsson, chief technology officer at Volvo Penta.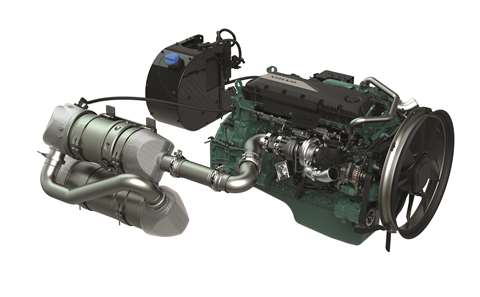 Hybrid drive concept
German engine manufacturer Deutz has released its first off-highway hybrid drive concept. The modular concept is scalable and comprises a TCD 2.9 diesel engine and an electric motor.
Dr Frank Hiller, chairman of the Deutz Board of Management, says, "the power output and capacity of each component can be scaled to meet customers' requirements. Customers will be able to choose whatever is the optimum combination of conventional and electric drive components for their particular application. Overall, this will increase efficiency and thereby significantly reduce total operating costs."
Deutz says the new concept is the first tangible result of its E-Deutz programme established in 2017 and opens up significant potential for efficiency gains in drivetrain technology.
Deutz's off-highway hybrid drive concept
Next generation productivity
Swedish engine manufacturer Volvo Penta is also exploring electrification and hybridisation. "Our strategy stands on two legs," elaborates Johan Inden, chief technology officer at Volvo Penta. "One is understanding the application needs of our customers, and the other is reusing the technology that is developed in the group. You'll see the continuation of our pure diesel offerings, but you'll also see that being combined into hybrid solutions.
"Many of the opportunities going forward are in the integration of the engine with the full machine. By building a more integrated solution that adds both the connected side, in terms of uptime serviceability, and the automated side, in terms of both safety and increased productivity, and then also moving to electric or hybrid, the next generation of productivity is opened up for many different types of machines."
Mammoet wins eco award
Mammoet has received an Environmental Award at this year's Specialized Carriers and Rigging Association (SC&RA) conference in Boca Raton, Florida.
The company says sustainability initiatives it has carried out include: the utilisation of geothermal heating and cooling, recycled water systems, and LED lighting at new facilities; recycling and waste management programmes; tracking vehicle emissions using GPS to assist in reducing vehicle idling across the fleet; and the development of products designed to reduce environmental impact, such as the EnviroMat – a product which improves soil bearing capacity for heavy lifting projects without the need to transport gravel, mats or concrete slabs to a project site.
Mammoet is also seeking to reduce its use of endangered hardwoods by developing a new type of jacking beam made from a bamboo composite.