Virtual and augmented reality
By Andy Brown04 February 2019
Industry commentators have been discussing the benefits of Virtual Reality (VR) and Augmented Reality (AR) for many years. The benefits in terms of training, marketing and planning are obvious, but they also have the ability to improve efficiency and worker safety by providing insights that established technologies cannot offer. Although the two are often confused, it is the widespread adoption of AR that has the potential to revolutionise all aspects of the construction sector.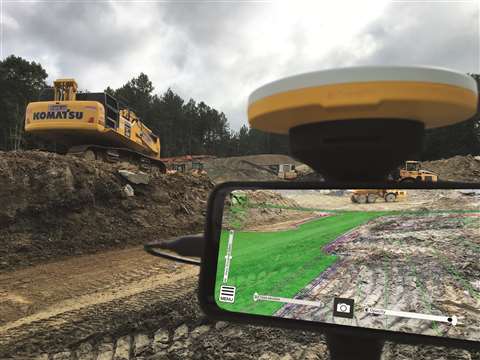 Trimble's SiteVision AR can help to aid communication between the field and office
To avoid any confusion, it is worth explaining the difference between the two terms. VR refers to the creation of an entirely simulated environment and has a relatively long history in the construction history, particularly in demonstrating how any project will look once completed. By contrast, AR involves superimposing computer-generated images on real world images.
AR is an excellent tool for communicating complex information, as it adds context by overlaying data and other information on the real world for the end user. Variations, known as assisted reality and mixed reality are also being developed, and all these technologies can incorporate other sensory information, including sounds.
The pros and cons of VR
VR can be used to simulate real world situations and scenarios, and to give workers hands-on experience and training prior to entering a jobsite. "This helps to educate and plan, which improves overall productivity and the safety of workers on site," said Scott Crozier, general manager of Trimble's Civil Engineering and Construction Division. He added that it is currently used for sharing designs and building information modelling (BIM) data with the client, "which helps put the information into a 'language' that the client can more easily understand."
The technology also allows remote operation. For instance, at Bauma China in November, Sany demonstrated its unmanned driving VR technology for excavators. Operators will be able to control machinery and carry out digging work from thousands of miles away. Shi Xiangxing, head of Sany's Excavator Electric Control Institute, said that this technology means that operators will no longer need to be present in difficult weather conditions, commenting, "He or she could sit comfortably at his office to see the big screen and check the real-time monitoring.
"All the big data, including the machine performance, work efficiency etc. will be delivered to the monitoring centre." In the longer-term, he is confident that VR will be used for three-dimensional 3D imaging and long-distance wireless transmission.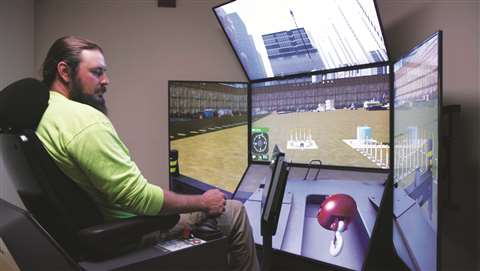 Martin Lehner, CEO of Wacker Neuson Group, said that the comapany are currently working on a virtual variant configuration. He explained that customers will be able to view different variants before purchasing in the future, allowing them to configure their chosen machine individually. Wacker Neuson already relies on VR in product development.
"It allows our customers to test the products virtually at an early stage of development and give their important feedback directly to our engineers. This makes development more agile, faster and more efficient," he said.
Another use of this technology is through simulators which can be used to train operators before their equipment even arrives. Drew Carruthers, product line manager for construction products at CM Labs Simulations, directs the development of his firm's Vortex construction equipment simulators, which are designed to cut costs and increase productivity. They are used for mobile or tower cranes, backhoes, excavators and wheeled loaders.
"The growth potential for this technology in construction is huge, as cost of technology comes down," said Carruthers. "Mixed reality tools, which merge real and virtual environments, will likely be the next frontier for safety, operations, communications and inspections in construction."
Conewago Enterprises, a design-build general contractor in the US, uses CM Labs' Vortex construction equipment simulators to reduce operator training costs. It previously rented equipment and hired instructors for one-on-one training, but now says it has cut training costs by 60% by using the simulator for rough-terrain cranes, crawler cranes, excavators and wheel loaders. The strategy has also increased pass rates for its trainees in crane operator certification exams.
Training technology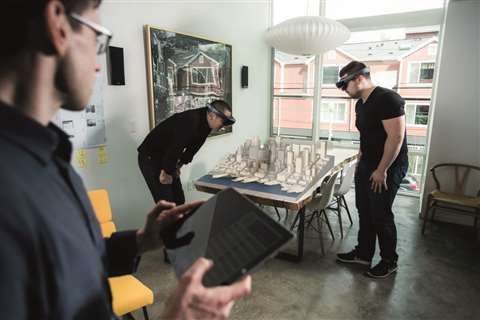 Lord Fairfax Community College in Virginia is exclusively using simulators to train people in a sector where there are big workforce shortages. The US' National Commission for the Certification of Crane Operators is currently conducting a study comparing performance on certification exams when operators train on live equipment versus a simulator. Simulators can also help to identify the causes of accidents and compile risk reduction measures.
However, VR is not without its problems. It has some inherent limitations, such as motion sickness and the hardware can quickly become out of date.
Julian Priebe, head of construction trade press at Liebherr, said that good VR solutions with exact position tracking and attractive visual representation still require extensive hardware equipment, such as a gaming laptop or external sensors. "In order to reach a wider circle of users, an easy-to-use, mobile and qualitative solution would have to be developed," he added.
The augmented revolution
AR has become more widely used since it became available on smartphones, while smart helmets and glasses are taking its usage to a new level. There seems to be a consensus that AR is still at the early stages of being used in the construction industry, but that it will become an integral part of the design and construction process in the near future.
This technology can help mechanics or engineers trying to identify problems with complex pieces of machinery, including through 3D modelling of blueprints. They can view it through their phone's screen, with information hovering over the screen's overlay in real time. Companies are now using AR to demonstrate products and product options to potential customers through the use of different scenarios.
Trimble uses its SiteVision AR application to aid communication between the field and office, by allowing staff in both locations to view the same plans. One of the main applications is in construction inspection, where a design can be loaded and placed to scale. An inspector or site foreman can then use SiteVision to confirm the progress, work completed, or to identify any errors on site. This could be used for utilities, grading, roading and earthworks. Crozier said, "It has the potential to reduce change orders by identifying errors early, improve productivity and reduce the cost of a project."
In November, Trimble demonstrated the use of the Microsoft HoloLens (a VR headset with transparent lenses for AR) for prefabricated rebar. "With this technology, two people can view and collaborate around a piece of prefabricated rebar and view the design model at the same time. The HoloLens scans the environment constantly, and differences to design can be detected," said Crozier.
Increasing numbers of OEMS, such as Wacker Neuson, are investing in VR and AR
AR scenarios and data goggles with a camera will be used to perform remote maintenance on machines in the future, according to Wacker Neuson. The service technician onsite with the machine will be instructed by a remotely-located expert. The service technician will share the view of the machine with the expert via the camera, enabling the latter to assess the situation and help find a solution.
The growing use of VR and AR has encouraged construction firms to set up joint ventures with technology specialists to investigate and develop industry solutions. For instance, Liebherr Tower Cranes has entered into a development partnership with the Center for Construction Robotics at RWTH Aachen to develop construction industry digitalisation from the pre-production phase, throughout the added value chain to the semi-automated construction site. Liebherr Group mainly uses VR in marketing and communication but also in its tower and crawler crane divisions. The Liebherr planning tool Crane Planner 2.0, which is an application for crawler cranes and duty cycle cranes in hoisting operation, allows the construction site to be planned in 3D to make it better understood. Liebherr's sales team use 'Crane Planner 2.0' to present new machines to customers and at trade shows.
Priebe of Liebherr, explained, "The user can either stand at a virtual planning table and move the machine and simulate the lift, or go directly to the construction site and move freely in space. The understanding of the three-dimensional geometry (sizes, heights and distances of the construction site, the machine and the load) is significantly better than on the display of a flat monitor."
Outlook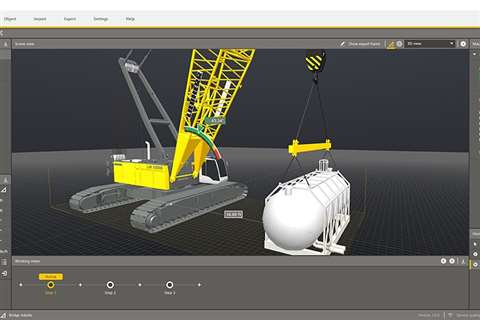 Liebherr uses the Crane Planner 2.0 to present new machines to customers
There are already countless applications for AR and VR technology in the construction industry and many others are likely to become apparent over time.
One obvious application is to integrate VR technology in BIM to visualise design and BIM information in the field, but this function is still at an early stage of development. However, Crozier said, "As capability and ease-of-use of the technology continue to improve, I believe we'll see an acceleration in field and office use."
Carruthers of CM Labs Simulations said that the use of AR will continue to grow, partly because the entry costs are low, in contrast with VR. Mixed Reality technology is likely to be embedded into all field survey and machine control offerings before too long.
AR and VR are likely to be used in the future to help overcome the many problems that beset projects at the planning stage. It can be much easier to identify potential difficulties through AR and VR than blueprints and drawings.
With the world's biggest technology companies investing substantial time and money into VR and AR, and most leading construction companies taking this area seriously, future developments in this sector are likely to happen quickly.
Supporting documents
Click links below to download and view individual files.