Sponsored Content: Sarens transports and assembles tunnel boring machine in the Hague
By Sarens11 February 2019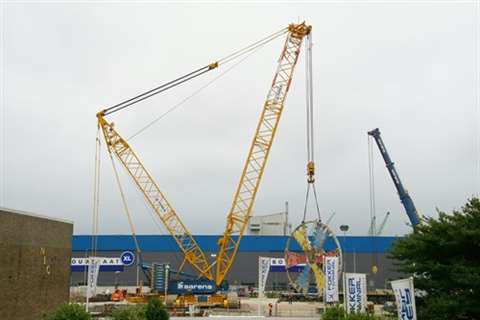 December 2018: Sarens has been involved in a tunnel boring operation in The Hague, Netherlands, on behalf of client Combinatie Rotterdamsebaan. The operation involves three distinct phases:
Phase 1: Transport and assembly of a tunnel boring machine (TBM) to a site in The Hague
Phase 2: Intermediate transport of TBM parts back to the launch shaft after boring of the first tunnel
Phase 3: Disassembly and transport of the TBM after boring of the second tunnel
Sarens recently completed Phase 2 of the project, which involved transferring the TBM back to the launch shaft after the first tunnel had been bored. To do this, Sarens had to first disassemble the TBM, transport it piece by piece, and then reassemble it so that it could bore a second tunnel.
This operation came with very particular challenges, however. For example, the last part of the TBM to be disassembled was also the first part required for reassembly. The team had to carefully plan the entire transfer operation so as to minimise downtime.
Furthermore, while most of the TBM parts could undergo normal road transport, six parts had to be specially transferred by SPMT and barge due to their weight and dimension. These shield parts measured approximately 8,4 x 8,4m with a 130T main drive and, most notably, a 115T cutting wheel with an 11,8m diameter.
The cutting wheel could not be transported horizontally because both roads and bridges were too narrow to accommodate its size. To address this issue, Sarens created a support that allowed for vertical transport. The crew fixed the support to the cutting wheel so it could be lifted in one piece during transfer from the SPMTs to the barge, and then back to the SPMTs again.
The barge made three trips along the canal to transport each of the parts, docking next to where a 700T crane was waiting on a public road. The crane then transferred each of the parts from the barge to the SPMTs for onward transport.
For this transfer operation, Sarens used the following equipment:
350T crawler crane (CC2800-1)
24 axle lines SPMT
Mobile cranes up to 700T
River barge measuring 45x7x1,9 metres
All the TBM parts were transferred over the course of two nights, as the 700T crane had to be removed during the daytime to accommodate traffic on the public road. Additionally, the crawler crane used for disassembly had to be demobilised, transported, and remobilised at the reception shaft so it could assist with the TBM's reassembly.
Sarens would like to commend the 24 crew members who helped make this phase of the operation a success. As Sjoerd Briggeman, Account Manager, Engineering/Projecten notes, "During the key moment of the execution, hundreds of people gathered to see our personnel and equipment in action, reminding us how special our work actually is."