SIM 61 crane simulator
By Christian Shelton14 February 2019
French virtual training and learning solutions provider Acreos has collaborated with French anti-collision and zoning systems specialist AMCS Technologies to develop a crane simulator: the SIM 61.
According to AMCS, the SIM 61 is highly advanced and can recreate particularly realistic working environments. For example, different locations - such as a cityscape, a shipyard, and the desert - can be selected. The size of the job site can be set, as well as the type of cranes being used – including tower cranes, luffing jib cranes, and mobile cranes. The type and size of buildings in the job site simulation can also be chosen, allowing users to change elements such as the number of floors the building has or its shape. A wide range of crane load scenarios can also be recreated.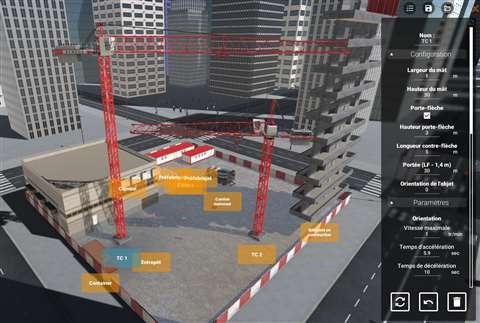 Using a hard-wide connection (CAN communication network) the simulator utilises AMCS's DCS 60 or DCS 61-S anti-collision devices, which recreate crane sensor data inputs, such as slewing, trolley and travelling information. It also means users can be trained in using AMCS's anti-collision systems.