When the Unit 3 boiler at electricity utility Eskom's 3,600 MW Duvha Power Station in Mpumalanga, South Africa, experienced an over-pressurisation event, the result was irreparable damage to the boiler structure and its associated equipment.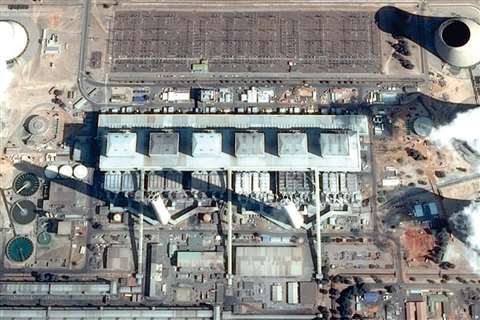 The contract for demolition of the coal-fired boiler and ancillary equipment was awarded to Jet Demolition with the key requirements being safe, controlled and rapid removal of the damaged 600 MW boiler to facilitate construction of a replacement unit.
The boiler's walls comprised 38 mm and 45 mm (1½ and 1¾ in) pipes and heavy external buck-stay supports; a combustion zone fed by 24 pulverised coal burners; tube heater banks from 52 m (170 ft) upwards, and a vertical internal dividing wall from top to bottom.
The other demolished components included high-pressure piping up to 715 mm (28 in) diameter and 65 mm (2½ in) wall thickness, air ducting up to 8 m (26 ft) wide, and boiler access platforms at 2.5 to 3 m (8 to 10 ft) vertical intervals.
The boiler proper, high-pressure piping, ducting (inlet air/combustion/flue gas), and the upper level boiler access platforms hung from 96 m (315 ft), suspended from massive steel girders – the largest of which were greater than 8 m deep – supported by box columns up to 1.8 m (6 ft) wide.
Heavy steel floors at the 33 m (108 ft) and 57 m (187 ft) levels served as hanging supports for ducting and the lower boiler access platforms.
The operating floor at 16 m (52 ft) remained for reuse and could not be damaged during demolition, severely limiting the choice of demolition methods, and precluding the general use of cut-and-drop methods.
Fast-track demolition
Demolition engineering commenced in January 2017. Devising safe and controlled methods for fast-track demolition of the mammoth, critically compromised structure would have been daunting enough had it been an isolated structure. But its location, squarely in the middle of a large operating power station, with contiguous 24/7 generation equipment on all sides, ratcheted up the degree of anxiety for all stakeholders to maximum levels.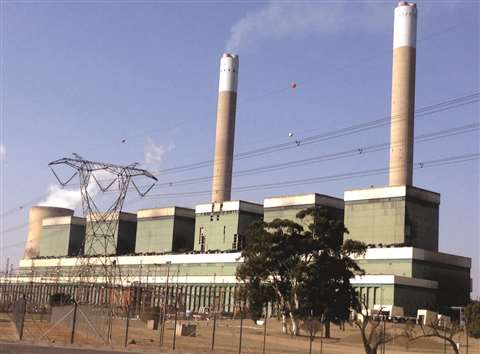 This was especially so for the client, which was unaccustomed to this type of heavy demolition activities but nonetheless required a short duration project, without damaging power station assets and with no adverse effects on power production by the other units.
Furthermore, protection of common power station service and control lines that ran through the demolition area was essential to avoid an unplanned power station outage.
A full time in-house structural engineering team was provided to produce detailed site measurements, designs and method statements with quality assurance procedure documents, mandatory for every task, all of which required approval by the client's structural engineering consultants and in-house technical team.
In addition to detailed engineering calculations, static monitoring, and dynamic monitoring using strain gauges, particle velocity transducers and accelerometers were employed on the boiler and at locations within the boiler house.
This demonstrated that demolition operations would not induce any form of structural failure or collapse, nor cause damage to the structures and equipment that remained. It was part of the major and continuous process throughout the project to convince the client's technical team that the safest demolition methods were being implemented in a fully controlled manner.
Given the highly restricted work space coupled with the suspended construction of all demolished components except the ash hopper at ground level, the overall progression of demolition was restricted to a bottom-up sequence. Additional to the normal hazards of this type of demolition work, the severely compromised condition of the damaged equipment presented a high degree of risk to premature collapse.
To provide a safe working environment, detailed physical assessments of the structures and equipment were carried out, followed by localised temporary repairs to damaged and failed structural elements and partially dislodged equipment. Design, fabrication and installation of temporary supports to remaining equipment were also required.
Operational flexibility
Jet gained access to the site for demolition works in April 2017. To meet tight schedule constraints, it implemented a two 12-hour working-shift system. For safety reasons it was imperative that crews did not work above one another and this strongly restricted operational flexibility. A further key issue was integration with the contractor removing the boiler cladding and insulation during a six-month period.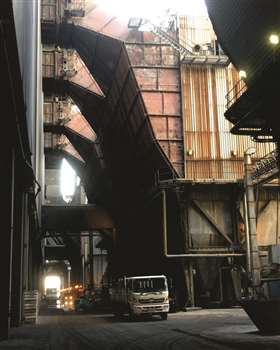 Additional to existing access platforms within the boiler house, extensive use was made of rope-access, motorised suspended access platforms, and compact tracked mobile aerial platforms. Little scaffolding was used because of its time-consuming cycle times, large space requirements and inherent risks in repetitive large-volume materials handling.
The principal demolition methods and arrangements consisted of:
Design and construction of four electric 5 t winches each with 350 m (1,148 ft) of wire rope. Tandem and quad rigging was performed with winches and extended-length chain-blocks
Mechanical demolition with excavators, direct cut-and-drop, and rigging of equipment between ground and the 14 m (46 ft) level. This process opened the bottom of the boiler, enabling it to function as a drop-chute. Leaving in place the upper 4 m (13 ft) of the angled boiler walls between the 14 m and 18 m (59 ft) levels served to protect the 16 m operating floor which extended to within the footprint of the boiler
Placing a 2.5 m (8 ft) thick coarse ash layer within the boiler house. The ash served as an impact cushion for cut-and-drop activities as well as a working pad for heavy demolition equipment, preventing damage to the concrete ground floor and trenches containing utilities and services
Installing a flying-debris containment-curtain between ground and the 16 m floor to fully enclose the drop zone. Beyond the curtain the drop zone was hoarded off by a solid wall at ground level and access was strictly controlled
Direct cut-and-drop using the boiler walls as a drop chute (tube banks, boiler dividing wall, top-down load reduction by removing panels prior to rigging of the boiler walls)
Rigging large (6 x 10 m or 20 x 32 ft) sections of more than 14 t above retained equipment, with fleeting distances of more than 20 m (65 ft) around corners
Rigged sections were lowered to one of the main elevated floors at 16/33/57/76 m (52/108/187/249 ft), then cut to manageable sizes and dropped through window-like apertures cut in the boiler walls
Rigging and fleeting of large sections and lowering directly to ground level (boiler walls, boiler access platforms and main floors)
Rigging to salvage equipment for reuse – 24 coal burners of 10 t and 48 soot blowers of 10 m long
Rigging with mobile cranes to remove the flue gas ducting between the boiler house and the dust filter plants.
The bulk of the project team was made up of experienced in-house demolition personnel to ensure safe and efficient operations.
Socio-economic development requirements of the contract stipulated employment and training of local community members. A total of 25 technical jobs was created with coursework and on the job training provided for engineering technicians, safety health and environmental officers, riggers, demolition equipment operators and multi-skilled demolition workers.
Local businesses provided over 50% of the total procurement spend on demolition, further promoting community development.
Demolition of over 11,000 t of steel was completed in less than 13 months, ahead of schedule and within budget.
This very successful project logged 330,373 man-hours with a peak of 145 people on site and completed without a lost time injury, leaving the client with a safe boiler house ready for reconstruction.
This article is taken from the January-February 2019 issue of Demolition & Recycling International. To register to receive the magazine on a regular basis, please visit www.khl.com/subscriptions