Global construction equipment overview
By Chris Sleight27 June 2019
Construction equipment is a classic cyclical market, prone to sharp swings in demand. When construction, mining and quarrying activity pick up sales surge, lead times stretch out and manufacturers can struggle to fulfil orders. But when activity slows, sales can fall away sharply as contractors and rental companies find their fleets are more than adequate for the work they have on their books.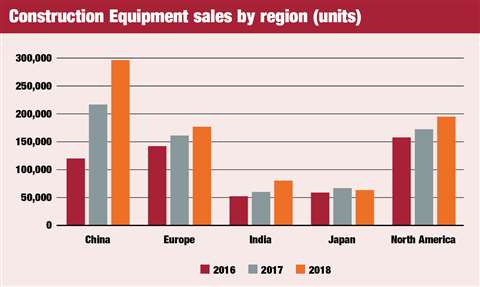 In global terms, the low point in equipment sales came in 2015 and 2016 when the market bottomed-out at around 700,000 machines per year. However, demand shot up by 27% in 2017 and another 26% in 2018 to a record high of nearly 1.13 million machines with a retail value of US$110 billion.
This was only the second time in history that demand exceeded one million machines. The previous occasions being the height of the Chinese stimulus spending boom in 2011 and the pre-crisis peak of 2007.
Construction equipment recovery
One of the reasons that the improvement has been so steep is that almost all the major markets in the world were in recovery mode in late 2016 and early 2017. The only major exceptions were the Middle East, where weak global commodity prices hamper economic growth, and Latin America – again due to commodity prices, as well as a degree of political instability.
Prior to 2017, several key markets including Europe, North America and India were on an upward trajectory. The game-changer in 2017 was China, where equipment sales rose by more than 80% in a single year – even for China, a quite staggering increase.
Increase in sales in China
The downturn in China from 2011-2016 followed an extraordinary boom in equipment sales in 2010 and 2011, which was the result of the national government's approximate US$600 billion stimulus spending programme. The remarkable high this created was followed by a long and painful recession for the industry. New equipment sales were hampered by the perfect storm of lower construction activity and a large population of young machines in the field.
The remedy came in late 2016 in the shape of new infrastructure investment under president Xi Jinping's Belt and Road Initiative (BRI). This has seen huge investment in China's land and sea transport infrastructure, and has also seen Chinese banks fund projects in neighbouring countries. Both have been extremely positive for the Chinese construction equipment industry. One of the crucial points about the overseas aspects of BRI is that projects are often carried out by Chinese contractors (or their joint ventures) and there is a tendency for them to source equipment from producers in China.
Although the peak in equipment sales associated with these projects now looks to have passed, only a moderate decline is expected in the Chinese market this year. A more pronounced downturn may come in 2020, but at this stage Off-Highway Research does not expect the market to fall off a cliff in the same way that it did in 2012.
In the past wheeled loaders have been the workhorse machines in Chinese construction, but in 2017 they were out-sold by crawler excavators for the first time. This is partly due to the greater availability and acceptance of crawler excavators, as indigenous companies have developed good machines over the last ten years to compete with products from international original equipment manufacturers (OEMs) manufacturing in China.
In addition, smaller classes of wheeled loader have come under huge pressure from 'economical' alternatives – essentially locally made low technology farm equipment.
India construction market 
Another crucial market over the last three years has been India. This country was one of the least affected by the global economic crisis which struck in the wake of the Lehman Bros. collapse in 2008. Much more harmful were the corruption scandals which engulfed Manmohan Singh's government in the final two years of the administration.
The election of prime minister Narendra Modi in 2014, unusually for India with an absolute majority for his Bharatiya Janata Party (BJP), was a turning point. His government has done much to revitalise and accelerate investment in India's infrastructure. Although this took two years or so to feed through to the equipment market, it has driven a remarkable growth in sales since 2016. Modi's BJP party was recently re-elected in a landslide victory, which should see the country's considerable investment in infrastructure continue.  
In 2018 sales of machinery in India hit a record of more than 98,000 units – more than twice the demand seen in the trough of 2014 and 2015. The market is likely to dip this year due to the disruption of the general election. However, Off-Highway Research is bullish about demand in India and expects sales to scale new highs within two to four years.
To date the surge in equipment sales has been largely linked to road building. However, the need for infrastructure in India spans power, water resources, housing, rail, airports and ports among others. Increased investment in any of those sectors should drive further equipment sales.
Backhoe loader sales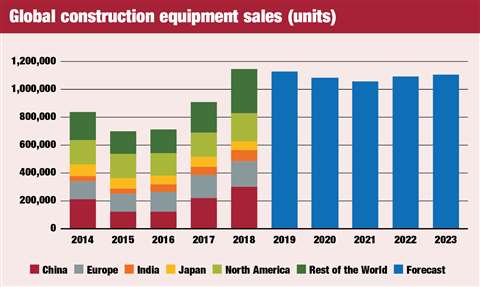 The backhoe loader remains hugely popular in India. Sales in 2018 exceeded 45,000 machines; around half of the equipment market by volume. It is also notable that more backhoe loaders were sold in India than the rest of the world combined last year.
Notwithstanding this, there is a gradual move towards crawler excavators for the larger and more established contractors. Backhoe loaders are seen as either an entry machine for new entrepreneurs in the construction industry, or as a machine for rural projects – although they are still seen all over India working in a huge variety of situations.
Another important equipment type in India is the pick and carry crane, which is the preferred tool for lifting and materials handling in many industries, including construction. Sales of these locally-made machines topped 11,000 units in 2018. Compaction equipment and pavers have also been big sellers in recent years due to the focus on road building.
European construction industry 
Equipment demand in Europe had been generally improving since the post-crisis low point in 2009, although the sovereign debt crisis of the early 2010s derailed growth in 2012 and 2013. The acceleration in 2016-2018 was particularly sharp and last year sales totalled some 178,000 machines. While not up to the high of more than 200,000 machines seen at the peak in the mid-2000s, this represents very healthy demand for Europe.
The last three years have seen equipment sales in almost all European countries grow. The underlying reason has been the improving economic growth in the region. However, in addition, there has been strong residential construction activity, particularly in Germany, reform in France in the form of 2015's 'Macron Law', recovery in the Southern economies hit hardest by the global crisis, a climate of low interest rates and a good number of significant infrastructure initiatives.
Equipment volumes in France, Germany and the UK, along with much of the Nordic region, were particularly high last year, although most of these have now peaked. Growth is now concentrated in Southern European economies, the most significant of which is Italy, although the volumes in these regions remain relatively low.
Brexit
So far, the uncertainty of Brexit has had little effect on the UK market or wider equipment demand in Europe. With more than 38,000 machines sold last year, demand in Britain and Northern Ireland was almost as high as it was in the boom of the mid-2000s. House building has been strong over the last few years, particularly in London and the South East, and there is now a good pipeline of infrastructure work.
There is little doubt that when – and if – Brexit happens that there will be disruption for the industry. The flow of machines and parts could be disrupted by tariffs and bureaucratic barriers, and in the longer term, the negative impact on the UK economy is likely to feed through to reduced demand for equipment.
In terms of equipment, the mini excavator is hugely popular in Europe, partly because of the ever-maturing rental industry, and now accounts of some 40% of equipment sales in unit terms. Telescopic handlers have also grown in popularity over the last 20 years; these two factors have squeezed-out backhoe loaders and skid-steer loaders.
North America construction sales
The North American equipment recovery had been fairly steady and consistent following the collapse in 2009. This was driven by steady growth in residential construction, albeit from a very low base following the sub-prime crisis and subsequent global turmoil it triggered. This was helped by a broader construction recovery which took root in the early 2010s.
However, there was an interruption in equipment demand in 2016 due to uncertainty around the outcome of the presidential election. Growth has been good since then and, like Europe, North American demand is now the highest it has been since the pre-crisis peak of the mid-2000s.
Lighter equipment types have benefitted most from the residential boom, with strong growth in mini excavators, telescopic handlers and smaller classes of crawler excavators in particular. As in Europe, the backhoe loader is falling out of favour a little in North America, but sales remain around 10,000 machines per year.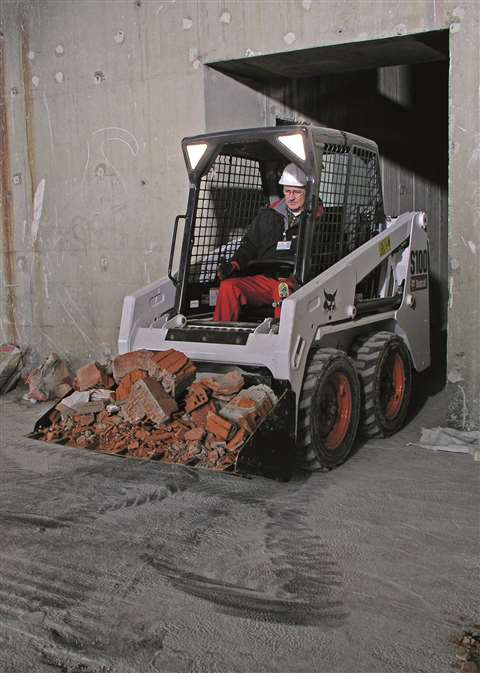 Skid steer loaders still sell in huge numbers to construction and agriculture in North America, but at 34,000 machine sales last year, the market is far from its peak of 73,000 units in 2000. The key change has been the emergence of compact tracked loaders from the early 2000s onwards.
Their lower bearing pressure – and therefore better abilities on poor ground conditions – have moved them ahead of skid steer loaders in many applications and sales last year were more than 50,000 machines. The similarities in design and capacity of skid-steer and compact track loaders mean this shift is perhaps best thought of as a change in undercarriage preference, rather than a migration to a new type of machine.
Further growth is expected this year in the North American equipment market. Although house building has peaked, infrastructure investment is expected to pick up. This should translate to sales of other types of equipment and generally larger machines, which of course has a positive impact on the overall value of the segment.
Japan equipment sales
The Japanese market has moved to a different rhythm to many other markets over the 2010s. It had a peak in 2013 as a result of prime minister Shinzo Abe's reform and stimulus policies – known as Abenomics – along with reconstruction work following the March 2011 Tohoku earthquake and tsunami.
There was something of an improvement in 2017, but it is debatable whether this was due to improving fundamentals in Japan or other factors. A planned increase in consumption tax in 2015 had been pushed back to 2017, and there is some evidence to suggest a lot of equipment buying took place ahead of this to avoid the price increase. In the event, the tax hike was actually pushed back again to October this year and may even be postponed further.
Another factor was the rise in equipment demand throughout Southeast Asia in 2017 and 2018. These are the traditional disposal routes for used equipment from Japan, and the need for machines in these countries at good prices encouraged Japanese rental companies and contractors to renew their fleets.
Following the resultant blip in new equipment sales in Japan in 2017, the market fell back 5% in 2018 and now looks to have stabilised at around 63,000 units per year.
Sales in Japan are dominated by indigenous OEMs. The only foreign supplier of any significance is Caterpillar, which owes its presence to a long-standing joint venture with Mitsubishi which was set up in 1963. Caterpillar began to buy out its partner in 2008, and the presence in Japan is now wholly-owned by the US-based company.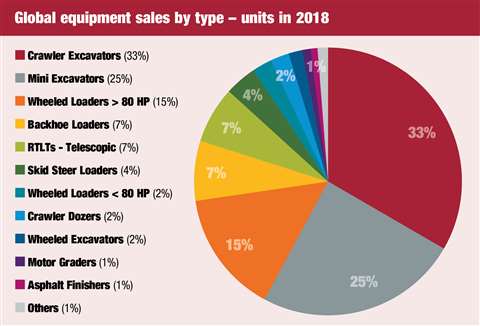 A consequence of the dominance of Japanese suppliers is that demand is centred around the products those companies have historically offered. Mini and crawler excavators sell in high numbers alongside wheeled loaders and there is also some demand for dozers, graders and dump trucks.
There have never been significant sales of backhoe loaders, skid-steer loaders or telescopic handlers in Japan. The common types of lifting equipment are stiff-boom loader cranes and rough terrain cranes, which are permitted to drive on public roads.
Worldwide construction equipment sales
The markets discussed in this article account for some 75% of global equipment sales. Of the other major regions, the largest and most dynamic has been South East Asia, where sales improved significantly from 2016 to 2018. Equipment sales in Africa also generally improved in this period, but volumes are relatively small.
Latin America has seen some growth too, but demand is far from what it was in the early 2010s, prior to the fall in commodity prices and Brazil's Petrobras scandal. Weak commodity prices are also depressing demand in the Middle East, and equipment sales in the region have fallen over the last few years while almost everywhere else in the world has improved.
Looking to the future, although the peak in the current global cycle is now likely to have passed, Off-Highway Research expects demand to stay at a high level over this year and beyond. Global sales should still be in the region of one million machines in 2019.