Interview: Melker Jernberg, Volvo CE
By Andy Brown24 July 2019
The last two years have been positive for the global construction industry, with most of the regions in the world experiencing growth and original equipment manufacturers (OEMs) seeing a steady rise in construction equipment sales and profits.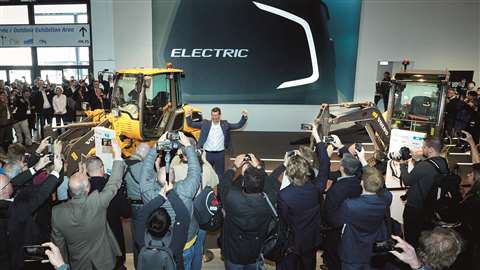 At the Bauma Munich event International Construction's editor, Andy Brown, caught up with Melker Jernberg, president of Volvo Construction Equipment (Volvo CE), at the company's stand.
Jernberg does not come across as a stereotypical president, displaying more of an informal style, and during the interview was warm and engaging.
Volvo CE financial results
Melker Jernberg has good reason to be positive; 2019 has started off strongly for Volvo CE, with the company posting a 15% increase in sales in the first quarter to SEK 24.1 billion (US$2.5 billion) and a 10% increase in net sales in its second quarter 2019 results.
Net sales by market area for the first three months of 2019, compared to the same period in 2018, reveal that Europe, North America, South America and Asia all recorded growth, with Africa and Oceania the only area to see a decline. North America saw an increase of a remarkable 43%, Europe 23%, South America 6% and Asia 3%.
The second quarter results saw especially good growth for Europe, North America and China.
"We believe that 2019 will be another strong year – there may be a slight slowdown from 2018 but it will still be a very strong year," commented Jernberg. "I think there is still a good balance between the different regions such as North America, Europe and Asia, so if that continues then we may see less volatility in the future. Slower growth in the future is actually healthier."
There were many interesting product launches at Bauma Munich but one of the most eagerly anticipated was Volvo CE's reveal of its electric compact wheeled loader and excavator. At the start of the year the company announced that, by mid-2020, it will begin to launch a range of electric compact excavators (EC15 to EC27) and wheeled loaders (L20 to L28) and stop new diesel engine-based development of these models.
New markets for construction
While in some sectors of the construction industry electric power has been used for numerous years, this is something which a rising number of OEMs are investing increasing amounts of time and money in. Jernberg mentions that electric power is something which the company's bus division have been working with for some time and so there is group expertise which can be used.
Interestingly, Jernberg makes the point that the decision to step away from diesel powered compact excavators and wheeled loaders was as much an environmental decision as a business one.
He says that presenting the case to the board at Volvo was not without challenges, as normally when the idea of introducing new equipment is presented one of the main areas considered is what market share could be achieved. However, this market does not really exist at the moment.
"What we are doing is looking to create this market," he said. "We are taking this decision for other reasons than purely looking at an excel sheet and the numbers. We really believe in this. It is easy to talk about the importance of the planet, but we wanted to show in actions that we are doing something.
"We can look at the numbers, but at some point we need to decide that this is the right time to act and we believe that the technology is now mature enough to do this. We believe that a market will be able to be created."
Electric construction equipment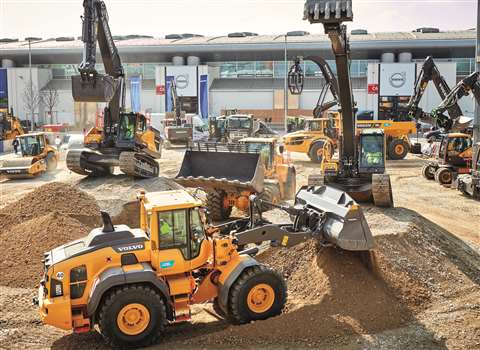 The launch of the electric compact excavator and wheeled loader is clearly a subject which Jernberg feels passionately about, and he becomes more animated during the conversation when speaking about this topic.
While Volvo CE – and Jernberg himself – clearly believe that the launches are the 'right' thing to do, it would surely not be happening if those at the company didn't think there was a market demand. As anyone in business knows, there is also great benefit – in any industry – in being the company which is seen to do something first.
It should not be ignored though that there are legitimate questions over the use of electric power in the construction industry, with one of the most prominent being infrastructure.
There needs to be adequate charging points on construction sites in order to charge the machines, and it is not yet clear whether this should be the responsibility of the manufacturer, the contractor or local or national governments.
As Jernberg says though, at some point the speaking has to stop and action has to be taken.
"The change has to start somewhere, and who should start? Should we wait for the infrastructure? Should we wait for politicians? If we don't start somewhere then we won't ever get there." It remains to be seen exactly where the industry will end up regarding electric equipment, but the journey is certainly underway.