Gensets: New Technologies
By Thomas Allen08 August 2019
The drive for sustainability is changing the energy generation sector, with new Stage V, gas, solar and hybrid solutions being introduced across the board.
Generator sets play an important role in the provision of electrical power to remote jobsites that do not have access to a mains power supply.
Technologies and sources of energy fall in and out of favour, and gas is among them. However, Karim Wazni, Managing Director of Microgrids and Storage Solutions at Aggreko, has spoken about how the company believes the intelligent deployment of battery storage can help bring gas back into favour.
And with the falling price of batteries, this is an increasingly appealing option. Bloomberg New Energy Finance (BNEF) reported the price of battery cell packs has dropped from $1,200 in 2010 to below $200 in 2018.
Taking lessons from centralised power generation and applying them to distributed generation, Aggreko has developed a fleet of efficient gas engines that are combined with the company's Y.Cube storage technology – a fully containerised 1MW battery. Aggreko's smart YQ energy management system is then used to help the two work together, in conjunction with solar panels.
One example where this combination of technologies – gas, battery and solar – is being put into practice is at the Gold Fields Granny Smith gold mine in Western Australia. Aggreko is set to install one of the world's largest renewable energy microgrids, using a combination of gas generators and 20,000 solar panels. It is being supported by Aggreko's new mobile and modular Y.Cube battery system.
New gas genset from Cummins

A new entrant into the gas genset market is Cummins, which recently introduced a series of gas gensets: the HSK78G.
With a power density of up to 2MW from a 78 litre engine, they offer a package for prime and peaking power applications. The new series is designed to provide reliable power regardless of the natural gas source or the climate, including in high temperatures of up to 55°C and at high altitudes.
Craig Wilkins, Director of Cummins Prime Power Segment and Global Sales Support, said, "The new generator series has been designed to push the boundaries of performance to extremes while achieving a low total cost of ownership."
He added that the fuel flexibility of the HSK78G allows the use of low-cost, low-BTU and free fuel sources that would otherwise be considered waste products.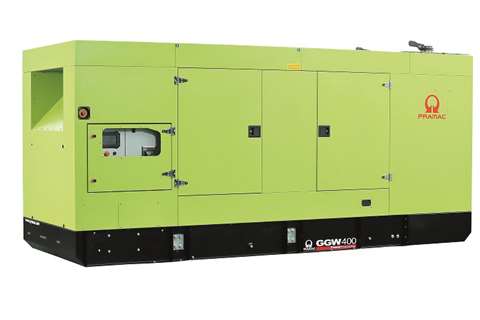 In line with efforts to expand in the UK market, Pramac recently announced a partnership with five of the UK's leading independent power generation companies: Dieselec Thistle Group (DTG), Power Electrics, The Generator Company, Regency Power and YLEM Energy.
By joining the UK Pramac Partner network, these companies are now promoting and streamlining the installation of industrial gas generators throughout the country. The intention is that they will create regional hubs offering expertise for the industrial gas power generation sector.
Many of the partners will also use gas within specialist applications. This will include direct replacement of legacy stand-by diesel systems following recent changes to the Medium Combustion Plant Directive (MCPD), and more use within urban areas as pressure mounts to drive down emissions.
Pramac has a new Industrial Gas range. Available from 200kVA through to 500kVA, the rich-burn natural gas sets provide longer runtimes and reduce NOx emissions to as little as 20mg/Nm3. Later this year, new additions will be made to the range, bringing it towards 750kVA.
Hybrid Gens

MHM Plant is investing in hybrid solutions.
Mat Llewellyn, the company's Managing Director, said, "MHM Plant are pushing hard on a programme to introduce a complete range of sets from 6 to 100kVA that are powered primarily by battery, solar or a combination of both. We are also working on a three-way option. This is a solar hybrid system that brings together the benefits of solar and battery with a diesel engine as back-up."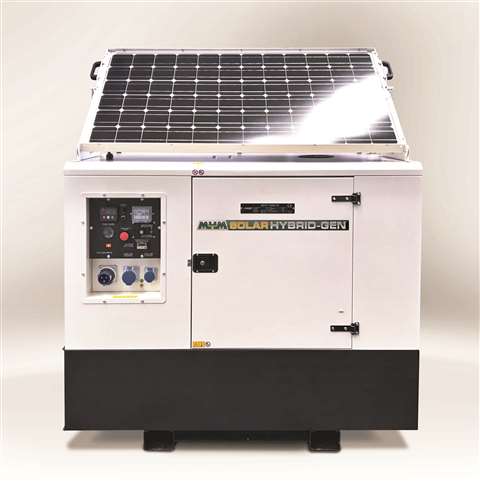 The company recently introduced a 10kVA hybrid set that produces power via a sequence of solar and battery power, with back-up from a small diesel engine. The MGTP 10000 Solar Hybrid-Gen, which is suited to the UK climate, has an adjustable roof-mounted solar panel that supplies energy to the sealed lead acid batteries.
MHM Plant plans to have its range of 6, 10, 20, 33, 45, 60, and 100kVA sets ready towards the end of 2019 and into early 2020.
Netherlands-based Maru Systems also recognises the benefits of hybrid systems. The company's Green Generator is a mobile hybrid generator that includes a batter bank charged primarily by solar panels, with the option of providing additional charging fro other sources.
The Green Generator's conventional generator kicks in when there is either a lack of input from renewable energy sources or if there is excess power demand on site.
Offering not only a 95% reduction in CO2 emissions but also lower noise levels, the Green Generator is housed in a standard container to make it easier to transport and install, and the solar panels unfold with the push of a button.
The use of hybrids by US-based Powr2 has helped to overcome the problem of wet stacking.
At a recent project, a rental company was running some office trailers using a 56kW generator. The trailers contained standard items, such as air conditioners, computer servers, some security cameras and kitchen appliances. In order to keep the computers and alarms running seamlessly, the generator had to run 24 hours, seven days a week.
This caused significant wet stacking and servicing issues for the rental provider. The generators had to be sized based on the highest possible power that may be required, so it had to be assumed that all the electrical items were on at the same time.
Toby Nunn, Powr2's Director of Operations, said, "In reality, this rarely happens, so the generator is spending a lot of time running on low loads. This leads to a condition called wet stacking, which is very harmful to the engine and can shorten the engine's life by many years."
In addition, service intervals must be adhered to, which are all the more regular when the generator is running continuously.
Powr2's solution was its Hybrid Energy System (HES). The unit uses battery until it is depleted or the power demand spikes above what the batteries can manage, at which point the back-up diesel generator automatically starts up. Since the batteries carry all the load, the generator can be turned off for long periods of time, eliminating wet stacking.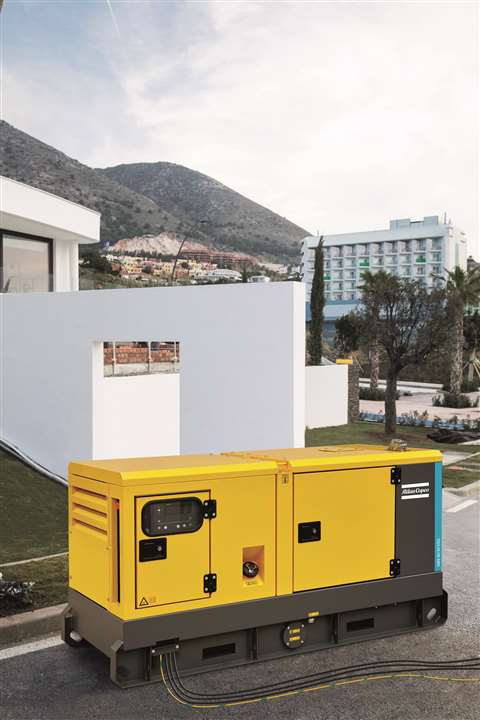 Atlas Copco has launched the fifth generation of its flagship QAS generator range, QAS 5, to provide users with a smooth transition towards the phased adoption of EU Stage V emissions standards between 2019 and 2020.
The first five models in the range are new versions of the QAS 80, 100, 120, 150 and 200 generators, all of which include optimised Stage IIIA engines, a high-capacity fuel tank and an integrated Variable Speed Drive (VSD) motor to power the cooling fan.
Reducing generator noise

Excessive noise generated by portable energy equipment is becoming increasingly unacceptable in urban environments and industrial work areas. The QAS 5 generators are, on average, 5 to 8dBA quieter than comparable generators. In addition to the use of silencers and sound-dampening foams to attenuate noise, the VSD-driven motor fan helps by adjusting the cooling flow to the specific requirements of the engine.
Also new from Atlas Copco is the QAS 60/35 Variable Speed Generator, which can manage variable loads and reduces fuel consumption by up to 40% compared to traditional fixed-speed generators.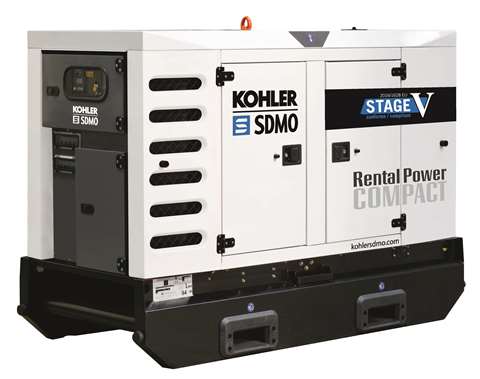 Kohler SDMO is also ready for Stage V. Following hundreds of hours of testing and work carried out by the R&D team to minimise the impact of the new engine technology on end users, the manufacturer is rolling out portable gensets equipped with Stage V engines.
In its rental compact range, the R20C5 is the first available genset to be equipped with a Stage V engine. It will be followed by the R50C5 and R330C5 in the third quarter of 2019, then the R165C5, R220C5 and R550C5 in 2020, and finally the R66C5 and R110C5 in 2021.
Also, Kohler SDMO's Smartcare is now available as an option on its Portable Power range between 2 and 20kW. Particularly well suited to fleet supervision, it informs remote users via their smartphones of upcoming maintenance and service operations.
A new generator has been added to Caterpillar's Rental Power product line: the 1,100kVA Cat XQP1100. The 50/60Hz switchable genset extends the company's XQP rental range above 500kVA.
Joel Feucht, General Manager of Large Electric Power at Caterpillar, said, "This range of products is designed to meet the needs of the modern rental market, with its switchable configurations and the integration of Cat Connect technology to track and manage equipment assets."
Housed in a 20ft ISO container, the unit features paralleling controls with an electrically operated breaker, and its Brake Specific Fuel Consumption helps to reduce the environmental impact.
The Cat Connect platform with which the XQP1100 is equipped allows users to remotely monitor performance, status and alarms. This helps to improve the management of maintenance intervals and thereby control operation costs.
Himoinsa Rental Workshop
At a Rental Workshop recently held by Spanish genset manufacture Himoinsa, representatives from 40 European rental companies came together to talk about the effects of EU Stage V emissions standards on gensets for the rental market, and to offer feedback for the development of Himoinsa's S5 genset range.
Carlos Ibáñez, Operation Director at Himoinsa, said, "During the development of the new design, we are taking into account… maintenance, durability, fuel consumption, and the final cost of the machine."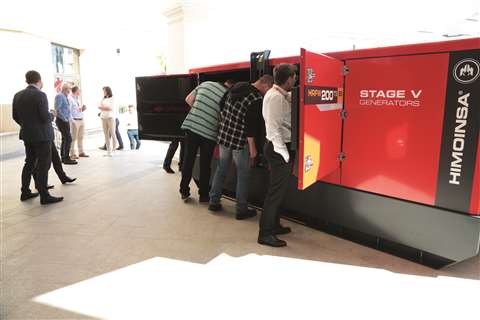 Yanmar, FPT and Scania, who are all supplying engines for the new S5 range, spoke about the incorporation of new exhaust aftertreatment systems, which reduce harmful emissions by up to 90% compared to the previous Stage IIIA technology.
Speaking with IRN, Simone Volpe of FPT said it's important that the engine manufacturer takes care of the regeneration process so that end users do not have to; "Customers need to be able to just start and stop the machine."
Although the engine manufacturers emphasised the fuel savings that come as a result of the new technology, rental companies at the workshop did not seem to be particularly swayed by this.
Palle Roy, owner of Danish rental company Roys, told IRN that slightly lower fuel consumption is not a big selling point for rental customers. This sentiment was echoed by Adam Dobosz, Sourcing Specialist at Ramirent, who said, "A small reduction in fuel consumption is of little importance."
Dobosz also stressed, though, the importance of the total cost of ownership – namely servicing costs – and this is something that Ronald van der Lubbe of Yanmar said had been of pivotal importance in the US market; "When we started introducing this technology in the US before, we had the same response from rental companies with concerns about higher unit price. But the maintenance-free characteristic helped to persuade them. A 6,000-hour service interval on the diesel particulate filter is a big advantage. This represents almost the entire lifetime of the machine since rental companies change equipment after about three years."
The importance of making sure the EU thoroughly enforces the Stage V regulations was also stressed at the event. If they're not policed effectively, some rental companies are liable to rent old equipment that does not comply at cheaper rates, giving them an unfair advantage over rental companies that do adhere to Stage V regulations.
Nixon Hire backs renewables
Nixon Hire is promoting the recent creation, in early 2019, of a Renewables Division with its '20 by 20' initiative.
The rental firm has pledged to save the construction industry at least 20 tonnes of CO2 emissions by 2020. It will do so by supplying 20 companies with its H2O Solar Pod genset for one week free of charge.
The H2O Solar Pod – highly commended in the Product of the Year category at this year's European Rental Awards – was developed by AJC Trailers in collaboration with Nixon Hire.
It combines solar panels with a back-up generator and a large water tank to provide the power and water needs of a construction site in one sustainable product. Fitted with AJC's Ecosmart system, which transfers power between solar, battery and generator, the Solar Pod delivers a power output of 30kW.
A single unit is said to save 1 tonne of CO2 emissions per week, and up to about £21,000 (€23,000) annually.
Nixon has ordered 60 Solar Pods for its new Renewables Division, which AJC is in the process of supplying in tranches of 20.