TopLift 2019: Best of the year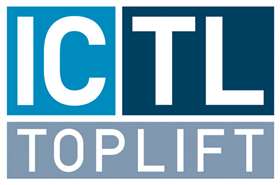 The 2019 TopLift competition features impressive lifts from around the world completed in the last 12 months. To cast your vote for your favourite lift simply click your choice on the form at the bottom of the page.
Entry 1
Entry 1: Salvaged frigate
Salvaged frigate
Equipment user: Scaldis
Equipment used: Rambiz and Gulliver offshore heavy lift vessels
Location: Norwegian coast
Marine contractor Scaldis used two heavy lift vessels, Rambiz and Gulliver, to lift a submerged Norwegian Navy frigate. Rambiz has two cranes and a total lifting capacity of 3,300 tonnes, while the Gulliver also has two cranes and a total lifting capacity of 4,000 tonnes. This enabled the 5000 tonne, 133 metre-long frigate to be lifted and moved to the nearest port in one piece over six days.
Entry 2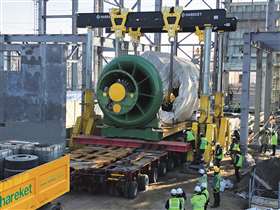 Power to lift
Equipment user: Hareket Heavy Lifting and Project Transportation Company
Equipment used: Enerpac SBL1100 telescopic hydraulic gantry
Location: Uzbekistan
Two sets of gas turbines and generators weighing 357 tonnes and 292 tonnes, respectively, were lifted and placed into position at the Takhiatash thermal power plant by Turkish company Hareket using its Enerpac SBL1100 telescopic hydraulic gantry. The turbines were lifted from SPMT and skidded 27 metres into the plant along a 40 metres gantry track and lowered on to a concrete foundation, followed by lifting and skidding the generators 16.5 metres for positioning in front of the turbines.
Entry 3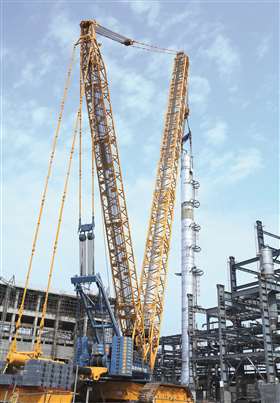 Reactor upended
Equipment user: Sarens
Lifting equipment used: Demag CC 8800-1
Location: Ramagundam, India
Following assembly over seven days, Saren's Demag CC 8800-1 was used for a series of lifts at a fertiliser plant. One of the biggest lifts was a 425 tonne urea reactor which was upended with the CC 8800-1 in an SSL 84/72 configuration at a lift radius of 24 metres. After lifting the reactor, the CC 8800-1 operator slowly slewed and walked the heavy load into position.
Entry 4
Super heavy lift
Equipment user: ALE
Lifting equipment used: AL.SK350
Location: Ingleside, Texas, USA
ALE's 5,000 tonne capacity AL.SK350 lifted an MRU module for an oil and gas project. ALE says it was one of North America's heaviest lifts with a land-based crane. The crane was fitted with its heavy winch system and 4,000 tonnes of ballast. The lifting radius ranged from 29.9 to 31.4 metres.
Entry 5
Battleship launch
Equipment user: Mammoet
Equipment used: PTC 35 super heavy lift
Location: St Petersburg, Russia
Mammoet Europe used its PTC 35 super heavy lift ring crane to launch a 600 tonne replica of an 18th Century Russian battleship. SPMT transported the vessel out of the shipyard's hangar. Mammoet used a customised rigging scheme to optimise load distribution. The crane's reach, small footprint, and high capacity allowed it to lift the ship within limited space.
Entry 6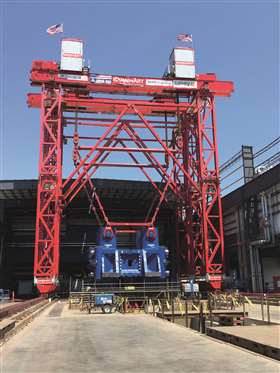 Entry 6: Piecing it together
Piecing it together
Equipment user: Barnhart Crane & Rigging
Equipment used: Barnhart Modular Lift Tower (MLT), strand jacks
Location: California, USA
Barnhart received more than 40 press components of the largest hydraulic forging press in North America. It transported and assembled them, and then lifted the items into position. The largest lift, the foundation crosshead, was assembled of seven components adding up to a final lift weight of 2,041 tonnes.
Entry 7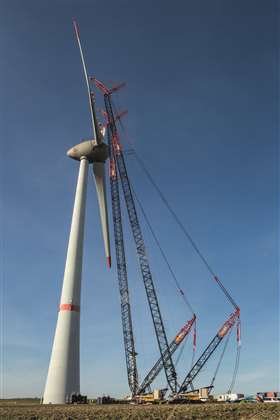 At the double
Equipment user: Aertssen
Equipment used: Two Demag CC 3800 crawler cranes
Location: Belgium
Belgian crane service provider Aertssen removed the rotor blades from a large Enercon onshore wind turbine for maintenance before reinstalling them. Aertssen used two Terex CC 3800 lattice boom crawlers, as they were powerful enough when used together yet worked out to be more cost-effective. A vital part of the process was for the blades to remain balanced during the lowering operation.
Entry 8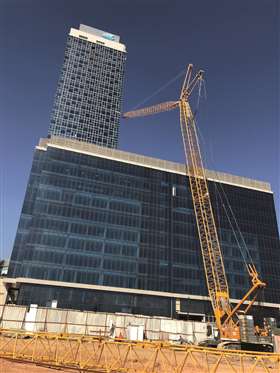 Entry 8: Under pressure
Under pressure
Equipment user: Arab Towers Contracting Company (ATCCO)
Equipment used: Liebherr LR 1280
Location: Amman, Jordan
Following an accident whilst taking down a Potain MC235 tower crane the pressure was on to ensure the dismantling of a second Potain MC235 went to plan. ATCCO used its 280 tonne capacity Liebherr LR 1280. To ensure everything went smoothly, ATCCO utilised the inspection services of crane rental firm Yousef Mousa Crane Company.
Entry 9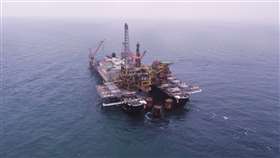 Topside lift
Equipment user: Allseas
Lifting equipment used: Pioneering Spirit
Location: North Sea between Scotland and Norway
A single lift by Allseas's heavy lift vessel Pioneering Spirit saw the 25,000 tonne, 125 metre tall, 70 metre wide Brent Bravo topside removed from its foundations. It took four hours from positioning the vessel to the start of the lift. While the vessel was equipped with a motion compensation system the actual lift needed to be done quickly. In this case the "fast lift" was done in just nine seconds.
Entry 10
Interchange girder lift
Equipment user: Guay Cranes
Equipment used: Liebherr LTM 11200-9.1, Modulift spreader beams
Location: Quebec, Canada
Guay Cranes used its 1,20 tonne capacity Liebherr LTM 11200-9.1 to help in the Turcot Interchange project - Quebec's largest interchange. A key part of the job was the installation of two girders weighing 90 tonnes each. For this Guay Cranes used a Modulift MOD 110H beam at its maximum length. The 1,200 tonner was rigged with 59 metres of main boom to lift the first girder into position.