Bentley announces infrastructure award winners
By Andy Brown28 October 2019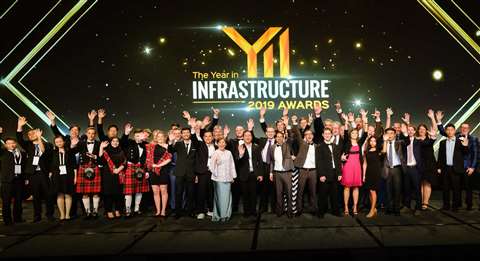 Bentley Systems has announced the winners of the annual Year in Infrastructure 2019 Awards. The awards honours the work of Bentley users advancing design, construction, and operations of infrastructure throughout the world.
Twelve independent jury panels of industry experts selected 54 finalists from 571 nominations submitted by more than 440 user organizations in more than 60 countries.
Bentley Systems acknowledged 18 Year in Infrastructure Awards winners and nine Special Recognition Awards winners at a ceremony and gala on October 24 at the conclusion of the Year in Infrastructure 2019 Conference in Singapore.
A selection of the winners of Year in Infrastructure 2019 Awards for going digital advancements in infrastructure are:
4D Construction
Mortenson, Clark – a Joint Venture
Chase Center and Warriors Mixed-use Office and Retail Development
San Francisco, California, United States
Bridges
PT. Wijaya Karya (Persero) Tbk.
Design and Build Harbour Road 2 Project
North Jakarta, Jakarta, Indonesia
Buildings and Campuses
Voyants Solutions
Detailed Design, Tendering and Project Management Services for Establishment of 12 IT/Hi-Tech Parks in Bangladesh
Bangladesh
Digital Cities
Shanghai Investigation, Design & Research Institute Co., Changjiang Ecological Environmental Protection Group Co.
Application of Digitalization in Jiujiang Smart Water Management Platform
Jiujiang, Jiangxi, China
Mining and Offshore Engineering
Shanghai Investigation, Design & Research Institute Co., Ltd.
China Three Gorges New Energy Dalian Zhuanghe III (300MW) Offshore Wind Farm Project
Dalian, Liaoning, China
Project Delivery
South Carolina Department of Transportation (SCDOT)
Seamless Information Sharing and Integration Across Multiple Platforms Using ProjectWise
Columbia, South Carolina, United States
Rail and Transit
Italferr S.p.A
AV/AC in Southern Italy, Napoli-Bari Route
Napoli-Bari, Campania-Puglia, Italy
Roads and Highways
Foth Infrastructure & Environment, LLC
Foth Transforms, Connects, and Revitalizes Cedar Falls, Iowa Corridor
Cedar Falls, Iowa, United States of America
For the full list of award winners, click here.