Crawler cranes: Model displays
By Christian Shelton16 December 2019
The latest lattice boom crawler crane from the Demag brand, now owned by the Tadano Group, is the Demag CC 2800-2 which was launched, and on display, at the Bauma 2019 exhibition in Germany. The crane has a lifting capacity of 600 tonnes and a maximum load moment of 7,700 tonne-metres. It is designed to replace the 600 tonne capacity CC 2800-1 model.
The crane has a main boom length of 102 metres. This extends to 138 metres when used in Superlift LSL mode. It can be further increased with a luffing jib and the superlift SWSL configuration to a system length of 192 metres. The main boom, combined with rigid 12 metre LH and LF extensions, allows for a length of 114 metres.
Components from Demag's older CC 2800-1 model, for example, the luffing jib or the middle main boom inserts, can be used with the new version.
The crane's A-frame and auxiliary hoist can be removed for transport and the SL mast now consists of three (previously four) separate parts. The base crane, with a height of 3.2 metres, weighs 77 tonnes. With the A-frame removed, the base crane weighs 62.5 tonnes.
Two frames are used for the counterweight plates, instead of the conventional heavier base plates. These weigh 10 tonnes each. With the standard drive and 1.5 metre track shoes, the total transport weight is 37.8 tonnes. With the Quadro drive it is 41.5 tonnes.
European debut
Japanese crane manufacturer Kobelco used Bauma as a platform to launch its 300 tonne CKE3000G crawler into the European market. Kobelco sold its first European model to UK crane rental firm SECH, handing over the keys at the show.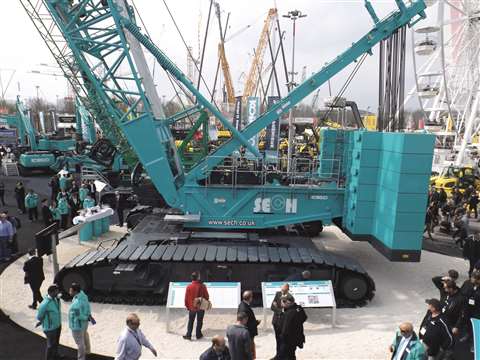 Sech bought the first Kobelco CKE3000G in Europe
The CKE3000G ordered by Sech has a standard main boom with a maximum lifting capacity of 300 tonnes at 5.5 metres. Kobelco said that heavy lift (HL) and super heavy lift (SHL) options are also available with the addition of a 60 metre luffing fly jib and a 30 metre back mast. The heavy lift configuration enables a maximum lifting capacity of 189.8 tonnes at 8.8 metres. The super heavy lift boom setup enables a maximum lifting capacity of 350 tonnes at 8 metres.
For ease of transport the width of all components is less than 3 metres, while power is provided by a Scania 13-litre, 331 kW engine that meets Stage IV/Tier 4 Final emission standards without the need for a particulate filter.
Speaking about the purchase Matt Cox, SECH managing director, said, "The CKE3000G is an exceptional crane with great lifting capacities. We have been running a Kobelco CKE1100G machine in our rental fleet for nearly two years now and after careful evaluation we chose Kobelco's new CKE3000G because of its design and operational simplicity, Kobelco's proven reliability and excellent performance. Another plus for us, was that the new Kobelco CKE3000G also has duel winch operation (double drum spooling), allowing for heavier loads to be lifted - for example into much deeper shafts with greater control and efficiency."
At Bauma Kobelco also enjoyed an order for 19 crawler cranes from USA-headquartered crane rental house Bigge Crane and Rigging. The order included a CK3300G-2 – which is the North American version of the CKE3000G that SECH bought, and which Bigge plans to show at the upcoming ConExpo show in Las Vegas in March 2020. Bigge now has almost 100 Kobelco cranes in its fleet.
Kobelco has updated its KCROSS crane management system, which comes as standard on the majority of the manufacturer's crawler cranes. KCROSS is an acronym for Kobelco Remote Observation Satellite System, which collects and stores the crane's operating information, obtained from a terminal in the crawler crane, and location information, obtained using a Global Positioning System (GPS) in a server via a terrestrial network, and provides this information to the customers.
According to Kobelco, the system allows customers to monitor information related to safety and the operational status of a crane, no matter where in the world it is working, from a remote location. It also allows customers to specify any desired period for automatically creating reports on the operational status of the crane and view and download this information in a report form.
Users can now select just the required information specific to themselves and output the corresponding reports, enabling customised reporting.
Liebherr launches
Switzerland-headquartered crane manufacturer Liebherr's 800 tonne capacity lattice boom crawler crane, the LR 1800-1.0, was available for deliveries after Bauma 2019. The LR 1800-1.0 was designed as a particularly powerful industrial crane for jobs with a luffing jib and derrick system, for example, in power plant construction and the petrochemicals industry. For the first time the boom system features lattice sections with three system dimensions which can be telescoped into each other for transport. A quick connection to raise the superstructure for transport comes as standard.
The LR 1800-1.0 has derrick ballast with VarioTray. After raising the lattice boom with the large derrick ballast, part of that ballast is designed to be unbolted quickly and easily. Only a small proportion of the ballast is generally required for hoisting work with the boom fully or almost fully raised. It means stacking and unstacking of ballast slabs can be avoided.
A new type of ballasting system is used for the suspended ballast. It has a hydraulically adjustable folding frame to allow adjustment of the ballast radius between 11 and 23 metres. A fixed guide frame system is no longer needed for large radii.
Liebherr handed over the keys for an LR 1800-1.0 crawler to Spanish contractor Eurogrúas at Bauma. After this, it was delivered direct to a refinery in Portugal. Javier Sato, Eurogrúas managing director, commented, "To suit the characteristics of our market, we were looking for a powerful, versatile, modular crane which is easy to transport and delivers high standards of safety. The ability to slide three lattice sections into each other makes it very economical to transport."
Another new Liebherr crawler is the 300 tonne capacity LR 1300 SX from the Nenzing factory in Austria. Developments include a range of assistance systems and a new cabin design. For heavy loads a derrick boom can be fitted in combination with additional counterweight. Its new suspended counterweight has hydraulically adjustable radius instead of being fixed.
For added safety when raising and lowering the boom, especially with a jib mounted, there is the new Boom Up-and-Down Aid assistance device. When approaching the tipping point the system automatically stops operation before the operator can enter an unsafe zone. It allows the operator to leave the 'danger zone' without having to use the safety bypass switch.
Readings from wind sensors on the main boom and jib are combined with data of the crane configuration (boom length and boom angle) to calculate a hazardous situation. A warning is given when the condition becomes too dangerous. When the wind speed is 10-16 m/s, the operator can adjust lifting capacity via a control panel. The ground pressure is also monitored and readings from real time calculations are compared with the specified safety limits of the relevant position and displayed to the operator.
The LR 1300 SX also has EC type approval for the occasional lifting of personnel. This mode is accessed via a separate key switch and requires the crane to have an emergency onboard generator and emergency controls which are offered by Liebherr as a plug-and-play option.
Telecrawler territory
USA-headquartered crane manufacturer Manitowoc used Bauma 2019 to introduce its GHC140 telescoping crawler crane for the North American market. It's the largest crane in Manitowoc's telecrawler line-up with a six-section 52.1 metre (171 foot) boom and 127 tonne (140 ton) capacity. The crane can pick and carry at 100 percent of its load chart on inclines up to four degrees and swing loads 360 degrees.
Manitowoc's GHC140
When configured with a 15 metre (49.3 foot) offsettable bi-fold swingaway it has a maximum tip height of 70 metres (229.7 feet). The GHC140's crawlers give a gradeability rating of 57 percent. The undercarriage is driven by two-speed hydrostatic drive motors. The track side frames can be hydraulically extended and retracted, providing three track spans with lifting capabilities at each span. Manitowoc said this provides added versatility to find the best combination of crane width and lifting capacity.
The GHC140 can be transported to a job site in four loads. Once it reaches the job site, it has a self-assembly counterweight and an undercarriage frame with jacks to aid setup. In-cab amenities include: an air-suspension heated seat; a climate control system; a 178 mm (7 ") screen for viewing the hoist; rear and right-side camera feeds; a graphical RCL system; and electronic, load-sensing joystick controls. The cab tilts to 20 degrees.
The crane can be outfitted with one of two engines: a 173 hp Cummins QSB 4.5 L Tier 4 Final or a 160 hp Tier 3 model.
Manitowoc reports strong demand for its Grove GHC crawlers, as well as its MLC300, MLC650 and MLC16000 crawlers, in the wind power sector where they are being used to assemble wind turbines. The cranes all have dedicated attachments for wind work. A new technology for Manitowoc's lattice boom crawlers being used for wind work is the 3.5 metre wide boom insert for the MLC300 and MLC650. According to Manitowoc, these boom inserts deliver additional capacities and tip heights for greater performance on wind and other job site applications. The MLC300 and MLC650 also feature Manitowoc's patented Variable Position Counterweight (VPC) which automatically adjusts the position of the counterweight to match the required lift. According to Manitowoc, advantages of the VPC for customers include reduced ground preparation, lower ground-bearing pressure and less counterweight. It said this not only benefits users working on wind power projects, but also those using the cranes in powerplants where ground conditions could be an issue.
German crane manufacturer Sennebogen had its largest telescopic crawler on the stand at Bauma: the 6133E. The crane has a maximum capacity of 130 tonnes and the six-piece main boom has a reach of 52 metres. Vertical reach can be extended to almost 70 metres with the use of an optional 15 metre fly boom.
The 6133 E has a 194 kW tier 5 diesel engine, two powerful 125 kN winches and a Maxcab comfort cab that can be tilted by 20 degrees. The telescopic crawler undercarriage means that it can be retracted to a total machine width of less than 4 metres for transport and travel. When extended, Sennebogen says the machine has excellent stability and good manoeuvrability due to its 6.30 metre track width.
The crane's telescopic undercarriage self-assembly system means the crane can be assembled and disassembled quickly without the need for an auxiliary crane, says Sennebogen. Once the travelling gears and the ballast have been dismantled, the transport width is 3 metres.
At Bauma Sennebogen also announced the launch of a new G-Series lattice boom crawler line, starting with the 200 tonne capacity 5500 G. It is an upgrade of its 180 tonne capacity 5500 model. Now it has a 283 kW Tier 5 engine from Cummins and a G series designation and will be available in 180 or 200 tonne capacity versions. There is a pair of 160 kN winches and the crane can be driven under load. Between 15 and 50 percent more capacity is available than its predecessor, depending on the chosen boom configuration.
There is a new strengthened boom design and more ballast. Maximum boom length is 104 metres, including the luffing jib. With track frames removed transport width is 3 metres. Also new is the cabin design. Models to follow in the G series will be the 3300 and the 4400.
More models
Bauma also provided a platform for USA-headquartered crane manufacturer Link Belt to display its latest telescopic crawler crane: the TCC-2500. With a maximum lifting capacity of 227 tonnes (250 tons), the TCC-2500 has a Tier 4 Final Cummins QSL 9 diesel engine and a seven-section formed boom.
The crane has an ultra-wide matching front and rear winch design. According to Link Belt the wider design allows the winch to handle its maximum permissible line pull through the fourth layer. The rear auxiliary winch can be removed for transport weight reduction and a power pinning system is designed to mitigate work at height exposure. The TCC-2500 is a purpose-built design like the rest of Link-Belt's TCC lineup, not an all-terrain upper conversion.
Finally, USA-based crane sales and rental firm Scott-Macon Equipment purchased four new Tadano Mantis telescopic boom crawler cranes at Bauma 2019. The order comprised two new GTC-800s (88 US ton capacity); a GTC-600 (66 US ton capacity); and a GTC-350 (35 US ton capacity).
The GTC-800 has a five-section, 141.1 foot (43 metre) main boom plus a 58.1 foot (17.7 metre) bi-fold jib. The GTC-600 has a four-section, 118.1 foot (36 metre) main boom plus a 58.1 foot (17.7 metre) bi-fold jib. The GTC-350 has an 89.3 foot (27.2 metre) boom and 42 foot (12.8 metre) extendable jib. GTC Series cranes have automatic switching load charts for operation at up to four degrees out-of-level; the level ground charts for Tadano Mantis machines are for slopes to 1.5 degrees. The GTC cranes also feature the Tadano AML-C rated capacity indicator with Opti-Width (Tadano Mantis' system allowing asymmetric track positioning in reduced width configurations), as well as HelloNet Telematics.
With such a wide range of crawler cranes on display in one place at Bauma 2019, crawler crane fans were thoroughly spoilt. We now look forward to seeing exactly what manufacturers have in store for us at the ConExpo show in March 2020.
Zoomlion lattice booms
Chinese manufacturer Zoomlion is launching two new lattice boom crawler cranes for the North American market: the ZCC1100H and the ZCC2600.
The ZCC1100H has a capacity of 100 tonnes (110 tons) with a maximum main boom length of 67 metres (219'10") or a boom and fixed jib combination of 55 metres plus 18 metres (180'5"+59').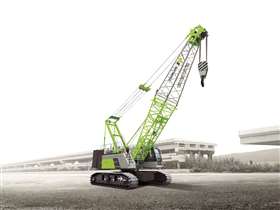 The ZCC2600 has a capacity of 260 tonnes (286.6 tons) with a long-reach boom with a maximum length of 95 metres (311'8") or a combination of a 62 metre (203'5") main boom plus (196'11") luffing jib plus a (98'5") fixed jib.
Both cranes are new models designed to replace existing cranes in the same or similar class. Zoomlion says the new models have had a number of modifications to improve their performance and efficiency and, in the cab, to increase user-friendliness. According to Zoomlion, the company's existing North American customers are excited about the introduction of these new models and that the Zoomlion North American portfolio is being expanded.
Speaking more generally about the crawler crane market, Zoomlion says that the current market is stable, although it expects it to expand over the next five to ten years. It believes that the growth in construction of powerplants will play a big role in this, as well as the inherent advantages of using a crawler, such as their stability and safety, their high lifting capacities, and the convenience of their self-assembling capabilities. Zoomlion also thinks that many rental firms have aging crawler crane fleets that will ultimately need to be replaced – further fuelling growth.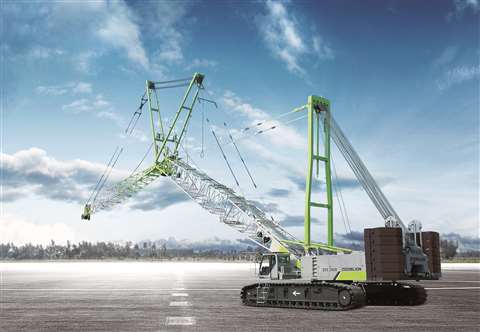 Superior Cranes buys large Demag crawler
North Carolina, USA-based crane and rigging services supplier Superior Cranes has bought a 1,250 tonne (1,375 US ton) capacity Demag CC 6800-1 crawler crane. It is now the largest crane in the company's fleet, superseding a 650 tonne (715 ton) capacity Demag CC 3800-1.
"The acquisition of the CC 6800-1 was a significant capacity increase for our line," commented Joe Everett, president and owner of Superior Cranes.
The crane has a maximum main boom length of 492 feet (150 m) and maximum tip height of 669 feet (204 metres). This, Demag said, makes it suitable for the installation and servicing of 150 metre wind turbines. It can lift 991 tonnes (1,092 tons) at a radius of 16 metres and transports in widths of 3 to 3.5 metres. Designed to improve operating stability, the crane has an on-demand Quadro-Drive system that allows the base to move and spin under load. The crane also has Demag's IC-1 crane control system.