The immediate future of telescopic booms
By Euan Youdale07 January 2020
Producers of telescopic booms are working to globalise products and are starting to knock on the door of hybrid and electric solutions. But will they go higher?
Launches of big telescopic booms were a major talking point just a few years ago, as Genie brought out its 180ft SX-180, closely followed by JLG's world's tallest 185ft 1850SJ model. Since then, manufacturers have been relatively silent on the topic as newer technologies, like telematics and hybrid/electric deployments have stolen the limelight.
In more recent times XCMG has pushed its envelope with its latest big telescopic boom, the 56.6m platform height GTBZ58S, launched at Bauma China last year. And Sinoboom introduced the 46.6m platform height GTZZ46J articulating boom at APEX Asia this year, which just tops JLG's 45.72m platform height 1500AJP. Nevertheless, the talk in the industry has been recently focused on technological advances, rather than greater working heights.
So, where do the major manufacturers now stand on the topic of telescopic booms breaking the 190ft barrier, and beyond? It would seem the response is mixed, and non-comital. Sean Larin, Genie product manager, Terex AWP, says, "There was a time when the industry thought a 100ft (30.48m) telescopic boom was the largest a jobsite would ever need, but jobs get larger and workers continue to reach higher. Genie works hard to stay close to our customers and make sure we develop the next big thing, when it's needed."
Manitou, which has been growing its self propelled boom range, refers to the growing urban population and the increased requirement for taller buildings to accommodate it. Samuel Viaud, global product manager AWP, says, "We can imagine having telescopic booms higher than 190ft. The only thing that could complicate the construction of a taller machine is its weight. If it is too heavy, it will be difficult to transport."
Key considerations
At Haulotte, product manager for rough terrain equipment from 16m, Julien Micheli, agrees that while reaching new heights is technically possible, transportation of the boom must be considered. "Going above 190ft may create issues. Moreover, the higher we go the stronger the competition is with truck mounted platforms. We definitely think that over 125ft to 135ft workers feel more safe and comfortable when using [truck mounts] than telescopic booms."
But Corey Connolly, product manager at Skyjack, says he is sure it will happen. "Someone is always willing to push the envelope," although, he adds, "In all seriousness that is truly entering into niche machine territory – how many rental companies can sustainably maintain the demand for a machine that big?"
And Mathew Elvin, CEO of Snorkel has a similar view. "Contractors and architects alike continue to demand bigger and better solutions for increasingly complex construction and maintenance projects, and we foresee that an industry player will look to push the current boundaries."
Genie has recently rounded out its Xtra Capacity boom line ranging from 40ft (14.19m) to 85ft (27.91m), with new, and relatively niche, High Float (HF) and TraX boom lift models. The HF and TraX booms are designed to perform in sensitive ground conditions, such as sand and turf, providing operators the ability to get straight to work on jobsites that traditionally would require extensive ground preparation or dunnage.
The latest models in XC line-up were announced in September 2019 and are arriving to customers in North America now. Many of the models will be available in select areas of Europe, the Middle East, Africa and Russia (EMEAR) in the future, pending CE certification and country-specific regulations approval. The XC products are global but their design was heavily influenced by the new ANSI standards and their requirement for load and tilt sensing.
Larin comments, "The standards changes occurring in North America (ANSI A92 and CSA B354) are driving many new technologies to all the global markets. For example, while load sense systems on booms have been present in many regions for years, including Europe under the EN 280 standards in effect since 2001, the new requirement for these systems in North America is driving an increased focus on further refining and improving this technology."
To comply with industry standards globally, all new Genie booms are equipped with Platform Load Sensing and Dynamic Terrain Sensing technologies. Genie booms will also now be equipped with a chassis angle sensor, which measures the angle, or tilt, of the machine's chassis during operation. The same will occur with engine technology as much of Europe moves into Stage V. "The booms market is moving closer to being a global market and that momentum will drive a lot of exciting technology," adds Larin.
At Bauma earlier this, JLG showed several new products, including a teaser for its new high capacity booms, the HC3 range, again in response to the ANSI regulations. "The main benefit of a high capacity boom lift lies in its improved flexibility," says Jan-Willem van Wier, senior product marketing manager EMEAIR for JLG. "Getting the most out of a lift cycle; bringing all people, materials and tools up where they need to be in one go, significantly reduces time and helps improve efficiency on site."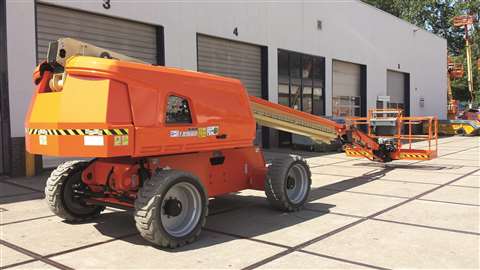 All JLG's diesel powered booms that are equipped with this feature will be able to carry three people and tools up to 454kg in a restricted work envelope. Reducing the platform load to three people and tools up to 340kg extends the work envelope. The full and unrestricted envelope can be operated when the load remains below 300kg. At the time JLG said its high capacity booms would be introduced at the end of 2019, commencing with the midsize 460SJ, following a phased introduction in the months afterwards of the rest of the boom portfolio.
Beyond these new capacity features and the move into more global products, there is a great deal of anticipation around electrification of boom lifts.
Electric options
In April 2018, at the Intermat exhibition in Paris, France, Haulotte announced it would discontinue, step-by-step, the entire line of diesel or gasoline propelled machines to shift its production to e-driven equipment. The first example of this was an articulated boom, launched at the show.
In response to telescopic booms specifically, the company was again less specific. "A new chapter of Haulotte history is being written. In the future, other machines based on this transition will come. Today, is too earlier to give provide answer focused on the telescopic booms."
As an aside, Haulotte's latest telescopic boom was the HT28 rough terrain model, with 28m working height. It has an outreach of 23.8m and up to 350kg load in the basket, allowing users to reduce lift cycles and keep working with all tools and materials needed.
In the second quarter of 2020 Manitou says it is also stepping into the full electric articulated area with its 20m working height ATJ 200e, which has a maximum capacity of 230kg. The model will provide the same performance as a diesel-powered machine while reducing total cost of ownership by 20%, says the company.
The low-voltage battery allows technicians to work on it without special certification. With a weight of 7,200kg and a length of 6m, it is also easily transportable. Another engine located inside the turret drives a pump that provides hydraulic flow for all the platform movements. The reduction in total cost of ownership for the user is estimated at 20% compared to a diesel-powered equivalent.
How does the company see elctric and hybrid equipment expanding in terms of telescopic equipment? "We know that in the North of Europe, electricity is one of the first things that is installed on the construction site. This removes all constraints in terms of autonomy because they can recharge the machine directly on site," says Viaud.
This is not the same in the South of Europe, for example, "and we need to be clear what hybrid means in customers minds? At Manitou we have the conviction that electric is the future."
Genie seems destined to continue its hybrid range, following its articulated offerings, the Z-60 FE and Z-45 FE. "Hybrid systems allow operators to get two machines in one, operating off of diesel power when outdoors or in need of a charge, but they also offer operators the ability to function fully electric when indoors or near sound-sensitive locations."
Skyjack believes in slower uptake of hybrid-based telescopic equipment. "The growing demand is more focused on the articulating booms, and the job site versatility they can provide working both indoors and outdoors. As demand for cleaner machines grows and the infrastructure to support hybrid/electric machines also grows, their likely will grow demand for the telescopic booms as well."
In terms of traditionally-powered machines, Manitou launched into the 22m market with the 220 TJ and 220 TJ+ at the end of 2017. These models are available worldwide, including in the North American market with the TJ65 and TJ65+ (65ft platform height).
Both models have an outreach of more than 17m, with another significant feature being the 45 HP, a small engine made possible thanks to the proportional management of the motor bearings, says the company. The company's experience in rough terrain equipment has also been brought to bear on the equipment with 4WD and 4WS as standard, and 40% of gradeability. Oscillating axles are also included. For the 220 TJ+, there is a plan for a big basket capacity of 350kg, for three people, for more flexibility and comfort. In addition, the panel cradle and pipe cradle options allow more equipment in the basket.
Viaud adds, "The market of telescopic booms is definitely increasing. In North of Europe, it's still very popular. Even in the South of Europe, the product is increasingly appealing. We could complete our range by proposing telescopic booms smaller or even bigger. It's now too early to talk about it."
Elvin says technology is playing a greater role in the development of aerial equipment generally. "In terms of telescopic booms, we expect to see it used to a greater extent to further enhance working envelopes, while maximising platform capacities, safety and stability."
Mid-size concepts
In the short term, Snorkel is developing some updates to its mid-size telescopic booms, which includes improved transport dimensions and optimising platform capacities in response to the changing market expectations. "
This comes on the back of the manufacturer's new line of four mid-size telescopic booms in 2016: the 400S, 460SJ, 600S and 660SJ, which ranges from a 14.2m working height to 22.1m, and features versions with and without a jib boom. "Longer term, we plan to bring some of the design concepts from our mid-size family to our larger boom models," adds Elvin.
In conjunction with the new European Stage V Emission standards, Skyjack's entire boom line-up is undergoing updates in 2019. The telescopic booms will see some enhancements in addition to the emissions change, including increased capacities and an updated control system that better aligns with Elevate, Skyjack's telematics solution.
The telescopic booms will be the next launch for Skyjack. With production beginning in December, the new models will also have a new naming designation with a '+' added to each model name – denoting the additional capacity added to each machine. Connolly says, "with the 12m-24m classes covered it would be no secret that the next class we would be targeting is larger 36-41m machines.
"Due to size and complexity, axle-based drive systems will no longer be an option as an extending axle becomes a necessity, and control system and reach envelope management becomes a bit more sophisticated."
Connolly took the opportunity to add, "In the past there has been a misconception that Skyjack is opposed to technology, but that couldn't be further from the truth. "With the successful launch of Elevate, any trepidation people may have had that Skyjack was opposed to integrating developing technology into their machines should be put to rest."
As Elvin summarises, access equipment product development is shaped by a number of factors, "Which includes the demand for higher lifting capacities, lower overall weight and more compact dimensions for transport, lower or zero emissions and greater working heights and outreach.
"This is a challenging equation for our engineering teams, and we expect to see a greater use of technology to try to achieve as many of these factors as we can, while maintaining a price-point that the rental sector will accept. To sum that up, we are always trying to optimise a compromise – other than the unwavering priority of safety."