As prefabricated props gain in popularity on the continent in Europe, their advantages over structural steel supports are being demonstrated on a construction site in the Belgian capital of Brussels.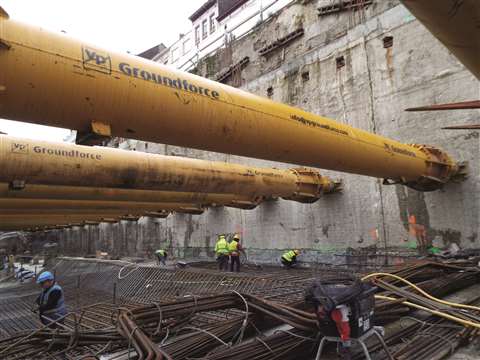 As part of the city's BXL20/21 project, a new administrative centre, Brucity, is being built in the heart of the metropolis.
Once the pre-existing building was demolished, the contractor Franki Foundations Belgium set to work laying the foundations at the end of 2018.
An excavation measuring 163m long, 32m wide and 10m deep has been dug, and props rented from Groundforce – a subsidiary of Vp plc – have been installed. Franki and Groundforce have been working on the project from the beginning, which Peter Richardson, Groundforce's Director of Major Projects in Europe, said has helped to ensure that the whole engineering solution is optimised.
"It is not only the design of the props that must be optimised but also the design of the walls," says Richardson. "Often, Groundforce isn't involved from the start and then the solution isn't optimised."
Richardson has been with Groundforce since 2008 and assumed his current position at the company five years ago. Prior to joining the firm, he was Operations Director at Japanese manufacturer Giken.
Outside of the UK, Groundforce operates in Germany, France, Belgium, Austria, Norway, Sweden and Finland, but Richardson is only responsible for Germany, France, Belgium and Austria.
Sourcing the props
The props for the Brucity project were taken directly from a site in Paris, where Groundforce had been working on the Eria Tower at La Défense with Atlas Foundations, which is owned by Franki. They were taken to a holding yard in Mouscron, Belgium, owned by Franki's parent company Besix Group, for servicing before being delivered to Brussels.
By reusing the props from the Paris project, Franki Foundations saved money on transportation costs. The alternative would have been to return them to Groundforce depots in the UK and Germany before sending them to Brussels.
Groundforce has prop sections designed specifically for mainland Europe. The combined weight of four of its 'Eurotube' units, which measure 1,016mm in diameter and 10m in length, is just within the transportation weight limit on the continent. This provides obvious benefits over the company's longer sections that could only be transported two at a time.
Twelve MP750 type 30.5 Eurotube props and four MP750 type 13.5 Eurotube knee braces were originally supplied to the Brucity project, but then plans changed.
Due to an archaeological study that was carried out on the site, Franki's work was delayed by five months, meaning that the props weren't installed until September 2019 and they will now be used for seven months rather than four.
The original intention was to use 12 props three times but they are now having to use 18 props twice. Half of the site will be covered with props and then, once the concreting process is finished in that half, they will be moved to the other half.
Adrien Dumont, the Project Manager from Franki Foundations, says, "This change in the propping plans was possible because the client, AG Real Estate, was flexible and open to suggestion."
It was also enabled by Groundforce, which was able to supply six additional MP750 type 30.5 Eurotube props at short notice from its depot in Lehrte, near Hannover, Germany. This is currently Groundforce's only depot in mainland Europe.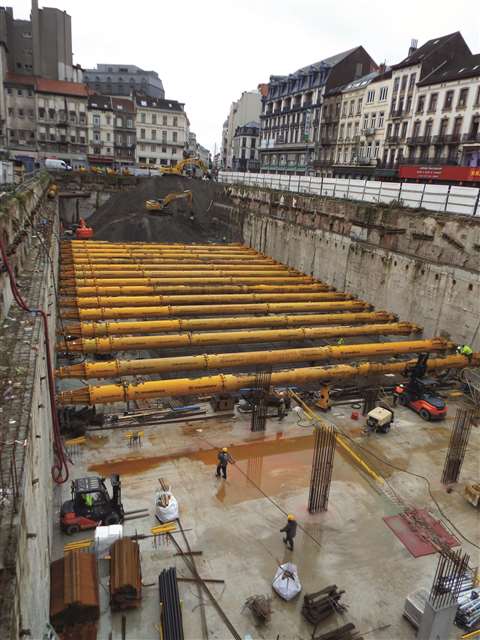 Although prefabricated props are fairly standard practice in the UK, where about 50% of shoring projects choose them over structural steel supports, it is a relatively new concept on the continent.
"In the UK, using anchors is difficult because contractors have to negotiate with every neighbour individually to get permission, which takes too long," explains Richardson. "Whereas, in Europe they don't generally need permission or they can get a general permission from the council."
However, this is changing; "The use of anchors is increasingly being penalised by councils as they increasingly see anchor taxes as a source of income."
This is having the effect of shifting the scales in favour of rented props as they become relatively less expensive.
Other advantages of prefabricated props include the speed of installation; "These props can be installed four to five times more quickly than structural steel supports," said Richardson, "Also, they are not susceptible to things like weather conditions when installing."
Structural steel needs to be welded into place on site, which depends upon skilled labour.
Groundforce is in a favourable position to tap into this market as prefabricated props become a more attractive option on the continent.