New Demag for Auto-Klug
By Leila Steed24 March 2020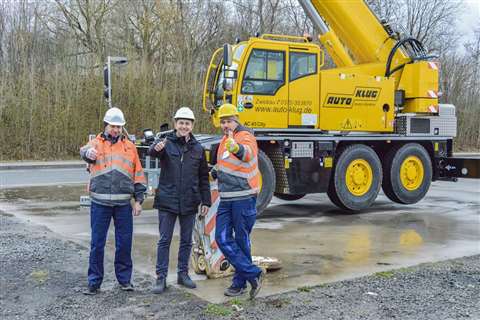 Crane services company Auto-Klug in Germany has added a new Demag crane to its fleet.
Headquartered in Bavaria, the company purchased the Demag AC 45 City model for its compact size and the range of indoor and outdoor applications the crane can be used for.
Werner Glück, Auto-Klug chief executive officer, said, "We will use the crane when building houses, moving machines or even lifting gantry cranes in halls."
Described by Demag as the most compact mobile crane in its class, the AC 45 City is the successor to the Demag AC 40 City. It is 8.69 metres long and 2.55 metres wide and lifts 45 tonnes. Maximum boom length of the three axle City class all terrain type crane is 30.2 metres (102.4 feet).
Auto-Klug's new crane, which included the optional runner for indoor use, was handed over to its driver, Matthias Kallinich. Kallinich said, "For us, however, it is not only the high lifting capacity that is important here but the aspect of safety, too."