Beth at the double for AR
AR Demolition's Beth Thompson has completed a notable double for the company after achieving a foundation degree in demolition management.
Beth, who has spent almost 10 years at the United Kingdom-based contractor started by her uncle, learned of her success just a few weeks after the company's corporate social responsibility director Trish Sloneczny gained a master's degree in the same subject.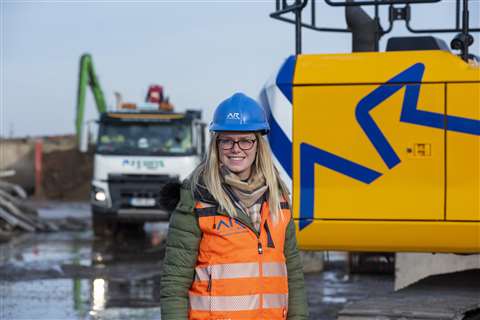 And for 25-year-old Beth, who left school with two exam passes and by her own admission was never academically minded, graduating after two years of study is something she could hardly have imagined back then.
"I'd do better at school if I went back now," said Beth.
"But I just didn't enjoy it at the time. I was more of a hands-on learner, into machinery and technology.
"When I took the decision to leave, a lot of my friends couldn't understand it, but I'm 10 years into a career that I love."
With the skills shortage in the construction industry well documented, the Institute of Demolition Engineers (IDE), whose current vice president is AR managing director Richard Dolman, teamed up with Wolverhampton University to make a foundation degree available for the first time.
Richard said: "Even when Beth started with us, she was keen to watch and listen, keeping her eyes and ears open while being willing to get involved.
"More recently she's been involved in quite a few of our more high-profile jobs, both from the office but also on site as well – planning pre-demolition, coordinating all necessary activities before the operations commence and help to seeing the job through on site."