Crawler mounted articulating cranes
By Christian Shelton04 May 2020
Ever since the 1980s, when a robot toy line and animated TV series called Transformers grabbed the world's attention, there has been something undeniably cool about multi-function machines. And while articulating cranes mounted on crawler tracks might not strictly 'transform', they bring a unique combination of advantages that is fast cementing this niche crane type's reputation as a key tool for a wide range of applications.
Visually the PPC compact crawler crane from Austrian crane manufacturer Palfinger certainly looks like a Transformer, with its strong form-follows-function aesthetics. "The Palfinger crawler crane is a product which we expect will have a great future," enthuses Hemmo Luijerink, head of sales and outbound management crawler cranes at Palfinger Europe. "We have seen that innovative concepts can take over pretty fast, even when the industry is rather conservative." Luijerink illustrates his point by referencing the way telescopic crawler cranes took over from conventional lattice type cranes in the under 60 tonne class in under a decade. He also points to how spider cranes also quickly established a new crane class which "bought new applications and possibilities to the building industry."
"We expect the same will happen with our PCC compact crawler cranes," Luijerink states, "because they offer a combination of features that no other cranes have."
Palfinger moved into the crawler crane sector in 2018 and manufactures three crawler crane models in the PCC range: the PCC 57.002, with a maximum reach of 29.5 metres, a maximum lifting height of 32 metres, and a capacity of 17.9 tonnes; the PCC 71.002, with a reach of 31.6 metres, a height of 34 metres, and a capacity of 19.1 tonnes; and the PCC 115.002, which reaches 33.3 metres, lifts to a height of 35.8 metres, and has a capacity of 19.1 tonnes.
The PCC's unique combination of features comes largely from its modular construction. It's modular in the sense that the three modules – crawler, crane and counterweight – can be individually combined and operated. "We can demount the crane plus outriggers from the tracked undercarriage," explains Luijerink. "Literally they are two separate machines and can work independently as long as the crane is receiving hydraulic power from the tractor or from an auxiliary powerpack."
"The knuckle-boom is flexible and strong with its combination of reach and height," highlights Luijerink. "It can also extend, move and lift from a horizontal position, either with a winch or directly with a hook."
The tractor can transport and pull loads up to 10 tonnes and can work off-road on slopes up to 60 degrees. It has a heavy-duty H-frame designed to handle side-forces. Palfinger says this is necessary when rigging the crane on inclined surfaces up to 14 %. The outrigger system is fully guided with high tensile steel body and sliding pads designed to stop any unwanted movement in the system; this is aided by the crane's standard Active Oscillation Suppression system. "This is absolutely necessary when lifting and accurate placing expensive loads such as machines," explains Luijerink. The H-frame allows the crane to move in a square within its outrigger square when standing on the outriggers. "Because of this the crane can reach any position for a lift," says Luijerink. "It also allows the crane to ´walk´ into confined spaces or through small entrances."
This ability is further aided by the crane's compact nature: it can navigate passages 2 meters wide and 2.9 meters high, or even just 2.2 meters high when in 'walking' mode.
The PCC comes with Palfinger's SIPP (standard integrated power pack) – a 400V electric drive which can drive the entire machine at normal speed without producing emissions or noise. Normally the crane is driven with a Cat 74kW engine or, for the larger model, a 110kW engine.
The crane is controlled via Palfinger's P7 remote control, which enables the operator to position themselves safely and in the best position to view the load without requiring a second signal person.
This combination of features make the crane particularly effective for a wide range of applications including operating in confined spaces, in urban areas, for industrial and indoor applications, and on steep, off-road terrain. Feedback from end users, including Austrian crane and transport company Maschinentransporte Eitzlmayr, cable lift construction specialist Prommegger, German crane and transport company Pohl Transporte, and Danish transport company Tonny Sørensen, has been positive. Maschinentransporte Eitzlmayr used the PCC 57.002 to renovate the production hall of a foundry where space was severely restricted and there were numerous obstacles in the way. Prommegger used the PCC 115.002 to remove ski-lift supports high in the Austrian Alps. Pohl Transporte used the PCC 57.002 to dismantle watchtowers on a former military base near Cologne, Germany. And Tonny Sørensen used a PCC 57.002 to carry out ship maintenance onboard a cargo ship in the Danish town of Esbjerg.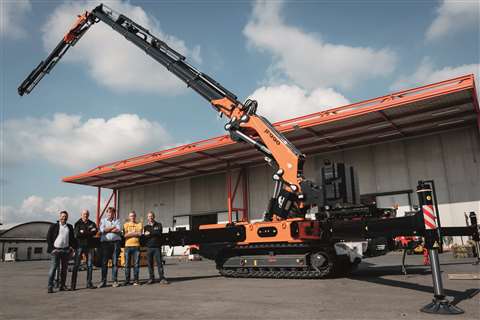 Compact impact
Treviso, Italy-headquartered mini crane manufacturer Jekko is also keen to expound the potential of compact articulated crawler cranes which comprise key models in its product range. Towards the end of 2019 Jekko delivered the first models of its JF990, which it describes as "the biggest transportable mini crane on the market at the moment". The JF990 was launched at Bauma in 2019 and, according to Alberto Franceschini, export sales manager at Jekko was, "a response to the market requirements for greater performing yet compact-size machines".
The first models have been bought by Norwegian transport company Asbjorn Dahlen Transport and are being used for the placement of prebuilt houses on a construction site near Oslo.
Jekko's JF990 also has Transformer-esque properties in its combination of elements. The JF990 was developed in conjunction with Italian loader crane manufacturer Fassi, with a Fassi loader crane mounted on a Jekko crawler carrier. "We've developed a new machine, a stabilised crane truck on tracks that operates as if it was a minicrane," states Franceschini.
The JF990 has a maximum lifting capacity of 21.5 tonnes and, with the addition of a jib, has a maximum reach of 41 metres. Its Transformer-like nature is further underscored by its multiple operating modes. The crane can work vertically or horizontally using the hook or the winch; it can also be equipped with a glass pane manipulator or a three-person hydraulic platform when used with a double articulated joint. It can be kitted with a 1- or 2-operator basket when using the jib, reaching heights of up to 38 m.
It has a dual diesel and electric power, which enables purely electric operation, thus reducing gas and noise emissions. According to Franceschini, this makes it particularly attractive to countries such as Norway where regulations come into force in 2021 aimed at reducing greenhouse gas emissions. It also makes it attractive to end users who wish to use the crane indoors.
The crane has an outrigger stabilisation system with five stability levels. It is controlled via remote control and the stability levels are displayed on the operator's screen for user-friendly reading of the loading charts. Its compact dimensions (6,75 x 2,14 x 3,45 metres) facilitate ease of access in confined areas and it folds away for transport on a regular truck without requiring a permit.
Towards the end of 2019 Jekko has also launched the SPX1280 telescopic mini crane with hydraulic luffing jib. Although technically not an articulating crane, the telescopic luffing jib can luff from horizontal with the boom at 80 degrees, to 60 degrees above. The maximum radius is 20 metres and 360 degree slew is standard. The crane continues the Transformer 0concept by offering what Jekko describes as "endless operating configurations" which Jekko attributes to the combination of the crane's stabilisation system, sensor technology, software and a new user interface. The hydraulic jib has three extensions that can be stowed either under or to the side of the main boom.
"This machine is a real blank page for the operator, who can use endless configurations thanks to a completely revised user interface," says Mauro Tonon, export sales manager at Jekko. "The SPX1280 has a maximum safe working load equal to 8 tonnes and reaches 26.6 metres in height when the hydraulic jib is installed… Our production budget for this crane for 2020 is for at least 40 units."
In the same way that the Transformers franchise caught the imagination of people around the world, word is quickly spreading amongst end users regarding the application possibilities offered by mini crawler-mounted articulating cranes. What could currently be described as a niche crane sector certainly has the potential to fast transform into a global crane phenomenon.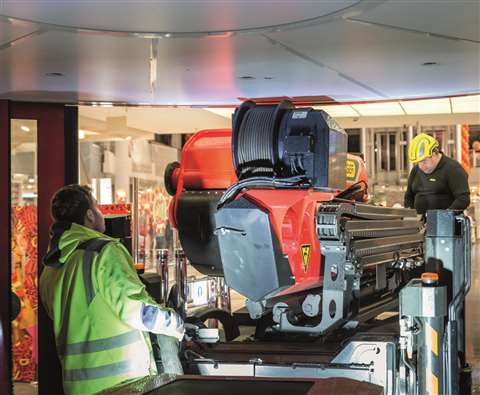 Proving it in Austria
Austrian construction company Strabag used a Palfinger PCC57.002 during the renovation of a furniture store in Eugendorf, Austria. First, the crane arrived outside the store on a semi three-axle trailer complete with its main boom and 24.8 tonnes of counterweight.
Entry to the store was via a small door than less than 2.2 x 2.2 metres in size. Thanks to the crane's modular nature, this presented no access problems as the crane and is its crawler chassis could be separated. First the crane the crane navigated the doorway using its outriggers to 'walk' its way through the entrance, followed by the crawler chassis which was still connected to the crane via hydraulic lines.
Inside the building the crane was switched from diesel to electric mode by connecting a 400V, 32A cable and it was ready for lifting. The time from arrival to being ready to lift was just 45 minutes.
The most challenging part of the lift was lifting two escalators, each weighing around five tonnes, out of their sockets at a height of 12 m and at a reach of 7 metres. According to Palfinger, the job was completed quickly, safely and efficiently.