Truck cranes: Upwardly mobile
By Christian Shelton18 May 2020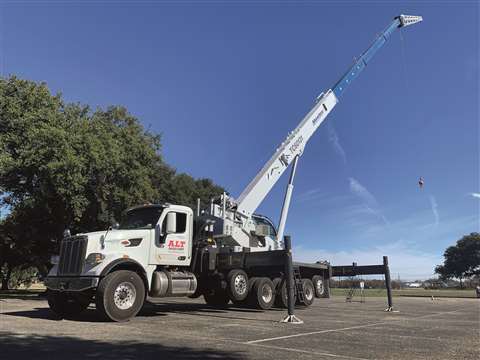 The global market for truck cranes has been at a remarkable high for the last two years, according to specialist market research and forecasting company Off-Highway Research (OHR). Global sales in both 2018 and 2019 were around 32,000 units compared to less than 10,000 machines as recently as 2015.
The reason for this sharp uptick has been the boom in construction activity in China which currently accounts for around 95% of all truck crane sales. Chinese OEMs also dominate production with the clear top tier in volume terms being Sany, XCMG and Zoomlion. Overall, Chinese manufacturers currently produce about 98% of the world's truck cranes.
Many of these companies have the ambition to be global suppliers and this has seen them mount a big push on exports over the last decade. The greatest success has been found in other emerging markets, particularly in Southeast Asia, OHR reports.
Domestic demand for truck cranes tends to be for fairly small machines, OHR says. Some 85 % of sales are cranes under 30 tonnes lifting capacity and the most popular class is 21-30 tonnes. Truck cranes under 30 tonnes also tend to be the most popular class as far as exports are concerned, but 50-80 tonne machines also tend to be popular.
The dominance of Chinese demand and Chinese OEMs is such that it makes it easy to forget that there are other truck crane producers in the world and other markets where these machines are popular. However, the non-Chinese OEMs currently produce 500 to 600 truck cranes a year and there are active manufacturers in Europe, North America, India, Japan and Thailand.
Tapping into demand from the Far East, and beyond, is Japanese crane manufacturer Tadano. The company has increased its truck crane manufacturing capabilities by establishing the Kozai plant in Takamatsu, Japan, which began full operation in August 2019. The plant produces both truck cranes and rough terrain cranes.
Tadano affirms OHR's findings regarding demand from emerging markets, saying these customers are looking for truck cranes with high lifting performance, the capacity to drive on rough roads and at high-speed on highways, dependable safety devices, durability, and ease of maintenance. Tadano says its 'made in Japan' is a strong selling point for these markets and it also helps provide good value throughout the crane's life cycle, including retaining good value for used cranes.
To meet demand for right-hand drive vehicles (which Tadano says exists in left-hand drive countries) it makes both left- and right-hand drive models, specifically referencing its 'TC' line (which comprises the left-hand drive GT-750EL, GT-600EL, and GT-300EL, and the Asian market right-hand drive GT-750ER, GT-600ER and GT-300ER models. Tadano says it refers to the collective range as its 'TC' series and that they have established a reputation for having carriers that provide drivability on rough road and high-speed travel on highways. They are equipped with Reyco leaf-type suspensions with Sachs shock absorbers in front and rubber mounted suspensions, newly developed in collaboration with Hendrickson, in the rear. The cranes are comfortable to drive, says Tadano, with a convenient cruise control option, and they are easy to maintain. They also have a new cab, Daimler Engine and ZF automatic transmission.
Tadano says its TC cranes can achieve a square-shaped rated load capacity footprint with extended "corners" over the rear outriggers that increase the load radius depending on the degree to which the outriggers are extended. This is due to a newly developed Smart Chart safety device and a control system for the GT-750EL/GT-750ER and GT-600EL/GT-600ER models. A fuel monitoring system comes as standard, along with Eco-Mode, which reduces fuel consumption when the crane is being operated, and Positive Control, which reduces fuel consumption when the crane is on standby. The cranes are connected to Tadano's HELLO-NET telematics system, enabling users to monitor their crane activity, work history, machine position data, and maintenance information with computers and mobile devices. Through this system, Tadano also offers customer support.
An emerging market in which Tadano has found demand for its truck cranes is the Middle East. It had an open house in Al Khobar, Saudi Arabia, in September 2019 which attracted approximately 170 customers. Tadano and its distributor in the area, Saleh & Abdulaziz Abahsain Co, showcased a GT-750EL. A ceremony was also held to mark the delivery of a new GT-750EL truck crane to Abdullah Al-Ahmary Co. Abdullah for Saudi Aramco gas work.
North America
In the USA, manufacturer Manitex confirms that it has seen the truck-mounted crane industry grow steadily over the past several years, and says it anticipates continued growth as designs and capabilities of larger cranes mounted on commercially available chassis evolve. It identifies versatility and mobility as being primary drivers of this crane type. These attributes allow users to increase job productivity and reduce transportation costs, along with quicker set-up and mobilisation times, say Manitex.
In the last year, Manitex Inc. says the oil and gas market has cooled somewhat while demand for this crane type but demand in the general construction, infrastructure and utility markets has improved. As these industries grow, it states, so does the need for higher reach and higher capacity truck-mounted cranes.
In the mid-range market, Manitex says the core market comprises owner-operators and taxi crane rental fleets. Lighter capacity cranes (i.e boom trucks) have been in high demand in the past, but as the world grows, so does the need for higher capacity machines with a longer reach. As such the company says it has seen increased demand for its 45 to 70-tonne capacity TC series of truck-mounted cranes and it plans to develop even higher tonnage models.
A key product line in this category is the relatively recently released TC600. This series features a base rating of 60-US tons, 131-foot full power proportionally extended boom, and a maximum main boom tip height of 141 ft. This increases to 194 ft when equipped with the optional lattice jib with box style insert. Manitex says it incorporates high strength steel and components to optimise strength-to-weight ratio for increased capacities at a long radius. The TC600 includes a spacious, high-visibility cab and advanced hydraulics of the Manitex TC line of lift solutions with increased lifting capabilities. It also features a 5-slab removable counterweight system and a unique trapezoid subframe.
The company also launched the TC500X with removable counterweights at the 2020 ConExpo trade show this year. The TC500X has a 128' boom with a max tip height of 190' with optional jib, as well as the TC500X's new counterweight system. This system expands the lifting capacity load chart for larger lifts, Manitex says.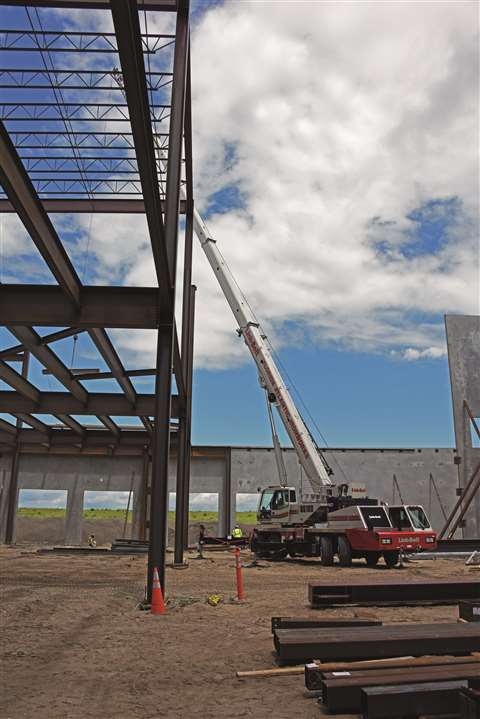 US crane manufacturer Link-Belt is also enjoying demand for its larger capacity truck cranes. One recent order was from steel erection company Florida Atlantic Ironworks of Umatilla, Florida, USA, which purchased a Link-Belt HTC-86110. The company has already used the crane to lift and place 1,600 tonnes of steel for a new 188,000-square-foot two-story cruise terminal at Port Canaveral, Florida.
Prior to steel erection, up to 60 ft. (18.2 m) tilt wall panels were placed and fortified. The HTC-86100 then lifted up to 7,200 lb. (3 265 kg) columns and 4,000 lb. (1 814 kg) beams to connect structural steel to precast exterior. The HTC-86100 was used with 140 ft. (42.6 m) of main boom, with an additional 35 ft. (10.6 m) of attached jib giving the capacity and reach to fly steel over the 60 ft. (18.2 m) concrete tilt walls.
"The reason we went with the HTC-86100 is because of the high walls surrounding the crane. In order to hoist the 57 ft. (17.3 m) tall columns rigged vertically (for placement) over the tilt walls, we needed to have a lot of reach. With 140 ft. (42.6 m) of main boom in the EM1 mode and the one-piece lattice fly in the two degree offset configuration, it gives us the angle that we need for the clearance to get over these walls. It also gives us the capacity and reach that we need for the greater radius steel assembly without moving the crane," said crane operator Ray Schonk.
During steel placement at the furthest radius from the crane, radio and camera visuals helped Schonk lift and place. "I especially liked one camera pointed at the drum once I lock my load and it's coming down. When they need a fraction of an inch, I can give it to them. Having that camera there helps a lot more than just having a thumper in your hand. This way, I'm able to see so I can give them the precise measurement," Schonk said.
A final rooftop girder was left out so that the HTC-86100 could extend out and over the building with its jib for the proper clearance to place the final outside beams. Florida Atlantic Ironworks worked through an opening in the building, at a 120 ft. radius in order to extend with its jib straight out from the boom in order to get proper clearance for placement.
Boom trucks
Although the larger capacity end of the truck crane market is thriving, demand for smaller boom truck models is also strong, particularly in North America. This is driving equipment manufacturers to continue innovating.
Crane manufacturer Manitowoc, for example, has extended its National Crane brand portfolio with the launch of the 54.4 tonne (60 ton) capacity NBT60L series and the NBT40-2.
"The NBT40-2 series continues the evolution to the next generation of boom trucks started with the NBT50L Series," says Bob Ritter, product manager of boom trucks at Manitowoc.
The new NBT40-2 series has the option for either a 40 USt or 45 USt (36.3 t or 40.8 t) capacity, and a 127 ft (38.7 m) or 142 ft (43.3 m) main boom. It has a two-piece 31 ft (9.4 m) – 55 ft (16.8 m) telescoping jib and has a maximum tip height of 150 ft (45.7 m), which can extend to 204 ft (62.2 m) with the jib.
"It's a complete re-engineering of our boom truck series, and it improves on many aspects of its predecessors," continues Ritter, "providing the strongest and most competitive load charts available for a 40 ton or 45 ton boom truck with no increase to the GVW of the crane."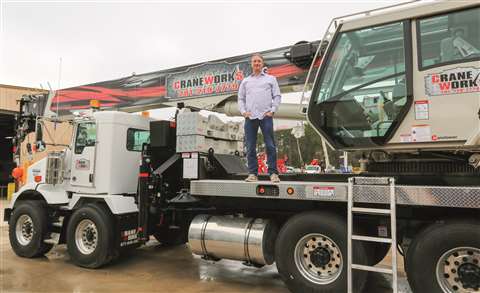 The NBT60L has a 46 metre (151 ft) five-section full power boom. An optional 11 metre (36 ft) fixed length offsettable jib and a 7.9 metre to 13.7 metre (26 ft to 45 ft) two-section offsettable manual extension is available. It has a hydraulically removable counterweight system with multiple configurations and a hydraulically tilting operator cab.
"We added the longer boom option to the NBT60L to meet the demands of the energy and utility sectors," Ritter adds. "These industries will find the longer reach and optimised load charts ideal for their unique applications."
CraneWorks, a Texas, USA-based crane rental company, has purchased several new National Crane boom trucks, including NBT60L, NBT55L and NBT45-142 units. CraneWorks' CEO Keith Ayers said the investment is part of an ongoing commitment from the company to offer modern and efficient machines that add value to customers and improve efficiency on the job site. "The new L series from National gives our fleet some of the best capacities and reaches in the boom truck space," he said. "We will continue to make substantial investment in expanding our fleet, and we also look forward to expanding our relationship with National Crane."
Nebraska, USA headquartered manufacturer Elliott Equipment Company has launched an updated version of its 40 tonne capacity 40142 boom truck crane. The main boom can extend to 142 feet with 152 foot tip height. With the jib this extends to 207 feet tip height and, with an optional work platform, a 210 foot reach. Updates include a new touchscreen user interface with load moment indicator (LMI) and Bluetooth diagnostics. It also incorporates updates include a new touchscreen user interface with Load Moment Indicator (LMI) and Bluetooth diagnostics. The crane also has Elliott's newest tilting cab which it says is optimised for visibility, ergonomics and cost of ownership.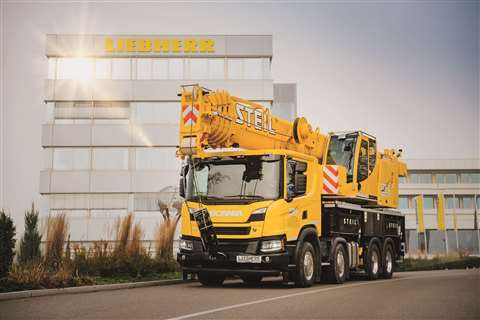 European markets
Switzerland-headquartered crane manufacturer Liebherr produces two models of truck-mounted telescopic cranes: the 45 tonne capacity LTF 1045-4.1 and the 60 tonne LTF 1060-4.1.
Although these cranes are a niche crane type for the company Liebherr says it produces them in order to offer its customers a full line of mobile cranes. Its main market for the LTFs is Germany, plus neighbouring countries.
Both cranes have been on the market for a number of years yet are equipped with Liebher's latest technologies, such as Liccon 2 crane control and VarioBase variable support base. The LTFs come with engines that meet Stage 3a and Tier 4 off-road emissions and, for European markets, the superstructure engine meets Stage 5. The engine in the chassis is depends on the truck manufacturer selected, although if a Scania chassis is selected the driver's cab from this manufacturer does not have to be modified.
The benefits of using a series-production truck as a chassis, says Liebherr, includes reduced fuel consumption, especially compared to all terrain cranes. Mass produced consumables such as tyres and other parts subject to wear are also cheaper, Liebherr adds. If required, series-production trucks can also be bought with a sleeper cab which, Liebherr says, may offer additional cost benefits for certain types of crane work. The ease in which the truck crane can travel long distances was one reason cited by German crane rental company Steil Kranarbeiten which recently bought a Liebherr LTF 1060-4.1. The company says it has been using the crane for work where long journeys to the job site are required. It is the company's eighth LTF truck-mounted crane. Steil opted for a Scania undercarriage. With its full ballast of 10.2 tonnes it has a maximum axle load of 9 tonnes on the front axle is and 12 tonnes on the rear axles with the crane's gross weight remaining under 42 tonnes.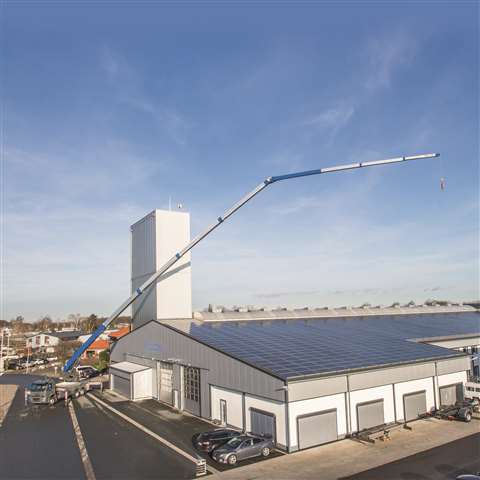 German crane and aerial lift manufacturer Klaas, part of Kranlyft Group, has introduced a new truck-mounted crane.
The Klaas K1100 RSX has a main boom with a telescopic fly jib for a maximum lifting height of 60 metres and a capacity of 6 tonnes. The boom is made of aluminium.
Despite being one of the larger truck-mounted cranes in its portfolio, Klaas said the model's outrigger spread width of less than 6 metres makes it suitable for sites with limited space.
"This exciting new model is a strong addition to our range of larger truck cranes," said Jonas Gadolin, technical director at Kranlyft Group. "The K1100 is truly an innovative piece of German engineering and we are looking forward to deliver the first orders.
"As a dealer that works in parallel with the market we can see how these types of mobile cranes keep finding new ways of use. Easy manoeuvrability and comfortable handling are combined with the enormous reach of the aluminium boom."
The K1100 RSX comes with diesel motor drive, radio remote control, continuous rotation, personal safety mode and automatic levelling as standard. It also has a 2.5 tonne capacity winch and, is available with a hybrid drive system as an optional extra. According to Klaas, it enables the machine to use fuel more efficiently and to be more environmentally friendly.
The new machine was first shown to the public in January at the Dach + Holz International 2020 exhibition in Stuttgart, Germany. More than 52,000 visitors from 83 countries attended the event, which had more than 600 exhibitors from 29 countries.