Try HAKI BIM for free today!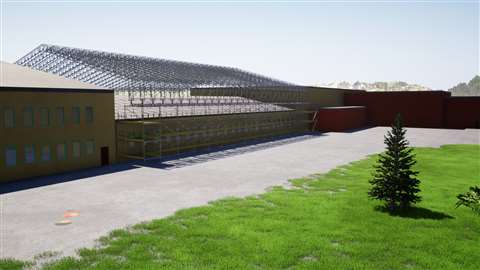 Transform scaffold and access design with a free trial of HAKI BIM
What is HAKI BIM?
The HAKI BIM plugin to Autodesk Revit® has been specifically developed for scaffold designers and engineers, to speed up the temporary access design process and accuracy for complex projects; ultimately reducing lead times for clients and risk of project delay in temporary works.
HAKI BIM simplifies design of 3D models, using the full range of HAKI products and components. The tool uses automation for timesaving, whilst ensuring depth and accuracy in design; resulting in solutions that are safe and fit for purpose to avoid issues later in build.
Exact quantification, weights, and basic loadings are also automatically generated by the HAKI BIM software. This enables planning of logistics and space requirements in the early stages of a project.
Alongside clear operational benefits, HAKI BIM offers superior quality presentations to customers by adding realistic rendering and sharing through Autodesk Viewer® for live collaboration and exploration. Models also integrate with AR & VR tools, such as the HAKI Playground, to give stakeholders the opportunity to explore solutions in real-life environments prior to build.
User testimonial
Leading scaffold design consultancy, 9Design, has incorporated the HAKI BIM plugin tool to streamline project delivery, save time, and attain better control and visibility of its scaffold projects.
"HAKI's tool is a breath of fresh air for the scaffold industry. It is simple, versatile and easy-to-use, and is suitable for a range of scaffold projects. The tool really comes into its own and means our clients can completely visualise the entire scaffold design. The HAKI BIM tool allows our clients to view the model onsite, where they can interact with it to attain a deeper understanding of what the design will look like."
"Traditional, manual 2D drawings cannot compare. We all know 2D drawings on AutoCAD can become messy at times, if and when amendments are necessary. Yet, with the HAKI BIM tool, changes to the model are automatically updated in all of the views and sheets, and can be accessed by everyone. On the AutoCAD system, however, you have to go in and manually change everything. Time is so precious, yet with HAKI's BIM tool we have been able to use our time wisely for the benefit of our clients. They can make decisions onsite in no time at all, and can be confident in the choices that are made."
Try HAKI BIM free during June
HAKI is offering a no-obligation free trial period of HAKI BIM during June.