Design award for MK-42
By Andy Brown23 June 2020
GHH's 42 metric tonne dump truck for underground mining, construction and tunnelling has won a Red Dot award for its design quality.
The dump truck can carry up to a maximum of 45 metric tons with the dump box range from 19 m³ up to 24 m³ and a large dumping angle of 68°.
The MK-42 has a large ergonomic ROPS/FOPS certified safety cabin with high performance aircon and air filtration. The pressurised cabin is said to be noise and dust isolated with no high pressure hoses inside. It also includes a strategically placed trainer seat for on the job operator training.
According to GHH, the dump truck has been designed in collaboration with operators and miners in order to ensure the most fit-for-purpose product with best in class operator comfort and safety in mind.
Red Dot CEO, Professor Peter Zec, said, "The winners of the Red Dot Award have proved that they have created excellent products worthy of winning an award.
"The products won over the jury not only through their aesthetic, but also thanks to their incomparable functionality. With their designs, the award winners are setting new standards in their industry."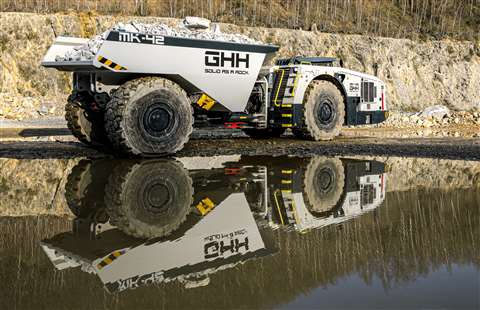 The Red Dot Award: Product Design offers designers and manufacturers from all over the world a platform for assessing their products.
In 2020, designers and companies from 60 countries entered more than 6,500 products in the competition.